THE HEALTH AND WELLNESS BENEFITS OF ALMONDS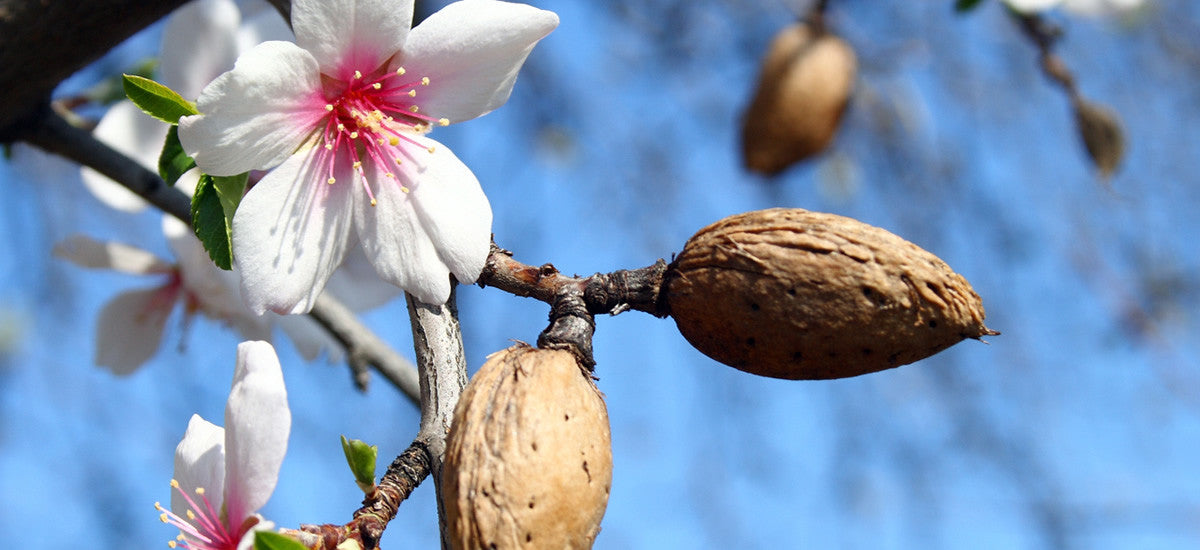 You may have noticed your local grocery store showcasing almond butter in lieu of peanut butter, or almond milk in dairy milk's place. And there's good reason for this recent shift: Decades of research have recently proven the myriad health benefits of almonds—from maintaining heart health and blood-sugar levels to regulating blood pressure and reducing risk of inflammation.
Commonly referred to as "nuts," almonds are actually the edible seeds that grow on prunus dulcis, also known as the almond tree. While these trees were initially native to the Middle East, they are now grown in the United States—and the state of California is known to be one of the world's premier producers.
A Natural Way To Fight Toxins
Loaded with antioxidants, including the skin-smoothing nutrient vitamin E, almonds are powerful free-radical fighters, meaning that they combat oxidated molecules in the body, which are damaging to both overall body and skin health. The health benefits? Almonds can help fight the signs of aging and diseases like cancer, by protecting your skin from UV rays and other environmental toxins. 
A Healthy Fat 
You may have heard that almonds, like all "nuts," contain fat—but this is healthy, necessary fat (known as HDL cholesterol). In fact, almonds are scientifically proven to help your body lower "bad" fat (known as LDL cholesterol), and assist with controlling blood sugar control and reducing hunger, all of which are due to the presence of its healthy fats. And when it comes to your skin, almond oil is a lifesaver. Almonds not only keep your skin looking great by providing the necessary proteins and fats for cell regeneration and renewal, but the monosaturated fats also help reduce dryness, while improving overall skin elasticity and smoothness. 
That's why we've highlighted almonds as the nutrient-powerhouse in in our Super Nutrient Touch-free Face Moisturizer formula. Skin-smoothing Vitamin E helps reduce oxidative stress and restore suppleness. And, the essential fatty acids and proteins help protect skin's barrier function.
Energizing Almond + Avocado Salad
Subtly sweet and crunchy, almonds are a delicious and easy snack that can be eaten on their own, mixed into trail mix, or serve as the perfect adornment to any salad or grain dish, adding fiber, protein, healthy fat, vitamin E, and magnesium (among other essential nutrients) to your diet.  Also, try our
Energizing
Almond + Avocado Salad recipe
.
Printer Friendly