VEGAN FOOD SUBSTITUTIONS FOR HEALTHY, PLANT-BASED MEALS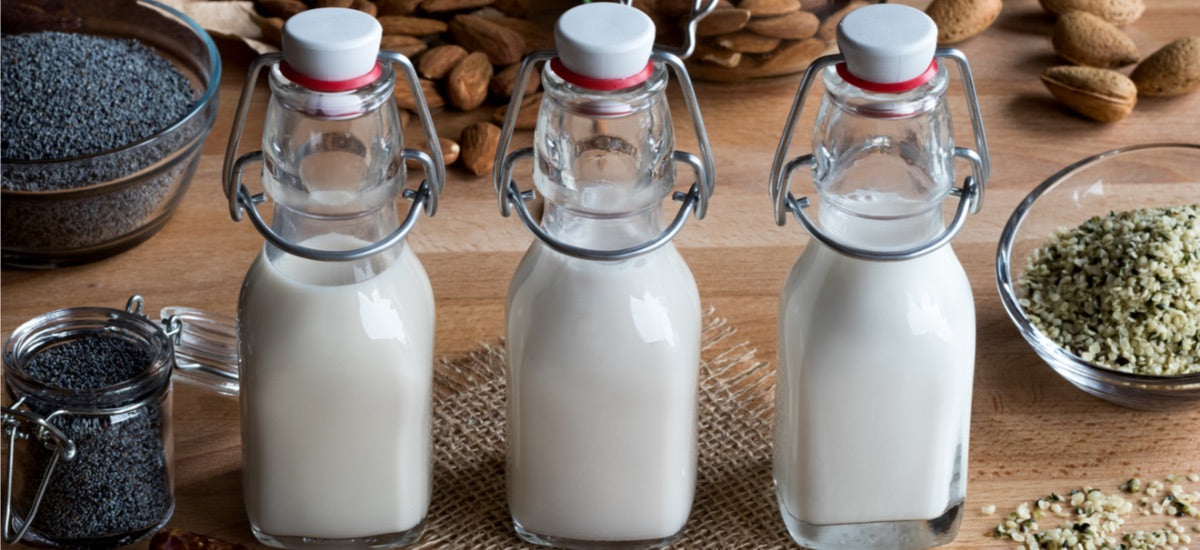 Thanks to creative chefs and nutrition experts who blazed a trail before us, today nearly any recipe can be made plant-based with creative vegan food substitutions. No longer must we rely on dairy or meat to provide our flavors, textures, and nutrition—plant-based swaps can deliver all these qualities, with a fraction of the fat, cholesterol, and intolerances that often accompany animal food products.
Some animal-based foods may seem irreplaceable. But whether you're craving mac and cheese or a big bowl of chicken stir-fry, there's a plant-based swap out there that will satisfy—the key is finding it. Well Within Beauty lists the top 5 vegan food substitutions to make your next meal delicious, nutritious, and plant-based. 
VEGAN FOOD SUBSTITUTIONS TIPS
1. MILK
While most of us grew up equating milk with cow, today's plant-free options run the gamut without running in the pasture. Almond, coconut, soy, and rice milk are among the most common, but the list goes on to include hemp, chia, and oat milk, to name a few. Naturally, the flavor profile varies, so experiment and find your own. Better yet, make your own with simple directions found online.
Plant-based milks don't contain lactose or cholesterol. Concerned about getting your calcium? Turn to chia milk and almond milk, both worthy rivals to dairy milk in their calcium content.
Dairy milk can be easily swapped for plant-based milk in most recipes. Almond, soy, and rice milk work well in many recipes for baked goods. Thicker plant-based milks, like hazelnut, cashew, and coconut milk, make satisfying cream substitutes in coffee.
2. CHEESE
It's ironic how this favorite comfort food can lead to uncomfortable symptoms. So how can we have our cheese and digest it, too? Nutritional yeast is the frontrunner from a taste perspective. Spreadable cheese recipes can be made with tofu, nuts, aquafaba (the liquid from canned chickpeas), and even potatoes.
Vegan food substitutions for cheese are lactose-free. They are also lower in saturated fats than cheese while offering additional benefits. Nutritional yeast has B vitamins, and nuts and tofu contain protein, fiber, iron, and more.
Nutritional yeast, a derivative of molasses, can be sprinkled on macaroni or eggs for a deceivingly cheesy flavor. Look online for brie, ricotta, and gouda recipes made from other plant-based ingredients.
3. EGG
Eggs are a breakfast favorite. And it seems like no baking ceremony would be complete without the cracking of the eggs. But you can easily bypass the eggs in both these scenarios with some tricky trade-offs like tofu, applesauce, banana, and even flax and chia seed mixed with water.
Among the things you won't miss is the cholesterol. Eggs have protein, but they are high in cholesterol. Tofu contains protein, as do flax and chia seeds. These vegan food substitutions also contain fiber and a variety of other nutrients.
Look online for tofu scramble recipes. Even easier to swap are baked applications. Explore the many baking uses of chia or flax seed mixed with water. Applesauce or mashed banana can be swapped for egg (and even oil) in many baking recipes.
4. BUTTER
Oils can be used interchangeably with butter in many recipes. If it comes down to a simple urge to slather some butter on bread, you can find vegan butter recipes online. However, why not give almond butter or avocado a try?
Butter is high in fat—mostly saturated. Many oils are lower in saturated fat, and almond butter and avocado are packed with nutrition you won't find in butter.
If you grew up with vegetables sautéed in butter, give roasting a try. See Well Within Beauty's recipe for Garlic Lemon Roasted Brussels Sprouts. You'll never look back.
5. MEAT AND FISH
Chili, casseroles, stir-fries, and even meatloaf can be meatless and still be delicious and satisfying. Ingredients such as mushrooms, tofu, lentils, tempeh, beans, and even jackfruit make awesome meaty dishes.
Depending on the vegan food substitution you choose for meat, you'll reap a variety of nutritional and taste benefits. Some, like lentils and tofu, contain protein; while mushrooms and jackfruit bring a meaty taste to the dish they're added to.
If jackfruit has caught your eye, go online for pulled pork recipes featuring this stringy fruit—it has been said to fool many discriminating tastebuds. Tofu and mushroom both take on a hearty meatiness in stir-fry, along with the flavors of the spices and aromatics they're cooked with. Don't forget beans and lentils—these satiating legumes can serve as the meat of nearly any meat dish. Try Well Within Beauty's recipe for Herbed Vegan "Meatballs."
Printer Friendly