5 QUICK & HEALTHY PLANT-BASED BREAKFAST RECIPES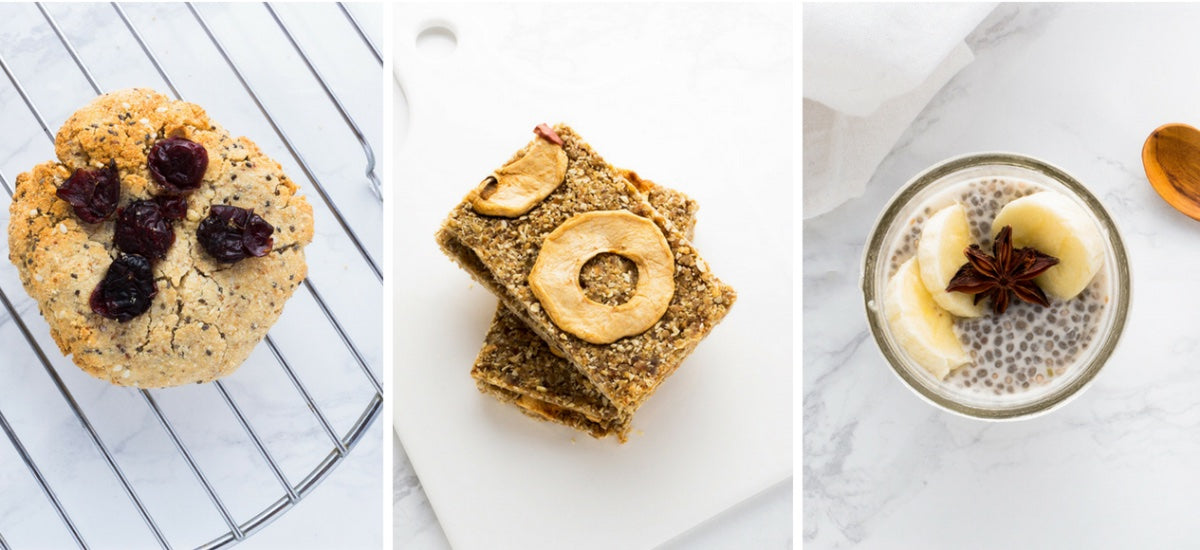 Many people know that having a healthy breakfast is key for good health. However, sometimes it can be challenging to squeeze in another meal when trying to juggle the balance between work and life. That's why it is important to have some easy, plant-based breakfast recipes you can make in advance and take with you when you don't have time to sit down for a full meal.
When choosing a portable breakfast, it is important to look for options that are not loaded with sugar and contain a good balance of protein, fat and fiber so that you stay full until lunchtime. Also, even when your breakfast is on the go, it is still a great time to load up on foods that are rich in important nutrients and minerals to help keep you focused and productive throughout the day. 
The five plant-based breakfast recipes below are all portable and can all be made in advance so that you have one thing less to worry about in the morning. They also utilize healthy, plant-based proteins such as chia seeds and chickpea flour to make them a satisfying breakfast choice.   
5 ON THE GO, PLANT-BASED BREAKFAST RECIPES
CHAI CHIA PUDDING
Since these chai spiced chia pudding cups can be made ahead of time in a sealable jar means they are perfect for mornings when you are on the go. Chia seeds are also an excellent source of omega-3 fatty acids, protein and fiber which make them a breakfast superfood.
Recipe
NO BAKE APPLE OAT BARS
These no bake bars contain less than 10 ingredients and require only 10 minutes of hands-on time which makes them a perfect make-ahead breakfast option. Not only are they simple, but they taste just like apple pie only healthier!
Recipe
TOFU SCRAMBLE WRAP
Packed with protein from the tofu, this healthy breakfast wrap will keep you full until lunchtime. This breakfast can also be made ahead of time which means it is a great grab and go healthy option even when you may be short on time.
Recipe
TAHINI BREAKFAST COOKIES
Nutty and slightly sweet, these cookies are packed with healthy superfoods like chia seeds and flax meal to help get your morning started on the right foot.
Recipe
ZUCCHINI BREAKFAST MUFFINS
These savory breakfast muffins get a nutritional boost from chickpea flour which adds protein as well as beneficial fiber to your morning meal. The grated zucchini not only provides additional nutrients but also keeps these muffins moist and fluffy.
Recipe
Printer Friendly