DIET & LIFESTYLE TIPS FOR COMMON SKIN TYPES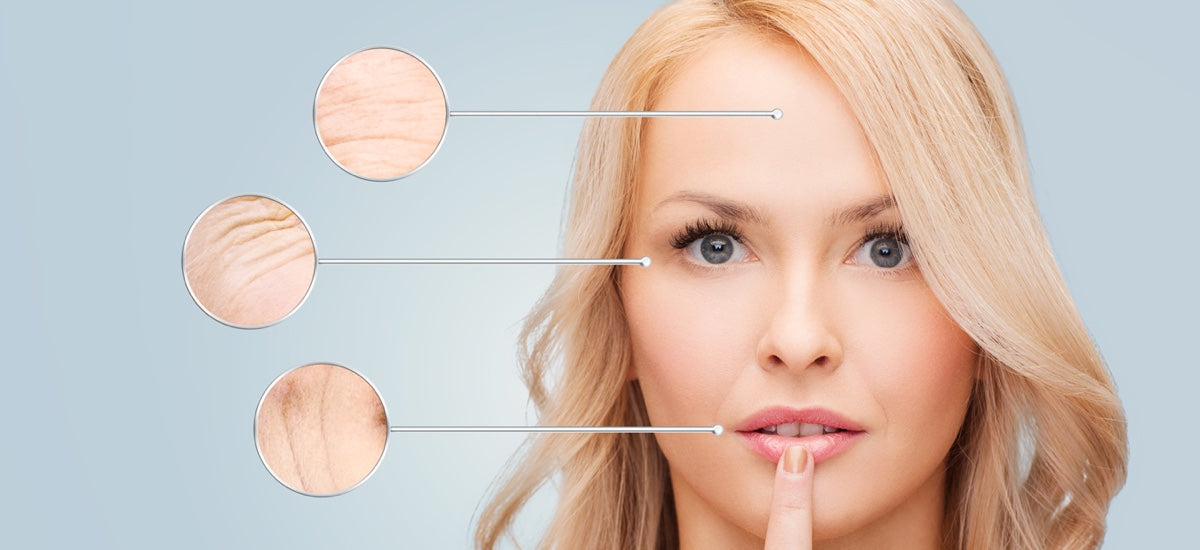 Just as your body type is unique, so is your skin type. Your skin likely has natural tendencies towards dryness or oiliness—or perhaps it's a combination of both. Your skin might also be sensitive and react to certain ingredients and scented products.
At Well Within Beauty, we believe in a holistic approach to achieving radiant skin. Our line of natural, organic products addresses the needs of all skin types. It also combats signs of aging by fighting free radicals, boosting collagen and protecting against inflammation.
In addition to your skincare regime, adjustments to your diet and lifestyle can continue to revive and rejuvenate your skin. The first step is to identify your skin type so you can support your specific constitution.
COMMON SKIN TYPES
When we refer to skin type, we're focusing on the moisture your facial skin retains and tolerates, and how sensitive it is to various treatments. While you may experience more oiliness or dryness at certain times of the year or depending on your diet and stress levels, consider in general how your skin mostly feels.
You'll probably notice one of the following categories best reflects your skin's predisposition.
NORMAL
People with normal skin have few complaints about oiliness, dryness or irritation on their face. If this sounds like you, prioritize maintenance so you can enjoy good circulation and clear skin for years to come.
OILY
Those with oily skin have more active sebaceous glands and generally have shininess around their noses, foreheads, cheeks and mouths. This overproduction of natural oils may be due to genetics, diet, hormones, or cosmetic products. If you have this skin type, you may be concerned about acne breakouts and large pores.
Dry: Dry skin sits on the other end of the spectrum from oily skin—its sebum production is too low and thus may demonstrate flakiness, cracking or tightness. The winter months prove especially challenging for people with this skin type, as the harsh, cold and dry air can compound moisture problems.
COMBINATION
Combination skin means you might see shininess around your nose and forehead, but the rest of your face will feel and look dry. This skin type can be tricky to treat, but with the right approach, you can achieve moisture balance.
SENSITIVE
If you have sensitive skin, you likely shy away from scented facial products, as they cause your skin to become red or itchy. You may have a skin condition, and you're aware you need to be cautious with new products so as not to further irritate your skin.
DIET & LIFESTYLE TIPS FOR EACH SKIN TYPE
Now that you've identified your skin type, let's explore some strategies you can implement to nourish, heal and protect your face and body.
NORMAL SKIN
Since normal skin is all about maintenance, focus on a well-balanced diet. Skin-loving foods and beverages include green tea, olive oil, cucumbers, flax seeds and leafy greens.
Exercise regularly and use a dry skin brush to further support circulation, detoxification and lymphatic drainage.
OILY SKIN
Make probiotic supplements and food part of your daily diet. Plus, be sure to avoid processed and high-sugar foods and beverages to heal and prevent leaky gut, which can exacerbate acne and other skin conditions.
Encourage your body's natural detoxification processes to prevent toxic build-up. Saunas can loosen the sebum clogged in the follicles and flush it out of the pores. Just be sure to shower immediately after to wash away any impurities that were released.
DRY SKIN
Drink plenty of water throughout the day. Consume foods high in vitamin E, such as avocados and almonds.
Try a humidifier, especially if you live in a hot, dry climate. Turn it on while you're home (or sleeping) to moisturize the air.
COMBINATION SKIN
Gently cleanse your skin from the inside out with cruciferous vegetables like cauliflower and cabbage, citrus fruits like lemons, and alliums like garlic.
Practice yoga or meditation to manage stress and hormones. Fluctuations in the body can make combination skin more reactive. Keep your life in balance—and your skin will follow. 
SENSITIVE SKIN
Focus on eliminating potentially inflammatory foods such as sugar, gluten, alcohol and dairy to calm your immune system. Opt for whole, unprocessed foods, plenty of vegetables and anti-inflammatory spices such as turmeric.
Give yourself the gift of rest and aim for 7 to 9 hours of sleep per night. Lack of sleep can cause unnecessary flare ups and reduces your body's ability to repair itself at night.
DISCOVER YOUR SKIN-SAVING FORMULA
Shop our unique formula,
Super Nutrient Touch-free Face Moisturizer
for all skin types and discover the answer to beautiful, balanced skin. Combined with proper diet, hydration and lifestyle habits, you can balance your skin and say goodbye to blemishes, inflammation and dryness.
Printer Friendly