20 VERSATILE DETOXING & CLEANSING FOODS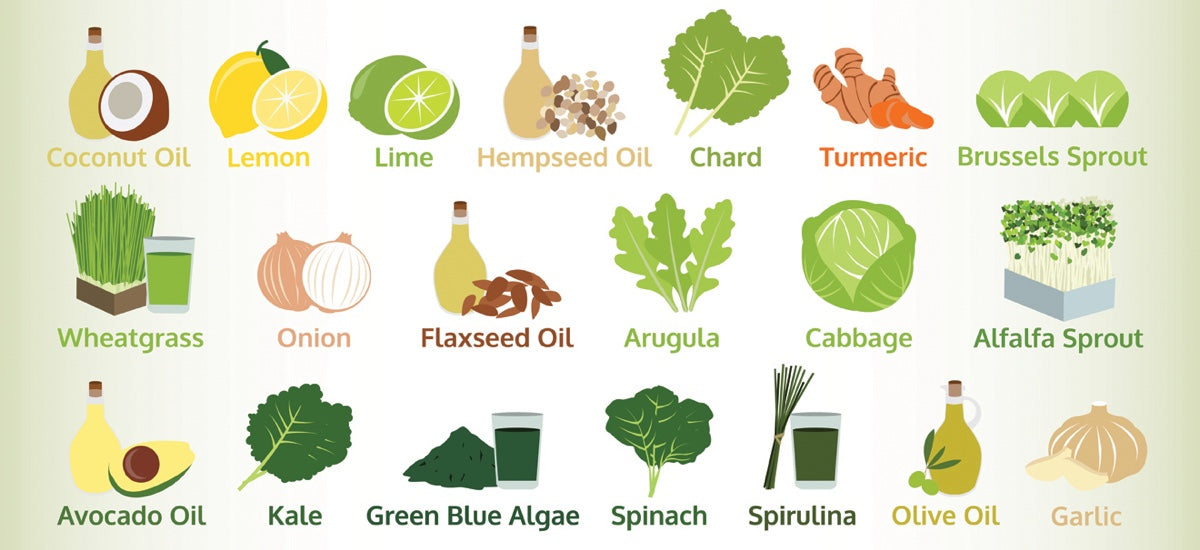 Every day, you come in contact with toxins through the air you breathe and the food you eat. While your body is brilliantly designed to eliminate impurities through the functions of your skin, liver, kidneys and colon, you can help the process along through beauty nutrition and cleansing foods.
These 20 foods are powerful cleansers, supporting detoxification and holistic, full-body wellness. They add critical nutrients to your diet while supporting the removal of toxins from your body. Enjoy more energy and better health inside and out when you incorporate them into every meal.
COCONUT OIL
Coconut oil has trace amounts of important micro-nutrients, including iron, vitamin K and vitamin E. Unlike other saturated fats, coconut oil is made up of medium-chain triglycerides, which are better for your health than the longer-chain triglycerides in meat and dairy products. Coconut oil helps your body absorb fat-soluble vitamins, and it supports heart health by lowering your LDL cholesterol. 
Coconut oil can withstand high heat, which means you can use it in a variety of recipes. Add a bit to smoothies or use when sautéing vegetables.
LEMON
Lemons have a large amount of vitamin C and limonin, as well as the dietary fiber pectin. Vitamin C has been shown to neutralize free radicals, defend against environmental toxins and create energy. Limonin has antiviral and anti-obesity properties, and pectin supports digestive health. 
Lemon juice can be added to just about anything, but the best way to detox is drinking eight or more glasses of lemon water every day. 
LIME
As with lemons, limes are high in vitamin C, limonin and pectin. Lime juice and peel has been shown to effectively reduce fatty streaks around coronary arteries.
Squeeze lime over vegetable dishes, or make your own limeade by mixing the juice mixed with water or seltzer. 
HEMPSEED OIL
Hempseeds are a perfect protein, as they contain all of the amino acids required for good health. Hempseed oil also offers both omega-3 and omega-6 fatty acids. The omega-3 fatty acids promote cardiovascular health, while omega-6 fatty acids support hormonal balance.
Use to replace oil in salad dressings, or add your favorite spices and drizzle over steamed vegetables.
CHARD
Chard has three times your recommended intake of vitamin K and nearly half of your daily vitamin A requirement. These nutrients are associated with decreased risk of obesity, heart disease and diabetes, as well as healthier skin.
Chard can be eaten raw or cooked. Add it to salads or sauté a handful and mix with mashed potatoes. Chard also blends well in a smoothie.
WHEATGRASS
Bright green wheatgrass is full of chlorophyll, as well as plenty of amino acids and antioxidants. The chlorophyll acts as a natural liver cleanser, supporting detoxification efforts.
The most common way to consume wheatgrass is through wheatgrass "shots," which are made by juicing the plant. 
ONION
Onions are high in vitamin C, as well as a number of antioxidants. One of the most important is quercetin. The quercetin in onions has been shown to improve bladder and prostate health, as well as lower blood pressure.
Onions add flavor to any recipe, and they can be served raw or cooked. Use onions as a topping for sandwiches and salads, or sauté with your favorite vegetables. 
FLAXSEED OIL
Flaxseed oil is rich in polyunsaturated omega-3 and omega-6 fatty acids. Omega-3 and omega-6 fatty acids are strong supporters of heart health.
Heat can transform the healthy fats in flaxseed oil to unhealthy ones, so it is never wise to use it in cooking. Instead, add to vegetable and grain dishes after cooking.
ARUGULA
In addition to large amounts of vitamin A, arugula is high in calcium, magnesium and potassium. Vitamin A prevents some eye diseases, while the minerals help control your blood pressure.
Use arugula in place of your standard greens for a delicious, flavorful salad. 
CABBAGE
Cabbage is an excellent source of vitamin C, vitamin K, and vitamin B6. It also contains significant amounts of sulfur, which assists the liver in breaking down toxins for excretion. The diuretic properties of cabbage support the release of fluid from your body, taking toxins along with it.
This vegetable is versatile, delicious grilled, boiled, and sautéed. Vitamin C content starts to decline after cooking, so buy whole and enjoy soon after preparation. 
AVOCADO OIL
Avocado oil is rich in omega 9 and omega 3 fatty acids, and it is an excellent source of chlorophyll. The chlorophyll supports your liver in removing heavy metals like lead and mercury from your body.
This oil can withstand high levels of heat, so use it in place of butter and other cooking oil to add extra flavor and nutrition.
KALE
In addition to high levels of vitamin C, vitamin K, and vitamin A, kale is high in fiber – a critical factor in maintaining digestive health. Kale also contains the phytonutrients kaempferol and quercetin which reduce inflammation in your body.
Steam or sauté your kale with a little garlic. It is delicious alone or mixed in with pasta, rice, and other grains. 
BLUE-GREEN ALGAE
This food gets its signature blue color from protein phycocyanin, while the green is caused by chlorophyll. Both are useful in clearing the body of toxins by increasing liver function.
Blue-Green algae is typically sold as a dietary supplement in tablet form. Ensure that the Blue-Green algae you purchase is aquaculture-grown, as the wild version may be contaminated by pollution in the surrounding water. 
SPINACH
Spinach has earned its reputation as a superfood for good reason. It contains high levels of many critical nutrients, including iron, potassium, magnesium, vitamin K, vitamin A, vitamin B2, vitamin B6, vitamin E, and vitamin C. The collection of vitamins and minerals work together to protect muscles and bones, as well as to flush toxins from your system.
Spinach is wonderful raw, alone or mixed with other salad greens. Alternatively, you can sauté spinach in a bit of extra virgin olive oil, then add your favorite seasonings. 
SPIRULINA
Spirulina is another type of micro-algae with significant health benefits, similar to blue-green algae. It contains essential amino acids, as well as key nutrients like potassium, magnesium, calcium, niacin, B vitamins, and iron. Spirulina supports cholesterol reduction and enhances the immune system. Its powerful antioxidants work to cleanse your system.
Spirulina is sold as a dietary supplement in tablet or powder form.
TURMERIC
Turmeric is a rich source of essential vitamins, including vitamin B6, choline, niacin, riboflavin, and curcumin. Curcumin, a polyphenolic compound, inhibits tumor growth, and the combination of antioxidants in turmeric support the removal of toxins from your body.
Turmeric comes in powder form, and it is delicious when added to vegetable recipes.
ALFALFA SPROUT
Alfalfa sprouts are easy to grow at home, and they are high in vitamin K and vitamin C. In addition to their antioxidant properties, alfalfa sprouts help with blood clotting and a stronger immune system.
Alfalfa sprouts should be eaten raw. Sprinkle them on salads or add them to your sandwiches. 
OLIVE OIL
Olive oil is high in mono-saturated fatty acids, which are shown to lower LDL cholesterol levels. There is also research showing that olive oil benefits insulin levels, making it easier for the body to control blood sugar levels.
Drizzle olive oil over vegetables and salads, or add your favorite spices to create a delicious dip for bread.
BRUSSELS SPROUTS
Brussels sprouts are a nutritional powerhouse, containing significant amounts of vitamin C, vitamin K, vitamin E, iron, and magnesium. The high fiber levels aid in proper digestion. 
Many people avoid brussels sprouts because of their bitter taste, however this is typically a result of overcooking. Roast them lightly for best flavor.
GARLIC
Garlic offers a wide variety of vitamins and minerals that are helpful in detoxing your body. It is a rich source of vitamin B6, as well as vitamin C, copper, iron, calcium, selenium, and manganese. Selenium and manganese are critical co-factors for antioxidants to perform detoxing functions.
There are endless ways to use garlic, both raw and cooked. Crush it in salad dressing, include in marinades, or add it to sautéed vegetables.
Printer Friendly