PROMOTE POSITIVE HEALTH WITH 7 GREEN SUPERFOODS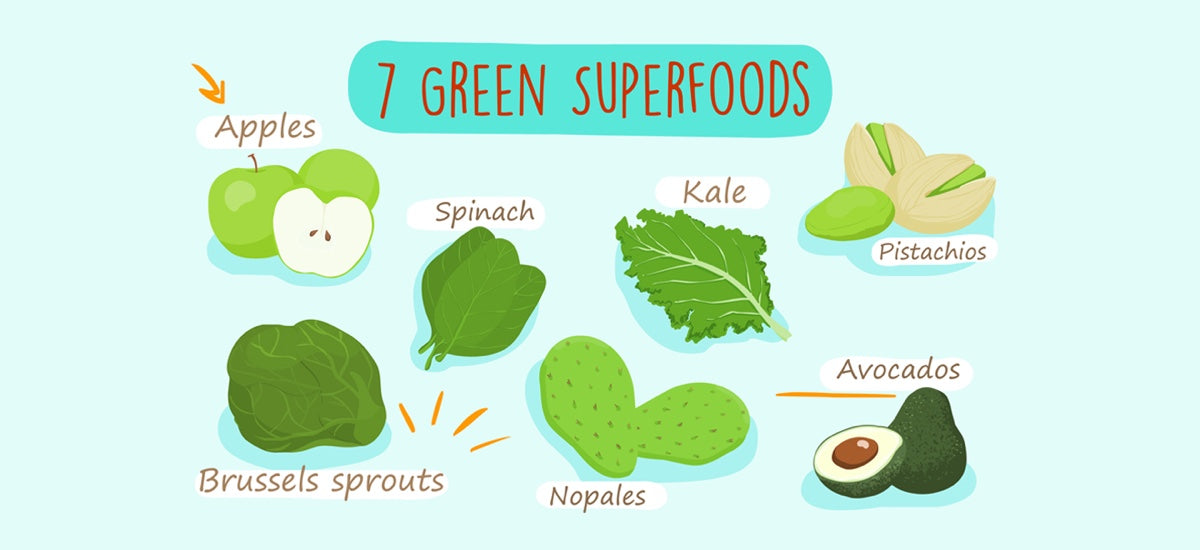 Over the years, you've likely heard plenty of buzz words regarding optimal nutrition and health. Although some terms are used loosely, superfoods help guide us towards a healthy, balanced diet.
Although there are plenty of options, one thing is certain -- green superfoods tend to give your body a helping hand. In fact, foods such as spinach and broccoli, are often known as nutritional powerhouses -- hence the nickname, superfood 
INCREASE YOUR INTAKE OF THESE 7 GREEN SUPERFOODS
When you give your body what it needs, avoiding harmful ingredients and additives, you will be rewarded for many years to come.
Beginning today, incorporate these green superfoods into your daily meal plans -- your body and mind will thank you!
1. APPLES 
Although both red and green varieties offer a range of beneficial nutrients, green apples contain slightly more fiber and less carbohydrates. In turn, this supports a healthy weight, gut and immune system. In addition, powerful antioxidants found in green apples also support neural, heart and skin health.
Bored of eating plain ol' apples?
TIP: Serve slices with protein-dense coconut yogurt, cinnamon, Chia seeds and walnuts -- or stuff with oats, maple syrup and cinnamon before baking this delicious parcel.
2. SPINACH
PACKED with vitamins, including A, C, D, E, and K, as well as a range of minerals, this dark leafy green can reduce inflammation and even reduce your risk of cancer.
Although great in salads, also be sure to consume cooked spinach. The heat helps break down cellular walls, releasing more health-boosting antioxidants. 
Looking to increase your intake?
TIP: Toss 1-2 cups of raw spinach into your morning smoothie. Stewed chickpeas with tomatoes, spinach and Indian spices is also a delicious and hearty meal.
3. KALE 
Kale is low in calories, yet high in fiber and essential nutrients. The perfect addition to any vegetarian or vegan diet, this versatile green actually has more iron than beef -- and more calcium than milk. In that sense, kale is not only a nutritional superfood but also a sustainable food source. 
How can you incorporate more kale into your diet?
TIP: Kale is easy to grow, even in a pot on your deck or balcony. Pick your own fresh greens daily, and sauté with garlic and olive oil, before dressing it with lemon juice and sea salt. Baked kale chips are also a great snack!
4. NOPALES
A staple ingredient in Mexican cuisine, you will typically find this flat cactus in speciality supermarkets, as well as farmers' markets in regions of the Southern United States. Well worth the hunt, this unique superfood is known to promote glowing skin, strong immune function, reduce inflammation, improved digestion and more!
Not sure how to prepare nopales? 
TIP: Using a sharp knife, scrape thorns and spines off of each paddle, before cutting into small strips. Sauté onions, garlic and chili, before adding in sliced nopales and chopped tomatoes. Season and enjoy!
5. BRUSSELS SPROUTS
Offering a wide range of nutrients, in just one cup of Brussels sprouts, you will consume your daily recommended vitamin C and vitamin K, in addition to a high intake of folate, B-complex vitamins, manganese and more. 
TIP: Saute using coconut oil, before adding in a few chopped hazelnuts.
6. AVOCADOS 
Packed with healthy fat, avocados contain approximately 20 key vitamins and minerals, promoting positive heart and neurological health. In fact, this creamy snack has been shown to improve blood flow to the brain and enhance brain signaling.
Want to try something other than the popular (but oh so delicious) guacamole?
TIP: Try a fresh avocado salad with grilled corn, red onion, red pepper, cilantro and lime juice.
7. PISTACHIOS
High in fiber, protein and healthy fat, pistachios also offer an impressive amount of vitamin B6, iron, magnesium, and even calcium. They make a quick and convenient snack while on-the-go, offering a reliable source of fuel for both your body and mind.
Want to jazz things up?
TIP: Make your own nourishing granola, complete with pistachios, coconut oil, oats, maple syrup, and seeds. 
Look and feel your best -- start eating your way to optimal internal and external health with these green superfoods today!
Printer Friendly