HEALTHY SKIN STARTS WITH A HEALTHY GUT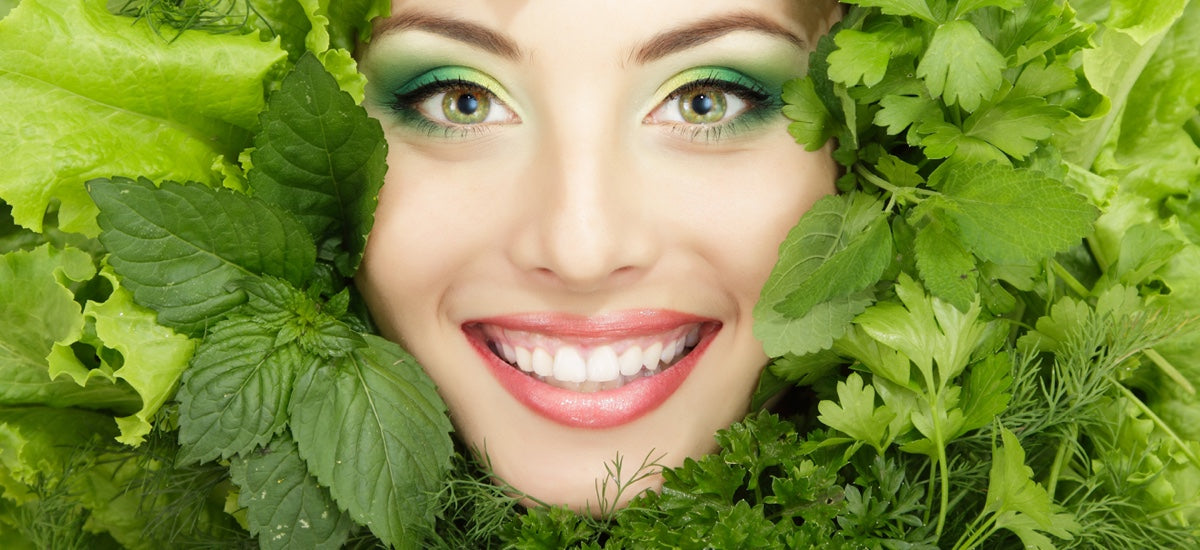 The skin acts as our own personal bodyguard, protecting us from the environmental elements and harmful bacteria. It regulates body temperature and aids in detoxification through sweat. Because it's the only organ that lives on the outside, it's our first line of defense against external threats.
Since we can see our skin, it offers us a glimpse into our internal universe—most specifically our gut health. The gut microbiome—a complex community of bacteria—is responsible for regulating digestion, assimilating nutrients, eliminating waste and communicating with the brain. When these important functions are weakened, we experience a wide range of side effects and symptoms, such as anxiety, poor immune function, food allergies and skin issues.
In short, a healthy gut equals healthy skin (and vice versa), and improving your gut health through supplements, fluids, and dietary adjustments can help your skin's overall health.
THE GUT-SKIN CONNECTION
Whether you've experienced breakouts, blackheads and redness or more serious conditions like hives, acne or psoriasis, the cause is usually the same. Since skin issues mirror the condition of your internal organs, most symptoms are related to inflammation and immune system triggers.
Lotions, creams and topical steroids may temporarily act as a Band-Aid for these problems, but decreasing inflammation and strengthening the immune system offer long-term solutions.
Research suggests that nearly 70% of your immune system lives in the gut-associated lymphoid tissue. Moreover, your gut releases toxins as waste. If the bacterial balance is off, foreign and undigested food particles can permeate the gut lining and back up into the bloodstream. Thus, the skin will be tasked with filtering them out of the body through the pores.
This gut permeation is known as leaky gut. According to Chris Kresser, MD, "Studies have shown that both stress and gut inflammation can impair the integrity and protective function of the epidermal barrier. This in turn leads to a decrease in antimicrobial peptides produced in the skin, and an increase in the severity of infection and inflammation in the skin." In other words, leaky gut leads to "leaky skin".
In addition to skin conditions, symptoms of leaky gut include: 
Inflammation
Food sensitivities
Brain fog
Low libido
Digestive discomfort
Nutritional deficiencies
Autoimmune diseases
CAUSES OF LEAKY GUT 
Poor diet is one of the primary causes of leaky gut. Sugar, alcohol, processed foods and hydrogenated fats contribute to the breakdown of the intestinal microvilli (which filter toxins). An acidic diet also creates a breeding ground for bad bacteria and fungus to grow out of control. Additional contributors of leaky gut include stress, pollution, pesticides and chemicals.
The good news is healthy skin is possible for anyone. And it doesn't require that you fill your body with hormones, antibiotics and steroids that will further damage your gut. The healing process can take time, but the results are more than worth it!
6 WAYS TO IMPROVE GUT HEALTH
1. EAT WHOLE FOODS
Consuming a whole foods diet, rich in plant foods and fiber, is one of the best things you can do to promote optimal skin health. Opt for leafy greens, cruciferous vegetables, fresh fruit and fermented foods like kimchi and sauerkraut.
2. AVOID INFLAMMATORY FOODS
Reduce or eliminate your consumption of sugar, alcohol and processed foods. In many cases, it's best to eliminate common allergens, such as dairy, gluten, corn, soy, nuts and eggs for 30 days. Slowly reintroduce them one at a time and see how your body reacts. You may discover an unknown food sensitivity.
3. DRINK WATER
Sip water throughout the day with a goal of drinking about half of your body weight in ounces (or more as needed). Water flushes toxins out of your system. Warm lemon water first thing in the morning can also assist in liver detoxification.
4. TAKE PROBIOTICS
These can help restore your gut flora and health, promote the production of good bacteria, reduce inflammation and support the colon. Try different strains, such as Lactobacillus and Bifidobacterium. You may need to try a few strains and brands of probiotic supplements to find what works best for you.
5. CONSIDER SUPPLEMENTS
If you're nutritionally depleted, supplements can help replenish your vitamin and mineral supply. These are important for healing leaky gut, as well as controlling blood sugar, regulating hormones and boosting energy. If you suspect you're nutrient deficient, talk to a functional medicine doctor about testing your levels.
6. HAVE FUN
A stressful lifestyle not only disrupts the microbiota, but it can also cause chronic illnesses and autoimmune conditions. Find ways to relax and decompress. Spend time in nature, meditate, practice yoga, take walks, dance and engage in activities that light you up.
BEYOND HEALTHY SKIN
In addition to healthy skin and a clear, glowing complexion, balancing your gut can boost:
Mood
Mental clarity
Energy
Digestion
Good gut health is the best internal skin care secret around. Heal and repair leaky gut, and you will likely find your skin improves as a result. The best strategy for developing clearer skin from the inside out involves dietary changes, possible nutritional and gut health supplementation, and stress reduction. Though the effects may not appear overnight, consistency is key. Adhering to the guidelines outlined above can only do your body good in other ways, too!
Printer Friendly