PURSUING WELLNESS AND SKIN HEALTH THROUGH PLANTED IN BEAUTY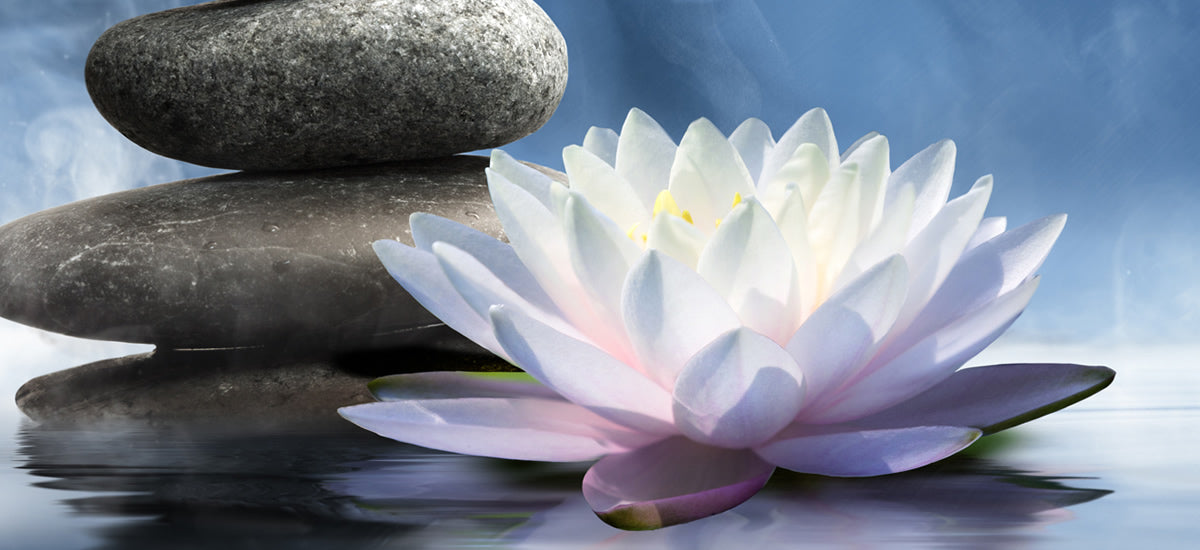 The new approach to beauty and skin health is an integrated movement that prioritizes all facets of wellness from lifestyle to nutrition. Wellness seekers are choosing holistic practices in lieu of the quick fix, understanding that many small steps over time will gradually lead to transformative results.
As you pursue optimal skin health, consider first the quality of your personal lifestyle, nutrition, and beauty choices. We believe that a holistic approach that emphasizes the interconnectedness of all three areas, is the healthiest and most sustainable method way of attaining lasting beauty and wellness.
LIFESTYLE
Thinking about the care of your skin isn't just reserved for your daily beauty regime. It should be a natural and intentional part of your everyday experience. Consider these lifestyle choices as a way to care for your skin.
Simplify to avoid Stress
A life without any stress feels impossible, but where you can make changes to reduce stress (or better yet -avoid all together), do so! It could be as simple as planning meals ahead of time to avoid the after work overwhelm, or maybe, it's a relationship where you need to create some boundaries. Do these things slowly and one at a time so that it feels manageable and sustainable.
Adequate Rest
One of the absolute best things for your skin is resting. That means while you enjoy the wonders of sleep, your internal systems continue working to regenerate at the cellular level. The result is not only the feeling renewed in the morning, but looking renewed as well. Give yourself the gift of rest and aim for 7-9 hours of sleep per night!
Movement
Yoga, running, a power walk — whatever brings you joy — and some sweat, is what your skin needs. Sweat flushes out toxins which we prefer to keep off our face, so let your workout do some of the skin work for you. Regular exercise also releases endorphins which create a feeling of happiness and well-being — and no frown lines!
Sun Protection
We all need some Vitamin D, but we do not need harmful UV rays. The damage to skin is often irreparable and in addition to increasing fine lines and wrinkles, can lead to serious skin disease. Avoid the "high sun" times, and when you are outside, always protect your face with a wide brim hat, sunglasses for those with light and/or sensitive eyes. Apply all natural sunscreen to prevent the UV rays from penetrating any exposed skin.
NUTRITION
Understanding the connection between the food we eat and our skin health is key when pursuing beauty and a clear complexion. A nutrient rich diet is another opportunity to improve the look and feel of our skin. Consider these nutrition necessities when embarking on the journey to beautiful skin.
Vitamins + Antioxidants
We can enjoy delicious nutrient rich foods that also yield great skin health results. Antioxidant-rich foods fight free radicals which can cause inflammation and break down collagen. Sweet potatoes and carrots provide an excellent source of vitamin A, citrus fruits and kale offer a daily vitamin C boost, while "good fat" favorites avocados and almonds are a perfect way to attain vitamin E.
Water is life
Those eight glasses a day can improve everything from our circulation system to the vibrancy of our skin. Proper hydrations flushes toxins from our system. If you have a hard time meeting your daily quota, slice some lemons (Vitamin C!) and purchase a special glass or bottle that brings you joy when you use it. Just make sure to drink consistently throughout the day to reach the recommended 64 ounces.
Sugar + Skin are Perfect Enemies
Simply resist refined sugar! It aggravates and inflames your skin thereby accelerating the aging process. Several scientific studies have shown that sugar is a leading cause of wrinkles, so the simple removal of it from your diet will already move you towards a healthier, more vibrant complexion. To quell that sweet tooth, enjoy blackberries, raspberries and blueberries which offer you antioxidants and fiber as well. 
Maintain A Healthy Gut
All the healthy food in the world won't help a compromised digestive system. The gut is an essential part of how our nutrients make it from the food we eat to our bodies. Consider adding probiotic supplements and probiotic food (dark chocolate and fermented veggies are easy ones) into your diet to increase the healthy bacteria in your gut. They are said to also increase collagen production, hydrate skin, and reduce fine lines.
Pure not Processed
When deciding what to eat, the less your food comes from a box or can, the better. Instead, fill your plate with a wide variety of unrefined, whole and plant based foods that are seasonal, organic, and in as close to their natural state as possible. Most foods that are known to cause gut issues and inflammation are processed, and inflammation is a key contributor to the deterioration of skin cells and skin health. Eating purely with an emphasis on plants provides a strong healthy foundation for your skin.
BEAUTY REGIME + SKIN HEALTH 
If you were to look at the label of your skin care products right now, would you be able to identify each ingredient? Can you even pronounce them? As our largest organ, skin rarely gets the treatment it deserves as we continue to slather on unknown ingredients in the name of beauty. It doesn't have to be this way.
PLANTED IN BEAUTY is leading the way in offering highly effective, plant based ingredients, specifically created to cleanse, regenerate, protect and nourish your skin. You can be sure you that each product in our line is comprised of the highest quality and is always natural, certified organic and transparent in message and manufacturing.
Below are a few ways we will happily demonstrate our unwavering in our commitment to wellness.
Rooted in Nature
If you've been concerned that natural products won't help diminish the visible signs of aging, we have your covered. (Quite literally.) Our botanical ingredients work in tandem with your skin to fight free radicals, protect against inflammation, combat the aging process, and boost production of collagen an elastin —   all without the aid of chemicals, toxins or synthetic preservatives.
Also Organic
In addition to being natural, everything we offer is also the highest level organic as certified by Ecocert, the world's leading certification organization. They require highly rigorous third party testing and if approved, offer a Cosmos Cosmetics Standard, which every one of our products proudly holds.
Because the word organic gets tossed around so often these days, it's important to remind ourselves exactly what it means as it related to topical products. Organic skin care means it is free of insecticides, herbicides, fungicides, fertilizers, alcohol, artificial dyes, synthetic fragrances, sulfates, parabens, among other unnatural additives. 
Considering the fact that what we apply topically gets absorbed and processed through our blood, the case for organic skin care becomes very compelling. 
Truthful + Transparent
When we approach beauty, we want our conscious to be as clear as our complexion, which is why we sought certifications that require full disclosure on sustainable farming and sourcing practices, and ethics in testing, manufacturing and production. We want you to feel confident that the utmost care of our earth and its resources was taken from idea conception to inventory production.
To uphold that promise, we hold four certifications from unbiased third parties to assure you that we reached and exceeded the highest standards set forth by industry and environmental leaders.
Cosmos Cosmetic Standard: verifies the actual amount of natural and organic ingredients, and the percentages of each in every product formula.
Leaping Bunny: Cruelty free at all phases of product development.
Vegan: No animal products or by- products. Ever.
EWG (Environmental Working Group) Verified: indicates that a product is
required to disclose all ingredients, and has very strict criteria for transparency, healthfulness and safety.
PLANTED IN BEAUTY Skincare was the answer to our passion and pursuit of well-being and the healthiest versions of ourselves. While our years of beauty industry experience have guided, and informed our business, we are fellow wellness seekers learning and growing right alongside you.
Printer Friendly