TOP QUESTIONS ABOUT OUR SUPER NUTRIENT TOUCH-FREE FACE MOISTURIZER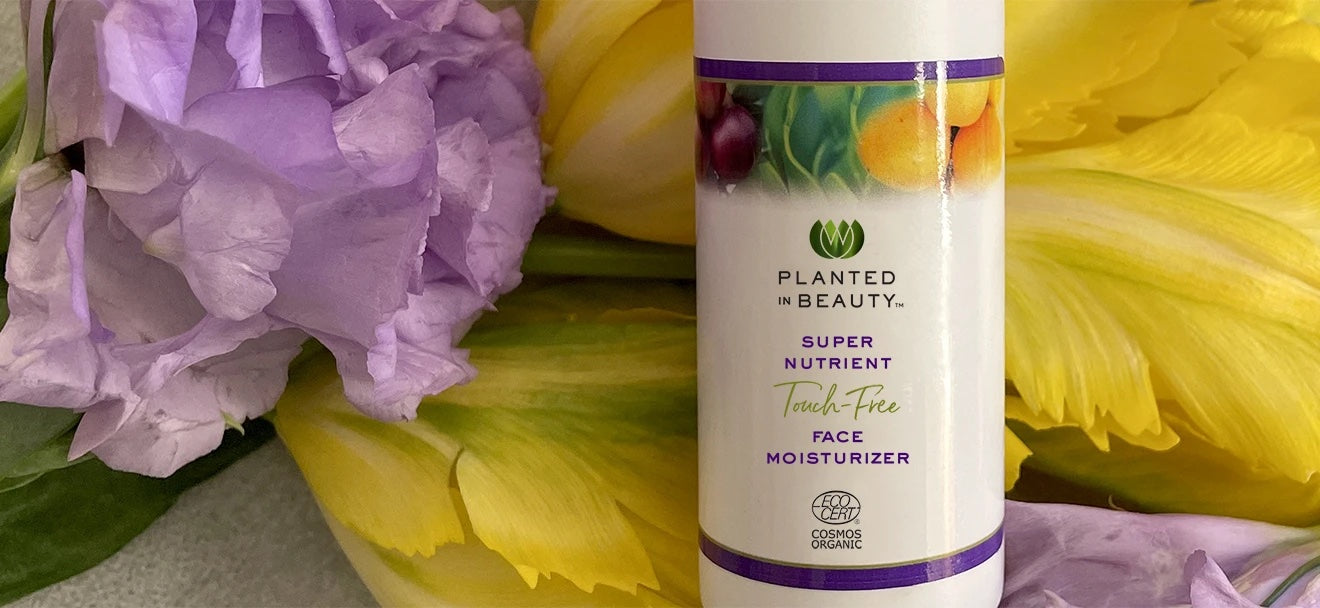 1. WHAT ARE THE BENEFITS OF USING OUR SUPER NUTRIENT TOUCH-FREE FACE MOISTURIZER?  
With extraordinary touch-free, hands-free hygienic application, this natural skin-plumping moisturizer provides hydration and radiance whenever your skin may feel dull and dry. Instantly smooths, soothes and softens skin – portable for anytime, anywhere use!
By adding back super-charged nutrients, antioxidants and skin-replenishing ingredients your skin will look and feel hydrated, calmed, soothed and radiant. Your make-up will apply easier and look better. Our natural, certified organic ingredients help slow the signs of aging and protect against wrinkles. 
2. WHY IS OUR TOUCH-FREE, HANDS-FREE MOISTURIZER A MUST-HAVE?
We touch our faces countless times every day - brush the hair from our eyes, scratch an itch, take our glasses on and off and, most recently, putting on and taking off our face masks. A study showed that participants touched their faces an average of 23 times per hour, significantly increasing the risk of the coronavirus infection. 
That's why our SUPER NUTRIENT TOUCH-FREE FACE MOISTURIZER is your perfect solution with a hands-free hygienic application. Sprays on, absorbs quickly - no need to massage or rub in! 
During these mask wearing days your skin needs extra protection to maintain a healthy balance. Ensuring your skin is properly hydrated will help improve the barrier function of the skin and reduce dryness and irritation. Rich in super-charged nutrients, antioxidants and skin-replenishing ingredients, this 100% natural high performing ultra-fine spray instantly delivers maximum moisture and hydration.
3. WHAT KEY INGREDIENTS ARE IN THE SUPER NUTRIENT TOUCH-FREE FACE MOISTURIZER?
CAMU CAMU: Super nutrient-rich in Vitamin C and organic citric acid, acts as a powerful active antioxidant and anti-inflammatory. Encourages collagen production for firm, smooth skin. Restores radiance in dull, tired skin.
SPIRULINA: Rich in super nutrients, vitamins, antioxidants, fatty and amino acids, nourishes and boosts moisturization, decreases inflammation, tones the skin and encourages cell turnover to promote a more youthful-looking radiant complexion. 
BLACKCURRANT: This super nutrient extract, rich in vitamins C and E and essential fatty acids, replenishes moisture as it helps smooth and firm the skin. Leaves skin feeling refreshed.
APRICOT EXTRACT, SUNFLOWER OIL AND ALMOND OIL: Plant-derived skin-loving nutrients help to smooth, brighten, prevent and minimize the appearance of wrinkles. 
ERYTHRITOL, PENTYLENE GLYCOL, GLYCERYL CAPRYLATE, ANHYDROXYLITOL, GLYCERYL UNDECYLENATE, XYLITOL: 100% natural humectants that have both moisture-binding properties and provide strong antimicrobial activities. Helps to seal in moisture to create a protective barrier against damaging environmental effects.
4. WHAT ARE THE BEST TIMES TO APPLY OUR MOISTURIZER?
Can be worn alone and under or over your moisturizer and makeup. In the morning and before going to bed after you wash your face while it is still damp; and during the day when your skin feels dry, irritated and itchy or whenever you need to refresh, hydrate and comfort your skin. 
5. IS YOUR PRODUCT CERTIFIED ORGANIC?
Yes. 100% natural and safe, certified Cosmos Organic by the Ecocert Cosmos Standard. This certification verifies natural and organic ingredients and percentages in the formula, that the products are chemical and toxic free, the use of eco-friendly packaging and ensures respect for the environment by auditing sustainable practices around ingredient sourcing, farming and manufacturing. It provides assurances that our brand is in compliance with highly rigorous standards established by an independent 3rd party. Certified by Ecocert represents a guarantee of integrity and safety for our consumer.
Printer Friendly
3 Responses