FEED YOUR COMPLEXION WITH TRANSFORMATIVE SUPER NUTRIENTS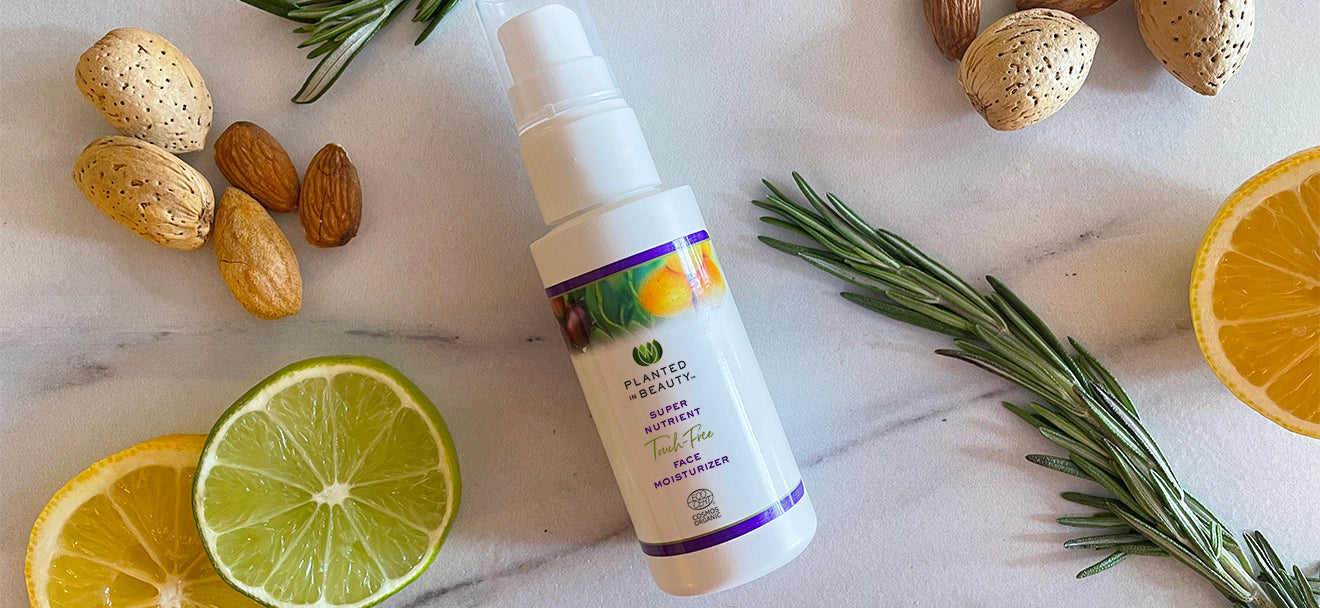 Many of us are aware that our skin is our largest organ. But may not know that 60% or more of the products we topically apply onto our skin have the potential to be absorbed into the bloodstream and circulated to our cells. So, it's incredibly important to be conscious and cognizant for your own health and wellness of what you're applying to your skin.
We believe the key to achieving healthy, glowing skin is to nourish it with organic, natural plant-based ingredients, rich in phytonutrients, vitamins, minerals, and free from toxins.
But how can we take our plant-based natural skincare to the next level? 
Well Within Beauty has created a unique formula, the Super Nutrient Touch-free Face Moisturizer, to feed your complexion with these transformative, everyday super nutrients.
CAMU CAMU
Super nutrient-rich in Vitamin C and organic citric acid, acts as a powerful active antioxidant and anti-inflammatory. Encourages collagen production for firm, smooth skin. Restores radiance in dull, tired skin.
SPIRULINA
Rich in super nutrients, vitamins, antioxidants, fatty and amino acids, Spirulina nourishes and boosts moisturization, decreases inflammation, tones the skin and encourages cell turnover to promote a more youthful-looking radiant complexion. 
BLACKCURRANT
This super nutrient extract, rich in vitamins C and E and essential fatty acids, replenishes moisture as it helps smooth and firm the skin. Leaves skin feeling refreshed.
SUNFLOWER
Potent anti-inflammatory antioxidants, rich in Vitamin E and essential fatty acids, protect, nourish, and help restore skin's suppleness and elasticity while preventing wrinkles.
ALMOND
Skin-smoothing Vitamin E helps reduce oxidative stress and restore suppleness. Essential fatty acids and proteins for cell regeneration and renewal help protect skin's barrier function.
APRICOT
Skin-loving super nutrients, rich in essential fatty acids, Vitamin A, C and E, help to smooth, brighten, prevent and minimize the appearance of wrinkles. Its softening, nourishing, and moisturizing activities slow the signs of aging. 
Discover Well Within Beauty's SUPER NUTRIENT TOUCH-FREE FACE MOISTURIZER, a unique formula containing a blend of super-charged nutrients, antioxidants, and skin-replenishing ingredients. This 100% natural high performing ultra-fine moisturizer spray instantly delivers maximum hydration, comfort, and radiance. ADDED BENEFIT: Applies to your face without using your hands to ease any hygiene concerns, and a MUST-HAVE for keeping your face soothed and protected underneath face masking days.
Printer Friendly
3 Responses