THE ROLE OF FIBER IN HEALTH AND WELLNESS (+ HIGH FIBER FOODS)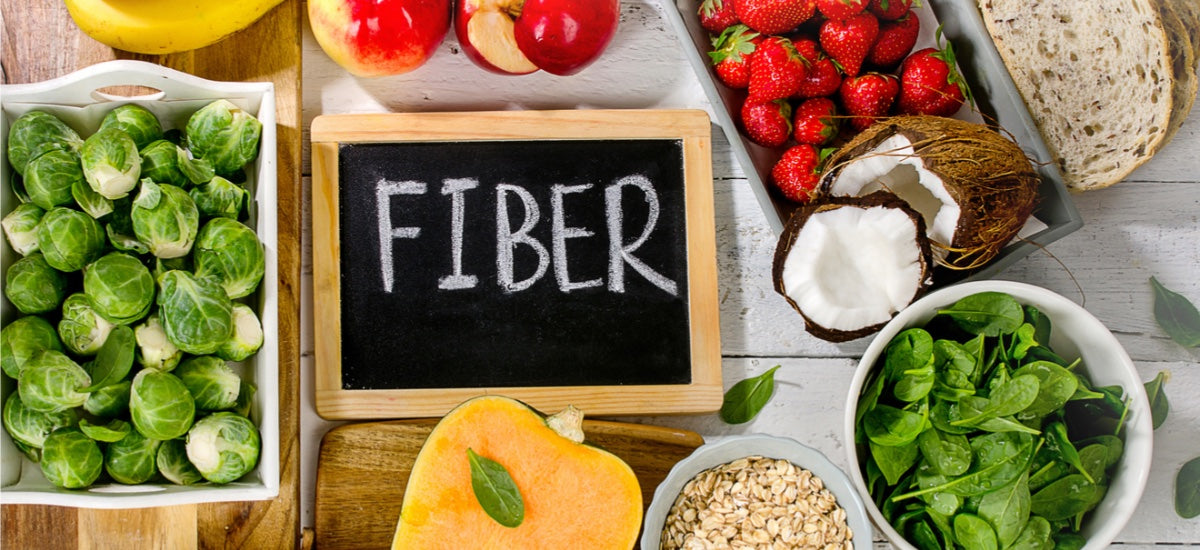 We often think of gastrointestinal health when we think of dietary fiber. The truth is fiber does so much more for health than helping with digestion. It helps with the symptoms of diabetes and can even promote weight management. But, before we get into all the wonderful benefits of eating more fiber, let's find out what fiber really is. 
WHAT IS FIBER?
Dietary fiber describes the indigestible parts of plant foods, such as in whole grains, beans, fruits, or vegetables. These substances aren't broken down by the different enzymes in the gastrointestinal system like other types of foods. Therefore, dietary fibers pass through the body largely intact. 
There are two types of fiber: soluble and insoluble. Soluble fiber is basically the kind that dissolves in water, forming a gel-like consistency. This gel helps slow down digestion. Soluble fiber is found in legumes, nuts, seeds, oats, barley, and apples. Insoluble fiber increases the bulk of the stool and helps move things along in the gastrointestinal tract. It's found in whole grains, wheat bran, nuts, green beans, potatoes, and other vegetables. 
Many plant-based foods have both types of fiber, but the amounts vary. To reap the most health benefits from fiber, strive to get a wide range of high-fiber foods in your everyday diet. 
WHY IS FIBER IMPORTANT FOR HEALTH? 
Both forms of fiber play an important role in health, including the following advantages:
Helps with fullness after eating. Since fiber isn't broken down like other foods, it hangs around in the body longer. As a result, you feel full longer after eating fiber-rich foods.
Stabilizes blood sugar. Foods high in soluble fiber slow down the digestion of carbohydrates and the absorption of sugar, which helps with blood glucose control. A high-fiber diet can reduce your risk of Type 2 diabetes, or help those who already have diabetes better manage it.
Lowers bad cholesterol. Soluble fiber has a special role in reducing the amount of low-density lipoproteins, or LDL, (bad cholesterol) in the blood, which supports healthy cholesterol levels.
Reduces risk of cardiovascular disease. Fiber has other heart-health benefits, such as lowering blood pressure and reducing inflammation throughout the body. Research shows that a high-fiber diet can significantly reduce risk of heart disease.
Helps with weight control/loss. Foods high in fiber are often more filling than the alternatives, which means you'll ultimately eat less and feel more satisfied after meals. This can reduce unhealthy snacking and promote weight loss or better weight management.

Supports skin health. Fiber-rich foods, especially psyllium husk, have the power to promote toxin removal from the body. When this happens effectively, your skin is visibly healthier and clearer.
Promotes regularity. Eating more fiber ensures that the digestive system functions properly. Not only does a high-fiber diet prevent both constipation and diarrhea, but it also reduces risk of other gastrointestinal issues, such as ulcers, diverticulitis, and hemorrhoids.
FOODS HIGH IN FIBER 
According to the Academy of Nutrition and Dietetics, adult women should aim for at least 25 grams of fiber per day, while men should get at least 38 grams. Incorporate more fiber into your diet by choosing high-fiber foods, such as the following: 
Lentils (1 cup, boiled): 15 grams
Black beans (1 cup, boiled): 15 grams
Artichoke (1 medium, boiled): 10.3 grams
Green peas (1 cup, boiled): 8.8 grams
Raspberries (1 cup): 8 grams
Barley (1 cup): 6.3 grams
Bran flakes (¾cup): 5.5 grams
Broccoli (1 cup, boiled): 5.1 grams
Apple (1 medium w/ skin): 4.4 grams
Almonds (1 ounce): 3.5 grams
Most of us aren't getting enough fiber in our current diets, so increasing your intake can help support a healthier lifestyle. However, keep in mind that you should increase your fiber intake gradually, as doing so too quickly may cause gastrointestinal upset.
Printer Friendly