THE 9 BEST HERBS & SPICES TO BENEFIT YOUR HEALTHY SKIN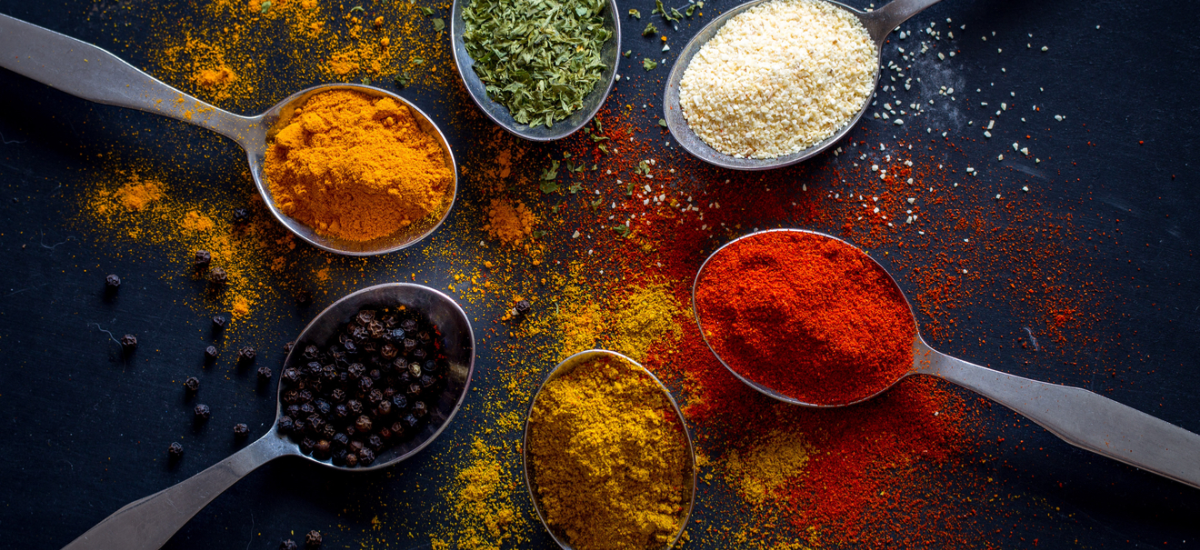 The benefits of whole foods like fruits and veggies on skin health have been widely discussed, but many people aren't aware of the effects herbs and spices can have on beauty. These are often considered an accompaniment, allowing us to use them alone or in various combinations to add unique flavor to foods. However, many herbs and spices offer beneficial nutrients and other health benefits that can improve the overall look and feel of your skin.
Find out how these 9 herbs and spices can benefit you with healthy, glowing skin.
1. CINNAMON
People with diabetes are often recommended cinnamon for regulating blood sugar levels. Even if you don't struggle with diabetes, cinnamon's glucose-stabilizing effects can still benefit your skin. High blood sugar can lead to a chain reaction that rockets insulin production throughout the body (as well as other hormones). Chronically, this can lead to excess sebum (oil) production and breakouts.
2. CUMIN
Cumin seeds have a well-rounded nutritional profile of calcium, iron, manganese and Vitamin C, which are vital for supporting healthy skin tissues. Cumin also contain natural protein and amino acids that are used to produce collagen and elastin. These proteins are the secret ingredients for healthy, youthful-looking skin.
3. CHAMOMILE
Chamomile delivers natural soothing properties, which can benefit skin that is red and inflamed. Plus, a special compound in this herb called alpha-bisabolol may support skin healing and help smooth away fine lines and wrinkles.
4. DANDELION
Dandelion roots are an excellent choice for detoxing the body. This doesn't merely benefit the liver, flushing out toxins also helps clear your complexion. Dandelion contains Vitamin C, which offers immune-boosting effects that accelerates skin healing and reduces infections.
5. FENNEL SEEDS
Fennel seeds are incredibly nutrient-rich, consisting of beauty-friendly vitamins and minerals like manganese, potassium, selenium, and zinc. Manganese, for example, is required for the formation of amino acids that are used to generate more collagen. In addition to these nutrients, fennel seeds also contain antioxidants that prevent skin cell damage from free radicals.
6. GINGER
Ginger has powerful anti-inflammatory properties that can help reduce the puffiness, redness, and irritation caused by common skin conditions. In addition, ginger has a bioactive compound called gingerol that has antioxidant effects. This translates to anti-aging benefits such as a smoother, clearer complexion, and protection from skin cancer.
7. HOLY BASIL
Also referred to as tulsi, holy basil has been celebrated for years in Indian culture for its medicinal properties. It contains potent phytonutrients that can help heal wounds and prevent skin infections. These benefits may also help relieve flare ups in skin conditions like acne, eczema, and psoriasis.
8. PAPRIKA
Made from peppers, paprika acts as a vasodilator. This means that it temporarily widens blood vessels, helping skin look healthy and radiant. Paprika also contains important nutrients like Vitamin A for cellular renewal and Vitamin C for free radical protection.
9. TURMERIC
Turmeric is another anti-inflammatory spice that can help relieve inflammation throughout the body, including inflammatory skin conditions. Plus, the bioactive compound in turmeric known as curcumin has antioxidant properties. Along with limiting free radical damage in the body, curcumin also offers protection against skin cancer.
Printer Friendly