OUR FAVORITE PLANT-BASED SOUP TIPS (AND RECIPES)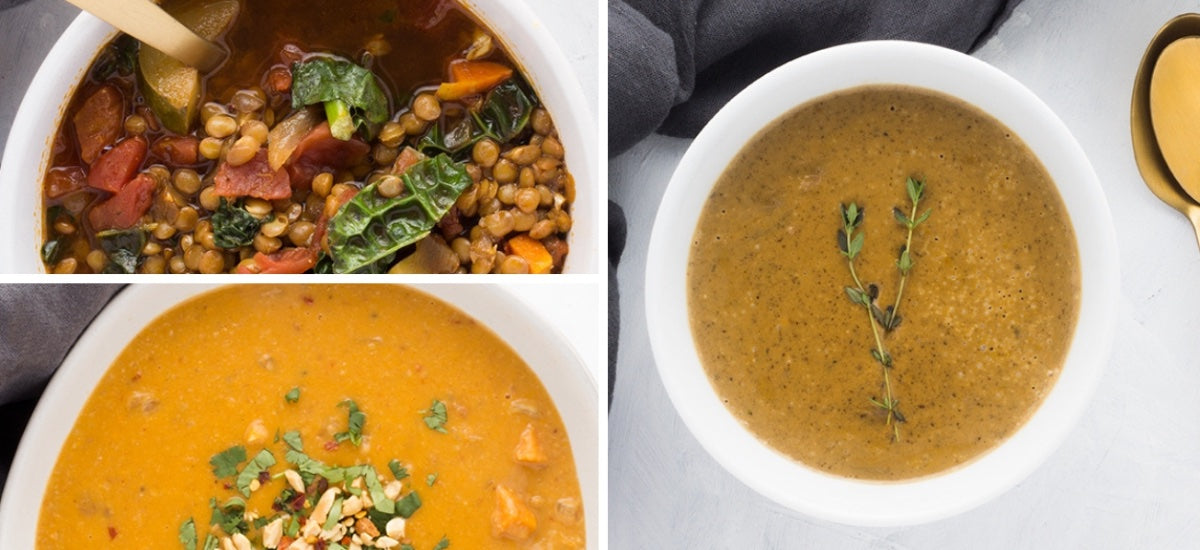 Soups are a great comforting and warming meal that also can provide lots of nutritional benefits when packed with vegetables and plant-based proteins. While it is often thought that soups require a long time to cook, with the right ingredients and methods, you are never too far away from a comforting bowl.
Below are some simple tips to achieve a perfect bowl of soup no matter what recipe you use.
BUILD FLAVOR
While soups are often a one pot meal, that doesn't mean every ingredient should be added at once. Instead, build the layers of flavor starting with sautéing the aromatics such as onions, garlic and spices which will be the base for your soup. From there you can add sturdier ingredients such as other vegetables and plant-based proteins.
GET CREATIVE WITH FLAVOR
If you feel your soup needs a little more flavor, get creative and look for flavor additions in your pantry and fridge. Items such as tamari, mustard and chili pastes can add lots of flavor to your soup and require no additional effort.
LEAFY GREENS GO LAST
When adding different vegetables to your soup, it is important to remember that they all have different cooking times and adding them at the wrong time can lead to a less than desired final texture. This is especially true when adding leafy greens which should always be added towards the end of the cooking time to prevent them from becoming overcooked.
LOWER THE HEAT
Soups should not be kept at a boil for long. In fact, boiling your soup too much may change both the flavor and the texture as the vegetables may become mushy. Once your soup comes to a low boil, reduce the heat to low and simmer gently until the ingredients have reached the appropriate level of doneness. 
ADD SALT LAST & SPARINGLY
Although soups benefit from a proper seasoning with salt, too much will lead to a disappointing final result. The amount of salt necessary in your soup will also depend on the type of stock or broth you use as many of these already have sodium included. Salt should also always be added to your soup right before you serve it as sodium concentration and the taste changes as the soup simmers and some liquid evaporates.
CONSIDER ADDING AN ACID
If after your soup has been seasoned it still tastes bland or flat, try adding some acid such as a squeeze of citrus or a splash of vinegar. This helps to brighten the soup and add another dimension of flavor. Make sure to add the acid once the heat is turned off and just before serving.
OUR FAVORITE PLANT-BASED SOUP RECIPES
If you are looking for some plant-based soup inspiration, look no further than our favorite recipes below.
Peanuts are an excellent source of healthy fats, protein and important nutrients and have been shown to help aid in weight loss. Hearty sweet potato also provides healthy carbohydrates for a well-balanced, plant-based soup. 
Lentils are an excellent source of plant-based protein and since they cook quickly, are the perfect choice for a busy, weeknight soup. Turmeric provides an anti-inflammatory boost while curry powder adds a spicy kick to this soup.
While most mushroom bisques contain cream or milk, this plant-based version is made "creamy" by using soaked cashews. The mushrooms in this soup also provide important antioxidants which can help fight free radicals and potentially prevent against cancer.
Printer Friendly
1 Response