GET THE BEST SKIN OF YOUR LIFE WITH THESE 10 PLANT-BASED FOODS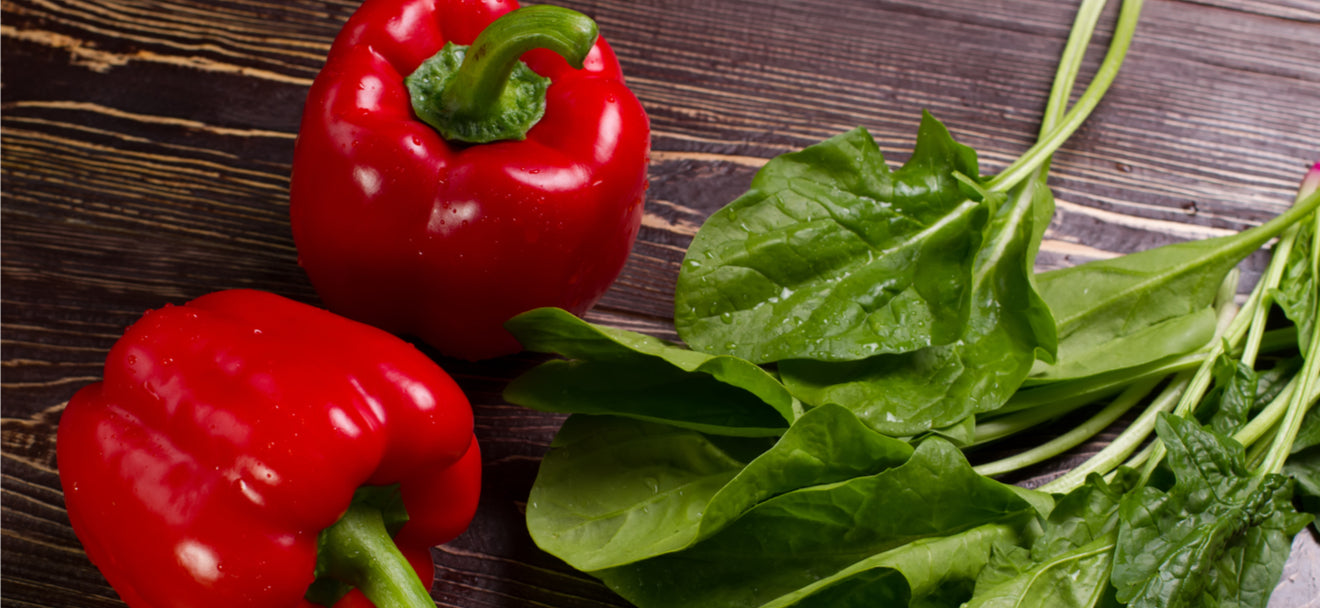 Are you searching for food that's good for your skin? If so, then you already know that amazing skin is founded in a nutrient-rich diet that's loaded with good-for-you fruits and veggies that resemble the rainbow. Here are 10 colorful, plant-based foods to help you achieve the best skin of your life.
1. KALE
Dark leafy green veggies like kale offer an abundant supply of beta-carotene, a special carotenoid with antioxidant powers. Beta-carotene converts into Vitamin A once inside the body— an essential vitamin responsible for shedding dead skin cells and regenerating new ones. The antioxidant powers in kale also fight off free radicals that cause premature aging.
2. LEMONS
Whether squeezed into warm water or used in dressings, lemons are a top pick for healthy, beautiful skin. They detoxify the body from the inside out to improve the look and feel of your skin. Lemons are also a great source of Vitamin C, which is necessary for collagen production that maintains your skin's elasticity and firmness.
3. BLUEBERRIES
Food that's good for your skin is typically rich in antioxidants and blueberries are packed with a variety of beneficial nutrients and antioxidants. An excellent source of phenols, flavonoids, and anthocyanins, blueberries minimize oxidative stress that ages and damages skin cells. It's even considered an anti-inflammatory food, which may be beneficial if you struggle with skin conditions like psoriasis, rosacea, or acne.
4. SWEET POTATOES
Another food rich in beta-carotene (which gives these potatoes their orange color), sweet potatoes brighten and smooth skin due to the combination of Vitamins A and C. Research has even shown that this food can help reduce the appearance of wrinkles. This happens because it stimulates collagen production that helps smooth the top layer of skin.
5. WALNUTS
One of the best plant sources of omega-3 alpha linolenic acid (ALA), walnuts are responsible for helping your body generate healthy skin cells. These essential fatty acids are also necessary for the production of sebum, which keeps skin hydrated and helps your complexion look radiant.
6. BELL PEPPERS
Colorful vegetables like bell peppers contain powerful antioxidants that keep your skin looking young and smooth. The Vitamin C in bell peppers is essential for collagen production. In addition, the carotenoids found in orange, yellow, and red peppers help to protect your skin from sun damage.
7. POMEGRANATE
Rich in three types of polyphenol antioxidants— tannins, anthocyanins, and ellagic acid— the juice of pomegranates helps defend your skin against free radicals that cause premature aging. Pomegranates also contain high levels of Vitamin C that foster collagen production to keep skin smooth and wrinkle-free.
8. SOYBEANS
If you suffer from hyperpigmentation, whether from sun exposure or acne scarring, soybeans can help clear up your complexion. In addition, soy contains high levels of protein which is beneficial for the formulation of collagen and elastin that helps to firm and tighten aging skin. Soybeans also offer moisturizing effects that combat dryness and soften the texture of your skin.
9. BEETS
Beets contain a healthy mix of nutrients like Vitamin A, folate, potassium, and magnesium that helps develop and repair skin cells. Antioxidants found in beets like betanin and vulgaxanthin restore lackluster skin thanks to their anti-inflammatory and detoxifying effects.
10. SPINACH
Spinach is high in folate, a B-vitamin that is essential for the growth and maintenance of healthy DNA. This leafy green is also rich in other vitamins and minerals, like Vitamins A, C, and E as well as beta-carotene all of which are fundamental in keeping your skin looking young.
Printer Friendly