EAT THESE 10 FOODS FOR MORE ENERGY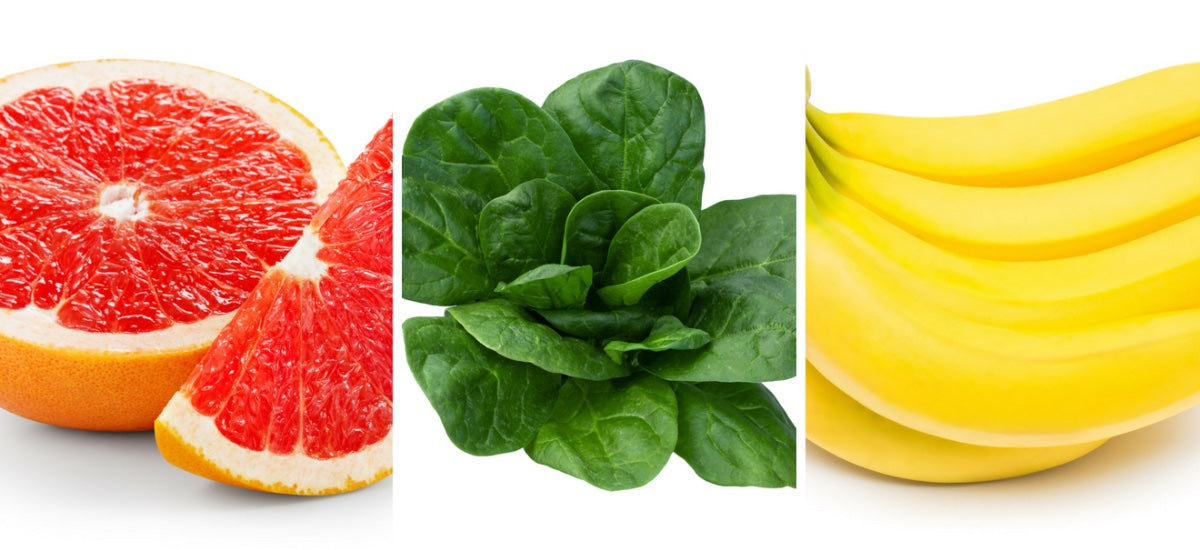 Whether you're overloaded with work or experiencing sleep difficulties, everyone needs an energy boost at some point. Rather than reaching for processed and sugar-laden energy drinks or snacks, why not get a natural boost from real, whole foods? These 10 plant-based foods fight fatigue while offering an abundance of vitamins and nutrients.
1. SPINACH
Dark leafy greens like spinach are a wonderful choice when you're in need of extra energy. Spinach is a great source of Vitamins K, A, and C, as well as folate, magnesium and iron, which is a key compound needed to produce energy in the body.
2. QUINOA
The complex carbohydrates found in whole grains like quinoa are a great way to recharge without the subsequent crash known to follow consumption of refined carbohydrates like cookies or cereal. Plus, quinoa offers a well-rounded nutrient profile, including protein, iron, and fiber for a happy and healthy gut.
3. BANANAS
Bananas are a favorite pre-workout snack thanks to their nutrient profile. The natural sugars found in bananas provide a quick energy boost. They also deliver an abundance of nutrients that support overall health, such as complex carbohydrates, potassium, magnesium, and fiber.
4. CHIA SEEDS
The ancient Mayan people once turned to chia seeds for a natural source of energy. This nutrient-dense food contains protein, fiber, omega-3 fatty acids, and manganese. Chia seeds are also a rich source of antioxidants, which defend the body against fatigue and illness-causing toxins. 
5. WATER
Sometimes what seems like fatigue is actually dehydration. When you're well hydrated, you'll feel energized and ready to take on the day. Keep a water bottle on hand to be sure you get the recommended eight glasses per day.
6. GRAPEFRUIT
Citrus fruits like grapefruit are an excellent choice for an energy boost. They contain all the necessary nutrients to keep energy high, like natural sugar as well as electrolytes like potassium and calcium. The antioxidant benefit of Vitamin C also makes this fruit a great free radical (i.e. fatigue and illness) fighter.
7. WALNUTS
Walnuts offer healthy fats that can help you combat fatigue. Healthy fats increase antioxidant absorption to keep your body energized at the cellular level. The omega-3 fats found in walnuts also improve concentration and thinking, which is typically compromised when you're feeling drained. 
8. LEGUMES
Legumes like black beans, lentils, and chickpeas are nutrient-dense foods that provide the perfect pick-me-up when you're fighting fatigue. They boost energy levels due to their complex carbohydrate content. Plus, they also offer protein and fiber to keep you full longer after eating.
9. GREEN TEA
If you're feeling sluggish mid-day, reach for this superfood drink instead of coffee. Green tea contains a small amount of caffeine as well as L-theanine which positively impacts your energy levels. Best of all, this energy-boosting drink won't lead to jitters like other caffeinated beverages. In addition to providing natural energy, green tea also has antioxidant and anti-inflammatory properties that fend off illness.
10. OATS
Oats are a great choice when you need extra energy, whether as breakfast in the morning or the perfect afternoon snack. Oats contain complex carbohydrates that keep your energy levels up, but it's low on the glycemic index, so it won't cause a blood sugar spike like refined carbs.
Printer Friendly