BEAUTY FOODS (AND RECIPES) FOR HEALTHY, RADIANT SKIN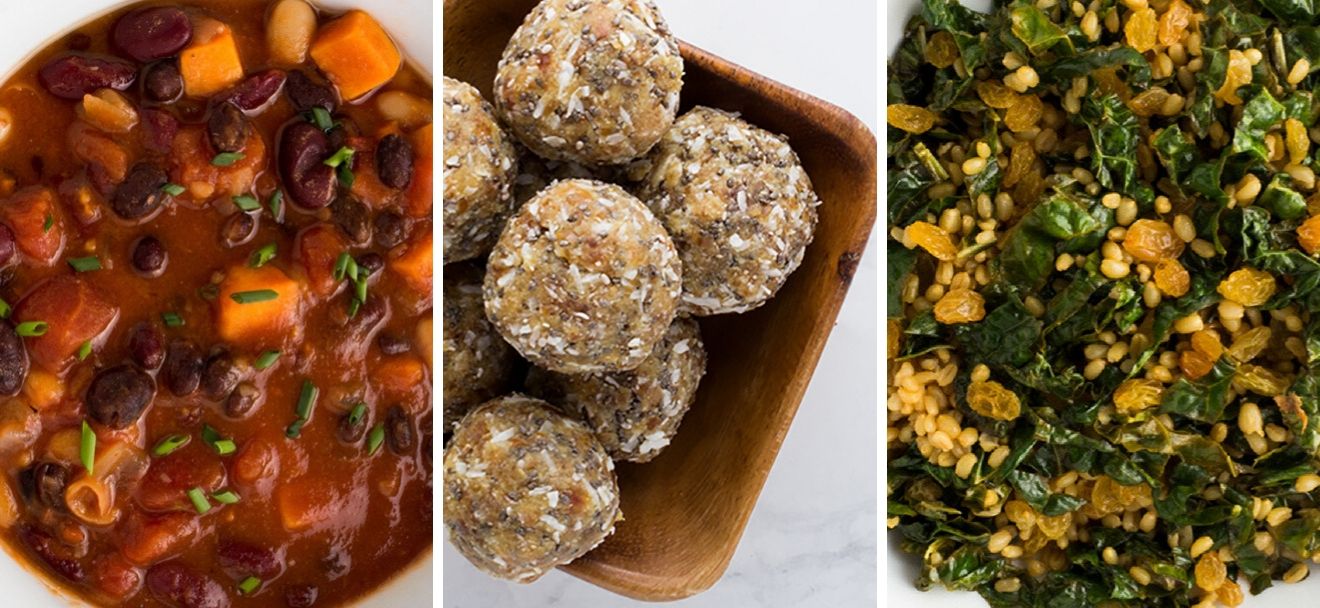 The new approach to beauty and skin health is an integrated movement that prioritizes all facets of wellness from lifestyle to nutrition. Feeding your skin for inside and out beauty is an integral component of your skin health and wellness practice.
Consuming nutrient rich foods aid our skin's essential functions and work to support overall immune function, cell regeneration and renewal, help stimulate collagen production, improve skin elasticity, reduce redness and inflammation, and restore skin's natural radiant glow.
Try eating more of these foods (recipes included) that nourish and protect skin from within!
APPLES
The high-water content— about 86%— of apples plumps up your skin cells from within, helping to relieve dryness. Apples also contain Vitamin C, a vital ingredient for the production of collagen, the protein that helps strengthen the skin's protective barrier and prevents loss of moisture.
Recipe: Spinach Salad With Apple, Pomegranate And Walnuts
Serves 6, Takes 10 Minutes, Vegan, Gluten-Free 
Ingredients:
For the Dressing:
2 tablespoons fresh lemon juice
2 teaspoons Dijon mustard or whole-grain mustard
4 tablespoons extra virgin olive oil
½ teaspoon sea salt
1/8 teaspoon black pepper, freshly ground
For the Salad:
6 ounces of spinach leaves, washed
1 head of endive, shredded
½ cup pre-seeded pomegranate seeds (you can buy pre-seeded)
½ cup walnuts, roughly chopped
1 large green apple
Instructions:
Put spinach, endive, pomegranate and walnuts together in a large salad bowl.
On the side, whisk together lemon juice and mustard along with salt and pepper until smooth. Add olive oil to lemon and mustard slowly, to emulsify mixture into salad dressing.
Pour dressing over salad and toss gently.
Quarter apple and core. Thinly slice crosswise, leaving semi-circle shaped slices.
Divide salad up among 6 plates, and arrange apple slices on top of salad decoratively.
BRAZIL NUTS 
Not getting enough minerals like selenium in your diet can exacerbate skin problems. Brazil nuts are a natural source of selenium, which protects and repairs skin at the cellular level. Vitamin E is yet another nutrient found in Brazil nuts that clears skin by fighting free radicals that damage healthy DNA.
Recipe: Selenium-Rich Chocolate Chia Seed Pudding
Serves 4, Takes 20 Minutes, Vegan
Ingredients:
½ cup Brazil nuts
2 cups water
nut bag or several layers of cheesecloth (optional)
½ cup chia seeds
¼ cup unsweetened cacao powder
½ teaspoon ground cinnamon
¼ teaspoon sea salt
1 tablespoon maple syrup
Instructions:
Blend Brazil nuts in water in a high-speed blender until you get smooth, creamy milk. If desired, strain it with a nut bag or several layers of cheesecloth.
Add Brazil nut milk and other ingredients into a bowl and whisk until combined. Let sit several minutes (or overnight) until desired thickness is reached.
Tip: Makes a simple delicious breakfast or dessert topped with berries and slivered almonds.
CELERY 
High in water and incredibly low in calories, celery hydrates, cleanses, and even prevents acne breakouts. This stalky vegetable contains a variety of nutrients that benefit skin, such as folate, potassium, and Vitamins A, B, C, and K. It also boasts antioxidant powers that fight free radicals and protect your skin from premature aging.
Recipe: Grandma Maria's Vegetable Soup
Serves 6, Takes 45 Minutes, Vegan, Gluten-Free 
Ingredients:
2 tbsp olive oil
1 medium yellow onion, diced
2 carrots, peeled and diced
2 celery stalks, diced
2 garlic cloves, minced
5 cups of vegetable stock or water
2 cups zucchini, chopped
1 can (28 oz) fire roasted tomatoes, diced
1 can (15 oz) cannellini beans, rinsed and drained
1 tsp dried basil
1 tsp dried oregano
salt and pepper to taste 
Instructions:
Heat olive oil in large pot over medium heat.
Add onions, carrots, and celery and sauté 4-5 minutes then add garlic and sauté 1 minute longer.
Pour in broth or water and bring to a boil.
Add remaining ingredients, reduce heat to medium-low, and simmer until vegetables are tender, about 20-30 minutes.
AVOCADO
A lack of linoleic acid in the sebaceous glands of the skin has been linked to an increase in breakouts. The avocado is an excellent source of linolenic acid as well as healthy monounsaturated fats that regulate sebum production and deliver natural moisturization. Avocados also contain Vitamin E, which is important for reducing the effects of UV exposure on skin.
Recipe: Energizing Almond + Avocado Salad
Serves 3-4, Takes 25 Minutes, Vegan, Gluten-Free 
Ingredients:
1 cup baby spinach
1 cup mesclun greens
1 ripe avocado, peeled and cubed
1 small cucumber, cut into thin coins
1 asian pear, cubed (can also substitute with strawberries, figs, or other favorite fruit)
¼ cup raw almonds
1 tbsp. raw apple cider vinegar
½ tbsp. whole grain mustard
3 tbsp. extra virgin olive oil
1 tsp. salt
black pepper to taste
Chopped almonds for serving
Instructions:
In a large bowl, combine the baby spinach, mesclun greens, cubed avocado, sliced cucumber and cubed asian pear (or other fruit).
Place your ¼ cup of almonds on a sturdy cutting board. Using a large chef's knife, gently rock the knife back and forth over the nuts. (Your dominant hand will hold the handle, while the other one rests atop the knife blade to guide it at the other end). This will give you a rough, rustic chop, and some pieces will be bigger than others. Keep almonds aside.
In a small bowl, mix together apple cider vinegar, mustard, salt, and black pepper. Slowly add oil and stir using a whisk or a fork until dressing is emulsified.
Toss the ingredients in the large bowl with the dressing. When you're done, top the salad with the chopped almonds. 
KALE
Dry skin is more likely to tear and become irritated, which weakens its protective abilities. The nutrient profile of kale offers natural hydration. Plus, kale is beneficial for skin cell regeneration from Vitamin A as well as strength and firmness from Vitamin C (that promotes collagen production).
Recipe: Wheat Berries With Shredded Kale & Golden Raisins
Serves 6, Takes 70 Minutes, Vegan
Ingredients:
1 cup wheat berries
2.5 cups water
2 cups finely shredded Lacinato kale (packed)
¼ teaspoon sea salt
¼ teaspoon ground black pepper
2 tablespoons lemon juice
2 tablespoons olive oil
¾ cups golden raisins 
Instructions:
In a medium saucepan, add the wheat berries and the water. Bring to a boil over medium heat.
Once the water has boiled, cover the pan and reduce the heat to low. Cook for 1 hours or until the water has been absorbed and the wheat berries are tender.
In a large bowl, add the shredded kale, sea salt, black pepper, lemon juice and olive oil.
Gently massage the kale for 2-3 minutes or until it begins to soften. Set aside until wheat berries are cooked.
Add the cooked wheat berries and golden raisins to the bowl and combine well.
Serve at warm or at room temperature. Store leftovers in a airtight container in the fridge for up to 5 days.
CHIA SEEDS
Chia seeds are a natural source of omega-3 fatty acids that benefit the structure of your skin and provide natural moisture. The seeds fight inflammation in the body, thereby reducing facial redness and breakouts. Chia seeds are an antioxidant-rich food due to their high phenolic content, which fights the signs of premature aging and fosters skin cell repair.
Recipe: Chia Energy Bites
Makes 10 - 12 Pieces, Takes 15 Minutes, Vegan, Gluten-Free
Ingredients:
15 large dates, pitted
½ cup almond flour
¼ cup unsweetened, shredded coconut
¼ cup chia seeds
2 tablespoons ground flax
¼ teaspoon vanilla extract
Pinch ground cinnamon
Pinch sea salt 
Instructions:
In a food processor, pulse the pitted dates until chopped and beginning to form a ball.
Add in the remaining ingredients and blend for 1 minute or until a dough forms that holds its shape when squeezed together.
Roll mixture into 10 - 12 balls and store in an airtight container in the fridge until ready to eat.
Store in an airtight container in the fridge for up to one week.
BEANS
Unlike refined carbohydrates such as white breads and rice, beans are a source of complex carbohydrates that promote the body's natural digestion and detoxification processes. A healthy gut is able to work more effectively at removing toxins and free radicals that jeopardize skin health. Beans are also a great source of biotin, which promotes a more youthful looking complexion.
Recipe: Sweet Potato Chipotle Chili
Serves 6 – 8, Takes 60 Minutes, Vegan, Gluten-Free 
Ingredients:
2 tablespoons light oil (such as avocado oil or olive oil)
1 small yellow onion, diced
1 garlic clove, minced
1 medium red bell pepper, seeds removed and diced
2 cups diced peeled and diced sweet potato
1 tablespoon tomato paste
1 teaspoon black pepper
1 teaspoon cumin powder
½ teaspoon chili powder
½ teaspoon cayenne pepper
½ chipotle pepper, diced
¼ teaspoon cinnamon
1 tablespoon adobo sauce
1 can (15 oz) black beans, drained and rinsed
1 can (15 oz) cannellini beans, drained and rinsed
1 can (15 oz) kidney beans, drained and rinsed
28 ounces diced tomatoes
2 cups water or vegetable stock
Sea salt to taste
Chopped chives for serving 
Instructions:
In a large pot, heat the oil over medium heat. Once hot, add the onion and cook for 5 minutes. After 5 minutes, add the garlic and cook for an additional minute.
Add the bell pepper and the sweet potato. Cook for 10 minutes before adding the tomato paste, black pepper, cumin, chili powder, cayenne, chipotle pepper, cinnamon and adobo sauce. Stir well to combine and cook for another 5 minutes.
Pour the black beans, cannellini beans and kidney beans into the pot and stir before adding the tomatoes and water (or vegetable stock). Bring to a low boil and then reduce the heat to low.
Simmer the chili for 45 minutes or until slightly thickened. Season with sea salt to taste.
Garnish with chopped chives and serve.
Printer Friendly