A GUIDE TO CREATE HOMEMADE VEGAN DRESSINGS YOU'LL LOVE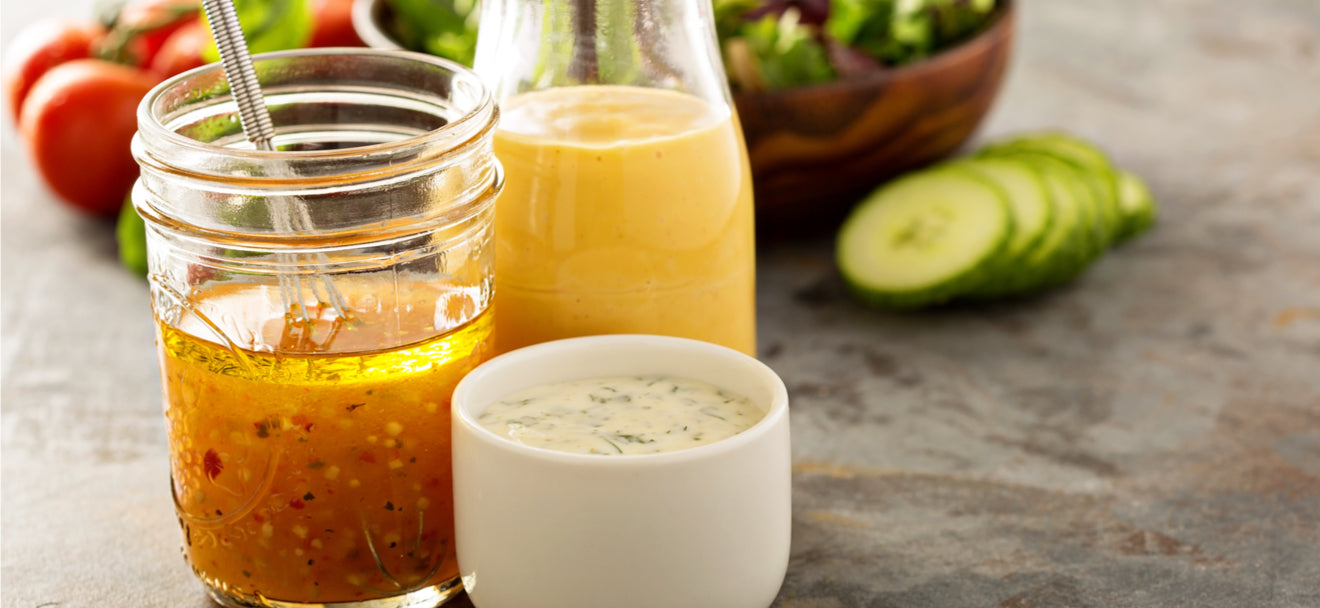 Salads have come such a long way since the bygone days of chopped iceberg and a flavorless wedge of tomato. Today, salads can be taken in countless directions. In fact, with all the options including leafy greens, crunchy cabbage, whole grains, beans, nuts, and seeds, or seasonal veggies and herbs, it's possible to create something new and spectacular every day. You can mix up the presentation as well, testing your hand at chopped salads and artful arrangements such as wedge salad, layered salad, or on-the-go bento boxes. 
Nutritionally speaking, salads can be the best investment you make in your body. In addition to their abundant vitamins and minerals, leafy greens and veggies contain profound "anti" powers; that is, they are antioxidant, anti-inflammatory powerhouses. The addition of nuts and certain grains can provide your needed protein. All you need now is a delightful dressing to round it out. But wait! The healthiest power salad can quickly turn to a red flag meal with this one addition. Bottled salad dressings and those in salad bars are filled with sugars, fats, and questionable chemicals and preservatives. All your good work creating the perfect salad is countered by that one addition. But that doesn't mean you can't enjoy all the savory goodness of delicious dressings.
CREATE YOUR OWN HOMEMADE VEGAN DRESSINGS
By creating your own simple homemade vegan dressings at home, you take control of the ingredients. What good things go into it; what dubious unpronounceable ingredients stay out—it's all in your hands!
Whether you crave tart, sweet, creamy, or spicy, any of these classic dressings are simple to make with a short list of ingredients you probably already have on hand. Most dressings include a base of healthy oil and an acid such as lemon juice or vinegar. From there you can customize them with add-ins such as herbs and aromatics. Most dressings store well in the refrigerator for longer term use, so keep a jar of your favorites on hand for salads and dippers!
Well Within Beauty highlights 5 common homemade vegan dressings, along with their ingredients and uses. 
5 SIMPLE VEGAN SALAD DRESSINGS
1. BASIC ITALIAN
Everyone needs a Nonna. If you don't have an Italian grandma in your life, here's what she would tell you to include in your basic Italian dressing: olive oil, white balsamic vinegar or lemon, and sea salt. Just four ingredients, but so transformative.
Mix some olive oil with a little white balsamic vinegar and/or a squeeze of lemon. Pour it over a big bowl of leafy greens. (Nonna would tell you to toss the salad by hand). Finally, sprinkle with some sea salt and toss again. Other herbs (fresh are best) can be sprinkled in as well, but this basic version will leave no regrets. It can be used as the base for several other dressings, including berry vinaigrette and Dijon dressing.
This basic combination can enhance a plain bowl full of torn leafy greens, or elevate your salad further with some fresh tomatoes, thinly sliced red onion, cucumber, and kalamata olives. You'll always want to keep this dressing on hand, so you can toss your Brussels sprouts, cauliflower, broccoli, and green beans for roasting.
2. BERRY VINAIGRETTE
This dressing is wildly versatile. Like the tartness of raspberries or lemons? Puckery vinaigrettes will awaken your taste buds. Prefer a sweeter option? Use pears, strawberries, cherries, or even kiwi. Vinaigrettes are only limited by your imagination.
Macerate your berries or lemon in a little sugar, then mash them and add to your Italian mixture (olive oil, white balsamic, and salt). Add fresh herbs, such as cilantro, basil, or dill, if desired. Enjoy this mixture chunky, or blend it if you like it smoother.
Experiment with vinaigrettes over green salads, grain salads, or roasted root vegetable salads. A nice light vinaigrette such as a lemon basil option is also terrific tossed with veggies before roasting.
3. SESAME GINGER
Get that delicious Asian flavor in a snap with a simple sesame ginger dressing. Rich sesame oil combines with fresh aromatics to deliver a tasty punch with depth.
Sesame ginger dressing typically calls for rice vinegar, sesame oil, and soy sauce, along with some fresh garlic, ginger, and if desired, a little agave, nectar, or sugar for sweetness. Blend to combine and adjust to your tastes.
This versatile dressing adds that rich umami flavor to salads and cabbage, but is equally delicious tossed with noodles or grains, and is a perfect add-in to stir-fries.
4. DIJON
Savory Dijon dressing makes the perfect accompaniment to salads, especially for those who enjoy a little tang in each bite.
Make your own easy Dijon dressing with the Italian base (olive oil, white vinegar, lemon juice, and salt), then add some Dijon mustard and freshly ground black pepper to taste.
Enjoy Dijon mustard over salads, roasted veggies, and grains, but don't stop there. Set aside some extra for dipping carrot sticks or pretzels!
5. CREAMY RANCH
Widely considered the greatest indulgence of all dressings, creamy ranch doesn't have to be off-limits on a healthy vegan diet.
Vegan mayo can serve as the base of your creamy ranch dressing. From there, ramp up the taste with garlic and onion powder, a sprinkle of apple cider vinegar, plus any or all of the following: dill, parsley, paprika, freshly ground black pepper, and a little non-dairy milk of your choice to thin it out.
Salads are practically dessert with a dollop of ranch dressing, but be sure to make extra for your next crudité platter. And please, try some over roasted potatoes!
Printer Friendly