10 PURPLE FOODS WITH POWERFUL HEALTH BENEFITS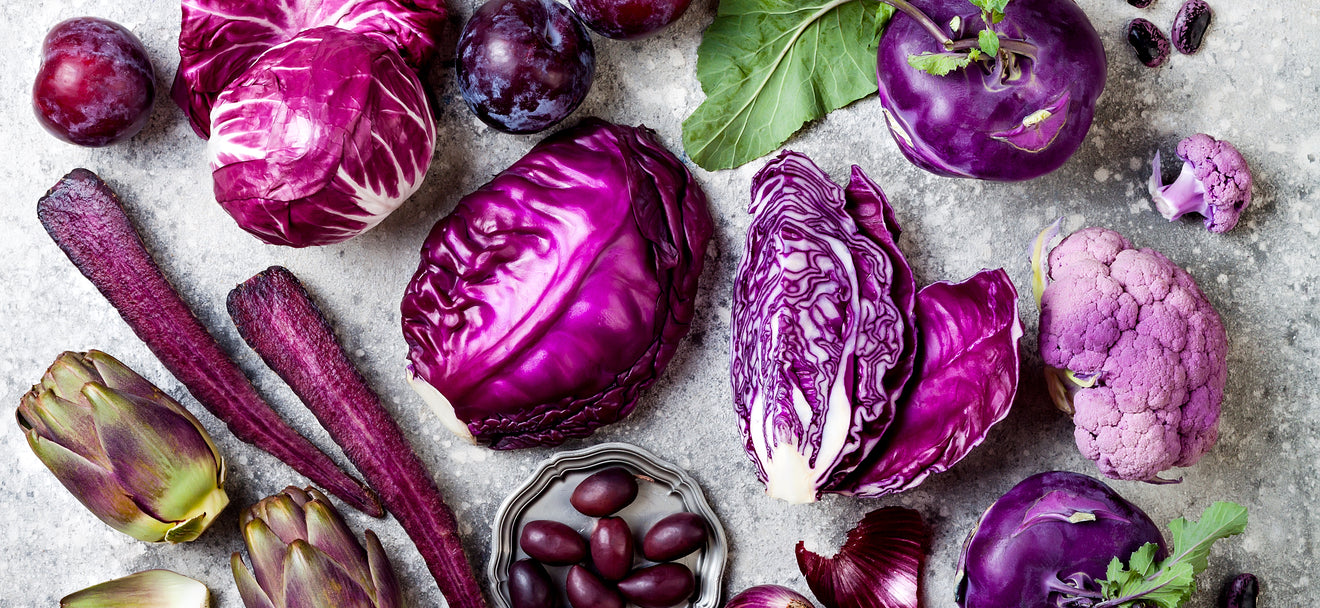 It's no secret that colorful, plant-based foods are good for you. In fact, the darker the food, the more potent it's powers. Purple foods, for example, are often rich in special phytochemicals that have unique antioxidant benefits. Many contain anthocyanins which belong to a special group of antioxidants known as bioflavonoids, that have the capacity to scavenge free radicals in the body. Therefore, anthocyanins (and other antioxidants like them) play an important role in protecting the body's cell from oxidative damage and preventing a range of illnesses.
Below are 10 foods with the purple antioxidant power. Eat more of these to support health and minimize your risk of disease.
1. BEETS
Beets contain betalain antioxidants that help give them their reddish, purple color. These compounds have many disease-fighting properties, such as relieving inflammation, supporting heart health, preventing cancer, and improving cognitive functioning.
2. BERRIES
Richly-pigmented fruits like blackberries, blueberries, black currants, and cranberries all contain anthocyanins. In addition to being packed with health-promoting vitamins and nutrients like Vitamin C and dietary fiber, berries have potent antioxidant properties. These properties help neutralize free radical activity in the body that damages healthy cells.
3. EGGPLANT
The anthocyanins in eggplant maintain the fatty cell membranes in the brain, which is why it's often classified as a "brain food."  Eggplants are also rich in fiber, folate, potassium, and magnesium (yet another nutrient that boosts brain health).
4. GRAPES
The pigment in red and purple grapes also comes from anthocyanin antioxidants, which means including grapes in your diet could minimize oxidative stress and prevent illness. Grapes also contain a polyphenol compound called Resveratrol, which offers anti-aging and cardiovascular benefits.
5. PLUMS
The anthocyanin content in purple plums makes this food a great weapon against inflammation. Getting inflammation under control is vital for preventing most chronic health conditions, such as diabetes and heart disease. Plums are also a rich source of Vitamin C, which boosts immune health and protects the skin from sun damage.
6. POMEGRANATE
The reddish, purple hue of this fruit hints at its anthocyanin content. In addition to delivering antioxidant, antiviral, and anticancer benefits, pomegranates are an excellent source of fiber and vitamins A, C, E, and K. They have been linked to lower blood pressure, better memory, and less inflammation.
7. PURPLE CABBAGE
Red and purple cabbage are a good source of anthocyanins, too. These antioxidant-rich superfoods also contain fiber, manganese, and vitamins A, C, and K. Eating red and purple cabbage as opposed to green cabbage offers more nutritional benefits. These foods can help fight free radicals, lower risk of disease, promote bone health, and even support gut health (if fermented as kimchi).
8. PURPLE CAULIFLOWER
This cruciferous vegetable is rich in fiber, vitamins, anti-inflammatory, and sulfur compounds that support health and wellness by reducing inflammation and promoting toxin removal. A close relative of the cabbage mentioned above, the purple color of this veggie also amps up its nutrient profile. Purple cauliflower has the added benefit of a more potent antioxidant profile, helping you fight free radicals and disease.
9. PURPLE POTATOES
A rich source of potassium, folic acid, iron, and Vitamin C, purple sweet potatoes are a great addition to a plant-based diet. They also contain anthocyanin antioxidants that provide disease-fighting and anti-cancer benefits.
10. PRUNES
Although they are often linked to improved digestion, prunes deliver so much more. These dried plums are a good source of fiber, iron, and potassium. In addition to their antioxidant flavonoid and polyphenol content, they also support bone health thanks to Vitamin K and cell turnover thanks to Vitamin A.
Printer Friendly