10 HEALTH & WELLNESS BENEFITS OF JASMINE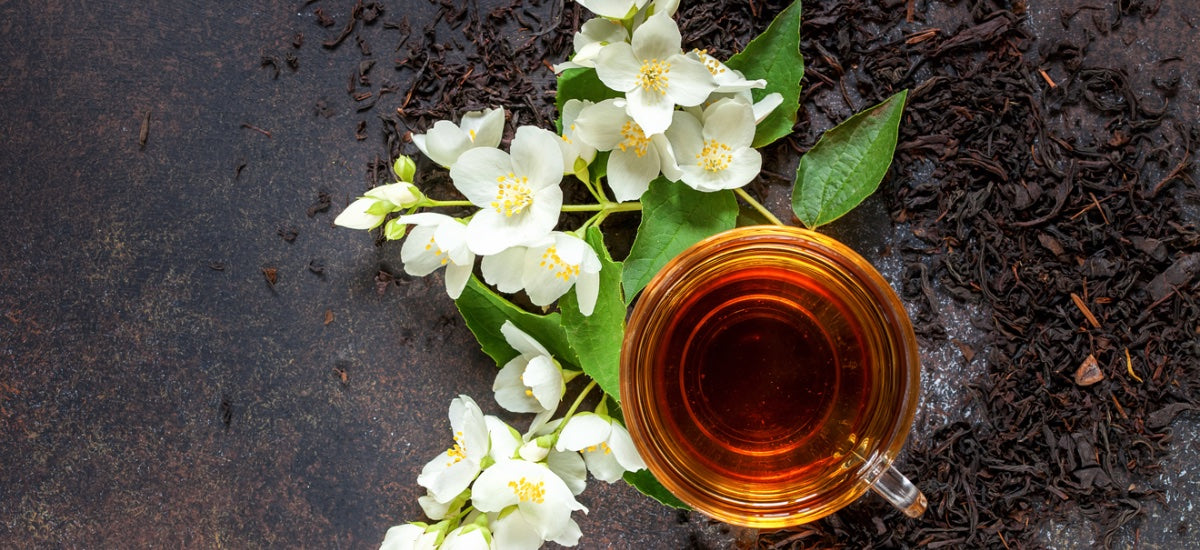 There's no doubt that jasmine is a popular scent for shampoos, soaps and lotions, but did you know that jasmine is also really good for you? Yes, it smells wonderful, but you might be surprised to learn that jasmine carries health benefits for your digestive system, your skin and more!
1. EASES STRESS AND DEPRESSION
You may be familiar with the effects of essential oils and scents on behavior. Jasmine is one of those scents. In Asia, the flower has been used for centuries as a remedy for anxiety, depression and mood disorders. But, recently there have been scientific studies conducted to prove this benefit. Those studies show that jasmine affects the pleasure center of the brain, even when subjects were asleep!
2. ALLEVIATES PAIN AND INFLAMMATION
Jasmine has long been known to have anti-inflammatory properties. The flower aids in the relief of muscle pain and even headaches. Try a bit of jasmine tea next time you're feeling post-workout pain.
3. NATURAL CURE FOR SNORING
Do you snore? Jasmine may help you. Studies have shown that the essential oil of jasmine, when breathed through the nose, helps to clear the airways that are blocked as you snore. Try to dab a bit of the oil just above your lip at bedtime.
4. STRENGTHENS THE DIGESTIVE SYSTEM
Jasmine has many benefits for the digestive system. It's been used for ages as a treatment for stomach cramps. The flower can help prevent gastric ulcers, and it helps to promote the production of "good bacteria," called probiotics, in your gut.
5. HELPS TO LOWER CHOLESTEROL
The woodsy, floral scent of jasmine is distinctive and relaxing. But did you know the flower can also help lower your cholesterol? Catechin, an antioxidant which occurs naturally in jasmine, has been shown to reduce the likelihood that your "bad cholesterol" will oxidize. Put simply, the natural properties of jasmine can lower your bad cholesterol and help reduce the risk of heart attack.
6. TREATS SCALP INFECTIONS AND NATURAL CONDITIONER
You'll frequently see jasmine oil listed in the ingredients of many conditioners, but do you know why? Jasmine oil is a natural antiseptic! It also has antifungal and antimicrobial properties. That means jasmine oil will help treat scalp and skin conditions, leaving your hair silky soft and your scalp healthy and clean.
7. EFFECTIVE FOR WOUNDS AND CUTS
Because jasmine oil is an antiseptic, it's also useful in treating cuts and wounds. It's been used historically to treat wounds and abrasions, helping them to heal more quickly. Jasmine oil may help prevent scarring, too. Applying jasmine oil to cuts will soften the skin around your injury, reducing the likelihood that the area will scar.
8. HELPS WITH WEIGHT MANAGEMENT
Jasmine is frequently found in green tea, which has numerous health benefits of its own. Jasmine, in combination with green tea, can speed up your metabolism, increasing your weight loss. For a boost to your healthy diet and exercise plan, try a cup of unsweetened jasmine tea with breakfast each morning.
9. ANTI-CANCEROUS
One of the most recent discoveries about the benefits of jasmine is that it could help treat cancer. Methyl jasmonate, a compound which is naturally found in jasmine, has been studied as a treatment for blood cancers and tumors. Both have responded to the compound. This is exciting news in the medical field and is yet another reason to add a bit of jasmine to your daily routine.
10. KEEPS SKIN SOFT
It's not only injured skin that will benefit from jasmine's softening properties. Jasmine extract can be used every day for soft, supple skin. These beneficial plant extracts will gently deliver purifying and softening nutrients to the skin.
WAYS TO INCORPORATE JASMINE INTO YOUR DIET 
The easiest way to incorporate jasmine into your diet is simply by buying a good quality jasmine tea. Jasmine is usually part of a green tea blend, and it smells wonderful and tastes just as good.
But did you know the jasmine plant is edible? It has a very strong fragrance and should only be used in moderation. It's excellent as a sweet topping for salads or even on ice cream.
Printer Friendly