10 HEALTH & WELLNESS BENEFITS OF CARROTS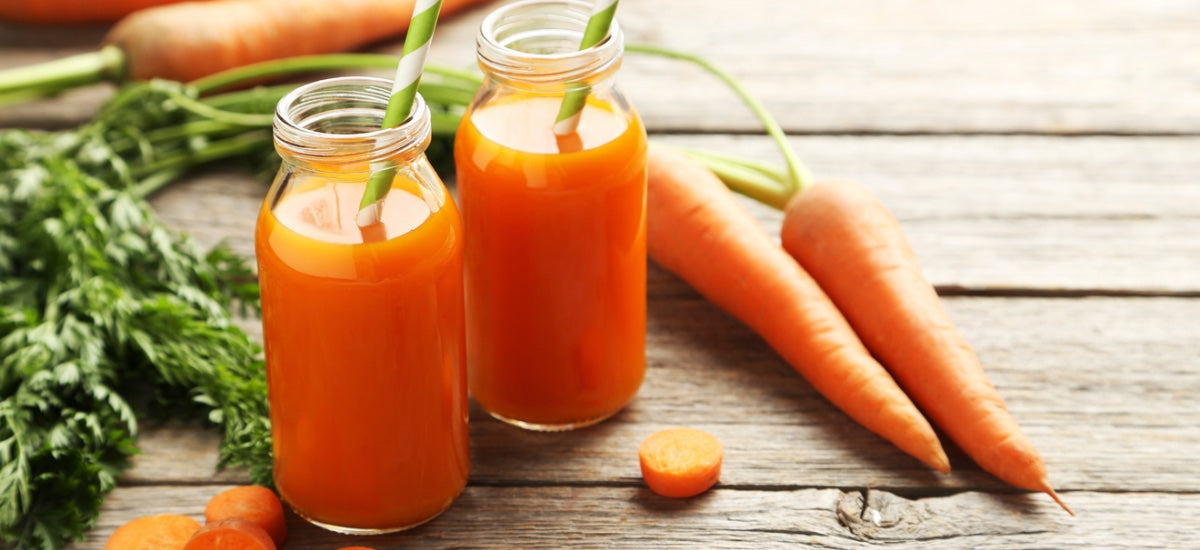 Growing up, you probably heard that carrots are good for your eyes. And it's true! But did you know that carrots actually provide a host of other benefits to your health? 
Here are the top ten health and wellness benefits of carrots.
1. MAINTAINS ORAL HEALTH
Carrots are one of the most powerful cavity-fighting foods. They contain natural abrasives which gently clean your teeth, as well as keratins which prevent tooth decay. While carrots certainly won't replace a toothbrush and toothpaste, crunching a few raw carrots as a healthy snack can help prevent tooth decay, cavities and other dental issues.
2. PROTECTS AGAINST CANCER
Carrots contain very high concentrations of beta carotene, a powerful antioxidant. As you may know, antioxidants are one of the best natural solutions for fighting cancer. Ridding your body of free radicals, they help cells regenerate in a healthy, benign way.
3. REDUCES RISK OF HEART ATTACK AND STROKE
Carrots contain a great deal of fiber, an essential component in fighting heart disease. Fiber lowers both blood pressure and cholesterol, greatly reducing your risk of experiencing heart disease, heart attack and stroke.
4. AIDS IN HEALTHY DIGESTION
Of course, fiber also aids in digestion. Because carrots are so high in fiber content, they'll provide bulk to your diet. That bulk, in turn, will "scrub" your body, helping to aid in the digestion of toxins and in eliminating those substances from your body. An additional benefit to fiber-rich carrots is that they may aid in weight loss, allowing you to feel full.
5. LOWERS RISK OF TYPE 2 DIABETES
The glycemic index of a food indicates how much or how little it will raise your blood sugar. Carrots have a very low glycemic index (GI). That means that, while they'll raise your blood sugar, that increase happens very slowly. Eating a diet full of foods with a low GI, like carrots, will help to regulate your blood sugar throughout the day. That, in turn, means a decreased risk of Type 2 diabetes.
6. BOOSTS IMMUNITY
Carrots are packed full of nutrients which help to boost your immunity. The first of these is vitamin A. Just one medium carrot contains twice the daily recommended allowance of vitamin A, more than enough to give your immune system the support it needs. Of course, carrots are also high in antioxidants, which are powerful immune system boosters.
7. LOWERS CHOLESTEROL
Four powerful nutrients in carrots help to lower your cholesterol. They are pectin, beta-carotene, alpha-carotene and lutein. When eaten alongside a healthy combination of other foods, carrots can help to lower your cholesterol.
8. PROTECTS AGAINST UV DAMAGE
Carrots have been proven to help protect your skin against sun damage and the effects of UV rays. The beta carotene they contain is what protects the carrots, themselves, from oxidation and overexposure to the sun. It's that same process that protects human skin from the sun's harmful rays, and even from sunburn.
9. PROMOTES A HEALTHY SKIN GLOW
Munch on carrots to promote a healthy glow to your skin. Vitamin A is a powerful antioxidant that helps promote healthy skin tissues. Beta carotene also helps to protect your skin against sun damage.
10. REPAIRS SKIN TISSUE
In addition to protecting your skin, carrots help to repair damaged skin cells. Nutrient-rich carrot root extract helps restore strength and vitality to the skin.
Printer Friendly