10 FOODS TO HELP YOU DETOX (GENTLY)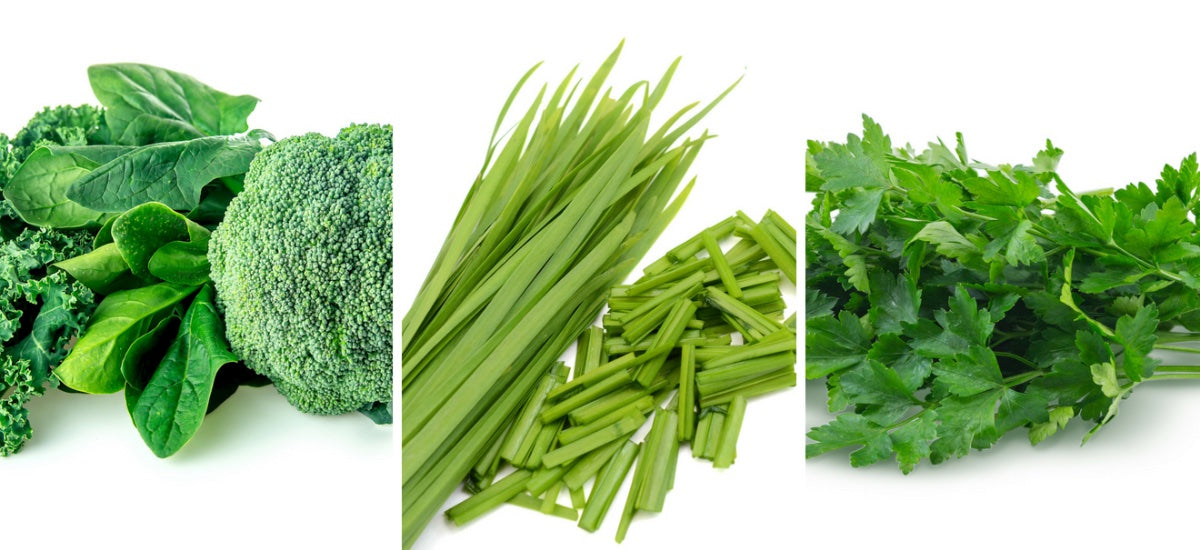 Detoxification improves the functioning of your liver, promotes weight loss, and helps improve the appearance of your skin. You don't have to take any drastic measures to detox, though. If given the right fuel, your body has the ability to detox on its own. Support your body's natural detoxification process by choosing plant-based foods that help eliminate toxins and cleanse the body. Surprisingly, you may already have some of these detoxifying foods in your kitchen.
1. LEMONS 
Despite tasting acidic, lemons are actually alkaline, which means they improve the pH balance of the body. Squeezing real lemon juice in hot water is perhaps one of the most common detox foods. In addition to providing free radical protection from Vitamin C, lemon water aids digestion, reduces bloating, stimulates the metabolism, and improves the body's ability to absorb minerals.
2. LEAFY VEGETABLES
Leafy green vegetables like kale, watercress, spinach, and arugula are low in calories and high in dietary fiber, which supports the digestive process. Leafy greens are excellent sources of folate, iron, magnesium, and vitamins B, K, C, and E. They also contain the phytonutrient chlorophyll that makes them green. Chlorophyll is a powerful antioxidant, which helps rid the body of heavy metal and harmful environmental pollutants.
3. CRUCIFEROUS VEGETABLES
Cruciferous vegetables, including broccoli, cauliflower, and cabbage contain glucosinolates, sulfur compounds responsible for neutralizing and removing carcinogens (cancer-causing compounds). The nutrient profile of cruciferous vegetables also supports detoxification by activating digestive enzymes and supporting immune health.
4. MILK THISTLE
Milk thistle is a natural herb with powerful antioxidant and anti-inflammatory properties. This herb boosts enzyme production and helps draw toxins out of the body. In addition, milk thistle contains lipophilic extracts, which are special antioxidants that promote immunity and counteract oxidative stress.
5. PARSLEY 
Parsley is a delicious natural herb that consists of powerful anti-microbial compounds that help eliminate heavy metals during the digestive process. These same compounds also act as natural breath fresheners! Parsley also contains myristicin and apigenin, which have antioxidant properties that promote digestive enzyme formation that supports detoxification.
6. FLAXSEEDS
The high fiber content of flaxseeds makes them a great addition to your detox plan because it helps support bowel regularity and maintains healthy intestinal microflora. In addition to contributing to your daily consumption of dietary fiber, flaxseeds contain anti-inflammatory omega-3 fatty acids and other vitamins and minerals that support overall health and wellness.
7. APPLES
These tasty fruits are a great source of soluble fiber called pectin, which aids your body in getting rid of harmful metals and food additives. Apples also contain many other nutritious benefits, namely phytochemicals like flavonoids, terpenoids, and D-Glucurate, which play important roles in the detoxification process.
8. WATER 
Water is vital to a healthy functioning body in many ways, particularly for proper detoxification. It boosts organ functioning by carrying essential nutrients to bodily cells. It also helps flush the liver and kidneys. That way these organs are more efficient at eliminating wastes and toxins from the body. 
9. ALLIUMS
Popular alliums like onions, shallots, leeks, and garlic are a great way to flavor a variety of dishes. These vegetables are also terrific for detoxing. They contain sulfur compounds that boost the production of metabolizing enzymes that eliminate toxins and carcinogens.
10. CHIA SEEDS
These tiny seeds are a powerful force when it comes to detoxification. Chia seeds have an incredibly high fiber content--as much as 5 to 6 grams per tablespoon--that promotes healthy digestion. The fiber content in chia seeds also supports regularity, which is beneficial for detoxification and a proper functioning gastrointestinal system.
Printer Friendly