6 TYPES OF LEGUMES: HOW TO BENEFIT FROM THESE PLANT-BASED POWERHOUSES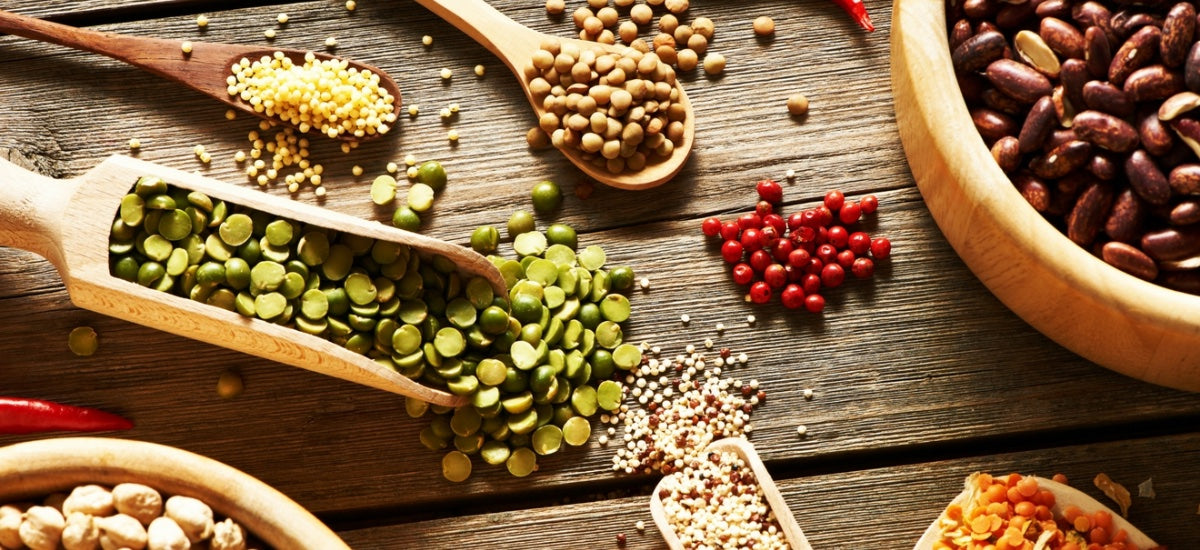 In a society that's looking more to plant-based dietary options, legumes are gaining in popularity based on their powerful health benefits. Not to mention, there are thousands of delicious ways to cook and enjoy them!
But wait—what exactly are legumes? They're classified as dried fruits or seeds enclosed in pods. A few esteemed members of the legume family include beans, lentils, and peas.
TOP LEGUME HEALTH BENEFITS 
Many legume varieties provide the most protein of any plant-based food sources, making them a smart stand-in for those going meatless. Moreover, legumes contain an impressive array of minerals, including folate, iron, phosphorus, magnesium, and potassium, to name a few.
What's most interesting is how these nutrients manifest in the body. Studies show that a diet rich in legumes can help reduce blood pressure, heart disease, diabetes, and that disease precursor—inflammation. If that isn't enough, additional benefits of beans and legumes include keeping you feeling full and increasing metabolism, two things that can help with weight loss.
TIPS FOR REDUCING DIGESTIVE DISCOMFORT
Admittedly, beans have gotten a bad rap for their propensity to cause digestive issues. When preparing beans, follow these tips to reduce digestive discomfort and belly bloat: 
Cover beans with water and soak overnight or for a few days (refresh the water twice daily).
Drain the soaking water and rinse the beans. Toss any loose skins.
Cook beans in a pressure cooker, if you have one. If not, cook them in a large pot. Add 3-4 cups of water for every cup of beans.
Place a strip of kombu, a mineral-rich sea vegetable, into your cooking water and discard before serving.
Pour 1 tablespoon of apple cider vinegar into your cooking water about 5-10 minutes before the beans are done.
Sautee cooked beans with fennel or cumin. 
6 LEGUMES AND HOW TO PREPARE THEM
There are a variety of beans and legumes to choose from. Below are 6 of the most versatile choices:
KIDNEY BEANS (AND THE LIKE)
Mix and match kidney, black, and navy beans. Enjoy over salads, use them as a burrito base, or give them the starring role in a big crock of chili.
Canned beans are pre-cooked and ready to use. These are a great go-to if you don't have time to make your beans from scratch. Simply rinse the canned beans in cold water, strain, and use in your favorite recipes. (Note: Opt for BPA-free cans to limit chemical and plastic exposure.)
Dried beans should be rinsed, soaked, and then cooked in clean water. Cook kidney, black, and navy beans for 60-90 minutes. Season with salt toward the end of cooking (adding it too early will draw moisture from the beans).
CHICKPEAS
Also known as garbanzo beans, these deserve their own category just for their applicability in popular dishes and snacks such as hummus and falafel.
Rinse and strain canned beans. Blend with olive oil, lemon juice, tahini, and salt to create quick homemade hummus.
Dried beans should be rinsed, soaked, and then cooked in clean water for about 120-180 minutes.
LENTILS
Available in many varieties and colors, these filling legumes can be used in soups, hot or cold salads, or countless sides. The good news? They don't cause the same digestive woes as beans. 
There's no need to soak lentils before cooking; just rinse to remove debris.
Simmer brown and green lentils for about 20-30 minutes. Red lentils will also cook in about 20-30 minutes and are often used to make Indian dahl, a thick and creamy stew. 
SOYBEANS
This little bean is at the root of many tasty dishes, like edamame and tofu, but the bean is also delicious roasted, steamed, added to chili, and more.
Rinse, and soak dried soybeans before cooking.
Cook soybeans in unsalted water for about 90 minutes or until desired tenderness. Alternatively, soak beans overnight, strain, and dry. Bake in a 350˚F oven, stirring often, until golden.
GREEN BEANS
Part of the legume family, these beans are often classified as vegetables because both the seeds and the pod are consumed. Try them steamed or blanched to enjoy their natural sweetness.
Clean the green beans, cut off the woody ends, and steam them until tender. Toss with olive oil and salt for a simple side.
Drop cleaned beans into boiling water for about 2-4 minutes. Remove with a slotted spoon and transfer to an ice bath to cool. Strain and let dry. Season with salt and pepper to taste, or experiment with garlic, lemon juice, sesame oil, and other ingredients.
PEAS
Peas can be mixed into green salads, grains, or savory pot pies and casseroles.
To make fresh peas, remove them from their pods and blanch for about 60-90 seconds, until tender. Place in an ice bath to stop the cooking process. Drain the water and enjoy!
If you can't find them fresh, buy frozen organic peas. Toss them right into hot dishes to warm through. Otherwise, simmer frozen peas in water for about 2-3 minutes.
Printer Friendly