SUMMER DINNER INSPIRATION FROM YOUR GREENMARKET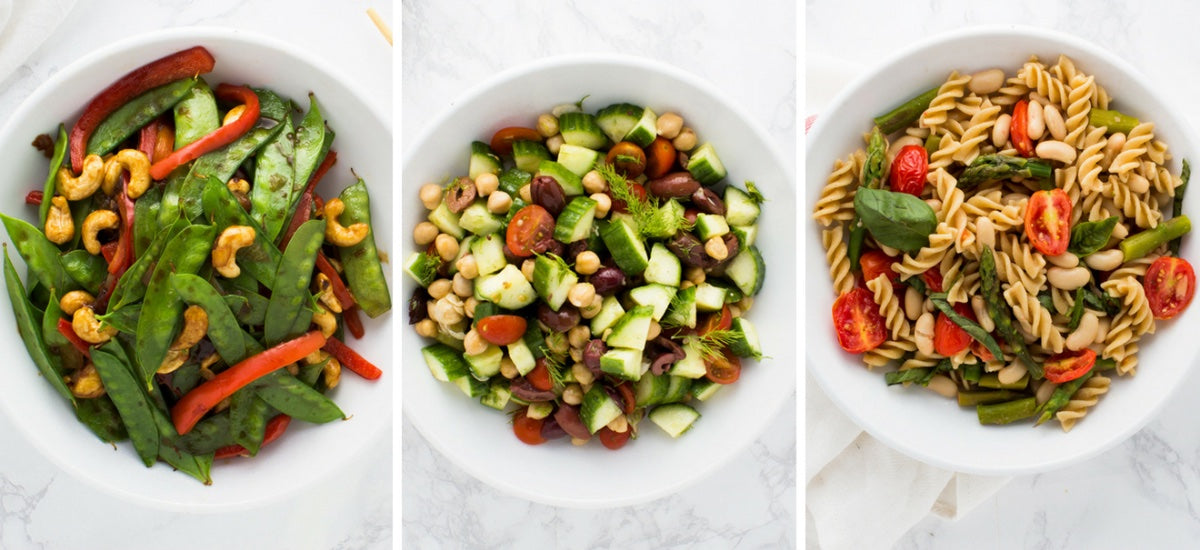 Spring and Summer seasons are often excellent times of the year to get incredibly fresh produce. But now that you've picked up some great finds, what to do with them once you are home?
Below are three favorite seasonal greenmarket vegetables and ways you can easily incorporate them into your weeknight dinners.
ASPARAGUS
Asparagus at the market are often one of the first signs of Spring and rightfully so since depending on where you live, asparagus appears from late winter to early Summer with its peak in April. The tender spears also come in a variety of colors such as bright green, purple and white. 
Nutritionally, asparagus are packed with important nutrients necessary for your body to function properly and yet they contain almost no fat and a low amount of calories.  The high levels of Vitamin K found in the spears is known to help support bone health as well as heart health since it prevents your arteries from hardening. Pregnant women and women of childbearing age can also benefit from the folate found in asparagus as it helps prevent neural-tube defects in fetuses and aid in a healthy pregnancy. 
Asparagus are an excellent choice to bring home for weeknight dinners as they cook quickly and can be used in a variety of methods from steaming to roasting and even pureeing into a sauce.
Try them tonight in this easy recipe for PASTA WITH ASPARAGUS & WHITE BEANS. 
SNOW PEAS 
Often confused with sugar snap peas or other types of green peas, snow peas are a wonderfully nutritious summer vegetable you should be picking up at the greenmarket.
Unlike many other pea varieties, the entire pod of the snow pea is edible. In fact, the pod itself contains several important nutrients and shouldn't be discarded. Snow peas contain high amounts of dietary fiber as well as Vitamin A, Vitamin C and folic acid. Studies have shown that they can help control your blood sugar, boost your immune system and aid the digestive process. 
Although snow peas are present in many cuisines, they are very popular in Asian inspired dishes which often use them in stir frys since the pods do not require a long cooking time.
Need some snow pea recipe inspiration? Check out this CASHEW & SNOW PEA STIR FRY. 
CUCUMBERS
While you may think cucumbers are a year-round crop thanks to their constant availability in your local supermarket, you might be surprised at how the taste compares to a summer fresh cucumber.
As they are made up of almost 95% water, cucumbers are incredibly hydrating which can help soothe skin and have an overall cooling effect on the body. They are also incredibly high in antioxidants and have been shown to reduce your risk of certain cancers like breast, uterine and prostate cancers. 
In addition to being rich in nutrients, cucumbers contain a high amount of fiber while also being low in calories which make them an ideal food to help support a healthy weight. 
Since they don't require cooking, cucumbers are perfect for adding to salads like this
MEDITERRANEAN CUCUMBER & CHICKPEA SALAD
when it's too hot to turn on the oven over the warm summer months.
Printer Friendly