RECIPES: VEGAN OTHERS
WALNUTS AND RAISINS BREAD
Ingredients
3 cups bread flour
½ cup raisins
1¼ teaspoon table salt
½ cup walnuts
1½ cups water (or sparkling water)
½ teaspoon instant or active dry yeast
pinch fresh ground pepper
wheat bran for dusting
optional: 1 cup of oats
Instructions
In a medium bowl, mix together the flour, raisins, walnuts, yeast,(and oats) and mixing thoroughly. Add the water and, using a wooden spoon or your hand, mix until you have a wet, sticky dough, about 30 seconds. If it's not really sticky to the touch, mix in another tablespoon or two of water. Add salt. Cover the bowl and let sit at room temperature until the surface is dotted with bubbles and the dough is more than doubled in size.
When the rise is complete, generously dust a work surface with flour. Use a bowl scraper or rubber spatula to scrape the dough out of the bowl in one piece. Using lightly floured hands or a bowl scraper or spatula, lift the edges of the dough in toward the center. Nudge and tuck in the edges of the dough to make it round.
Generously dust the dough with wheat bran.
Preheat the oven to 400 degrees. Bake for 30 to 45 minutes until crust is golden.
Recipe By Kelly Ohnona from My Organic Diary | MINDFUL CLEAN EATING AND LIFESTYLE… THE FRENCH WAY
Printer Friendly
---
Also in Volume 55
NUTRITION
Walnuts are a favorite choice of nut for their rich, buttery flavor profile.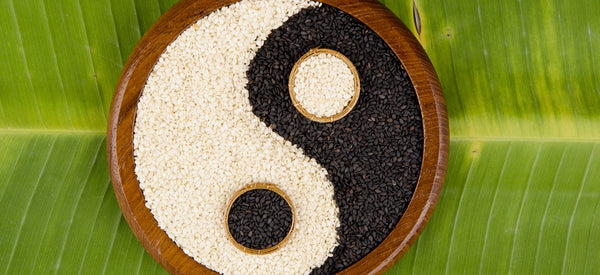 LIFESTYLE
Yin-Yang is an ancient Chinese philosophy that deals with the concept of duality.