HOW TO BUILD HEALTHIER SNACKS (PLUS 5 PLANT-BASED SNACK RECIPES)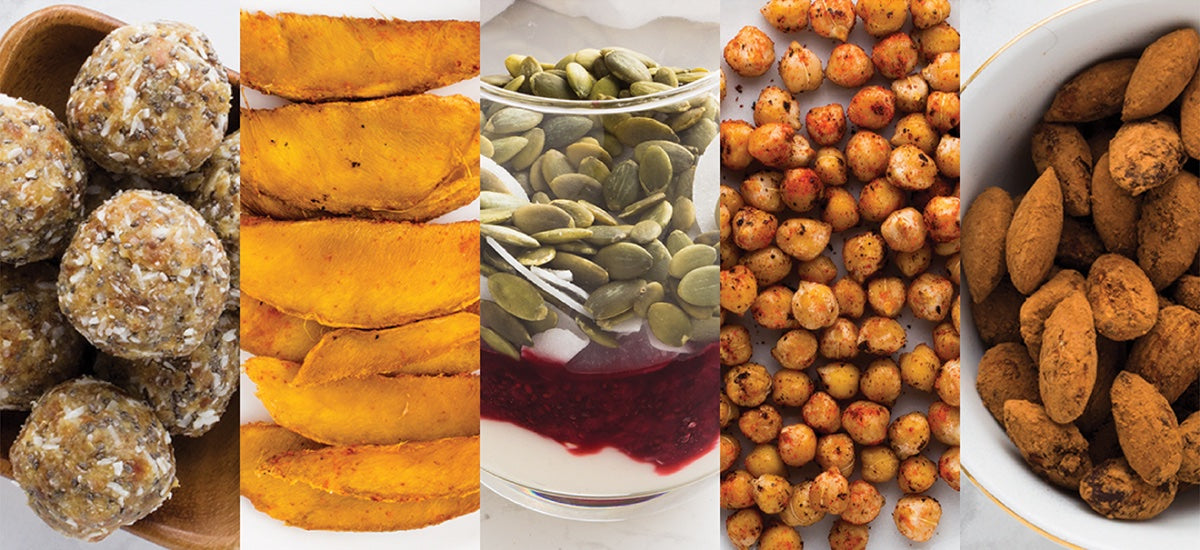 Opting to have a snack during the day can be a simple habit to keep you healthy. It can help stabilize your blood sugar levels throughout the day and better control your appetite. Additionally, having a snack means you have an additional opportunity to include nutrient dense foods into your diet.
When choosing a snack, however, it is important to follow the guidelines outlined below to ensure it is healthy and will keep you full. We have assembled some of these guidelines, along with healthy plant-based snack recipes, to help guide your snacking habits!
NUTRITIONALLY BALANCED
Your snack should include proportionally balanced amounts of healthy fats, protein and fiber. By including these in your snack you can be sure that it will keep you full long after snack time is over.
DITCH THE SUGAR
Many processed foods contain too much sugar, especially when consumed as a snack. Be sure to check nutrition labels and whenever possible, choose healthy homemade snacks such as those we've included in this article.
FOCUS ON FRUITS & VEGETABLES
Utilize your daily snack as another opportunity to include more fruits and vegetables into your diet. These foods are usually lower in calories and contain important vitamins and minerals. 
PORTION CONTROL
Always measure out individual servings of snacks so you have a visual representation of how much you are eating and are less likely to overeat.
FIVE HEALTHY PLANT-BASED SNACKS
Below are five plant-based, healthy snacks that you can easily prepare at home and take with you wherever you may need to go. 
CHIA ENERGY BITES
The combination of dates, chia seeds and coconut in these healthy snack bites will leave you full and satisfied thanks to the protein in the chia seeds, dietary fiber in the dates and healthy fats from the coconut.
SPICY ROASTED CHICKPEAS
These spicy chickpeas cross off all the best snack must-haves. They are crunchy, salty, a little spicy and packed with healthy, plant-based protein and fiber.
CACAO ROASTED ALMONDS
A slightly sweet treat, these Cacao Roasted Almonds are always a great snack to keep on hand. Almonds are full of healthy fat, fiber and Vitamin E and the raw cacao provides many beneficial antioxidants making this a wonderful healthy snack option.
CHILI DRIED MANGO
Unlike many commercial dried fruits, these spicy mango slices contain no added sugar. A simple seasoning of cayenne and chili pepper adds a welcome kick of flavor to the sweet treat.
COCONUT YOGURT PARFAIT
The coconut yogurt adds beneficial probiotics to this on the go breakfast option. Probiotics are a specific type of beneficial bacteria that can help boost your immune system and improve digestive function among many other benefits. Chia seeds also give this breakfast a boost of protein to keep you feeling full all morning long.
Recipe
Printer Friendly