SECRETS TO WELLNESS & DIETARY SUCCESS FROM BLUE ZONES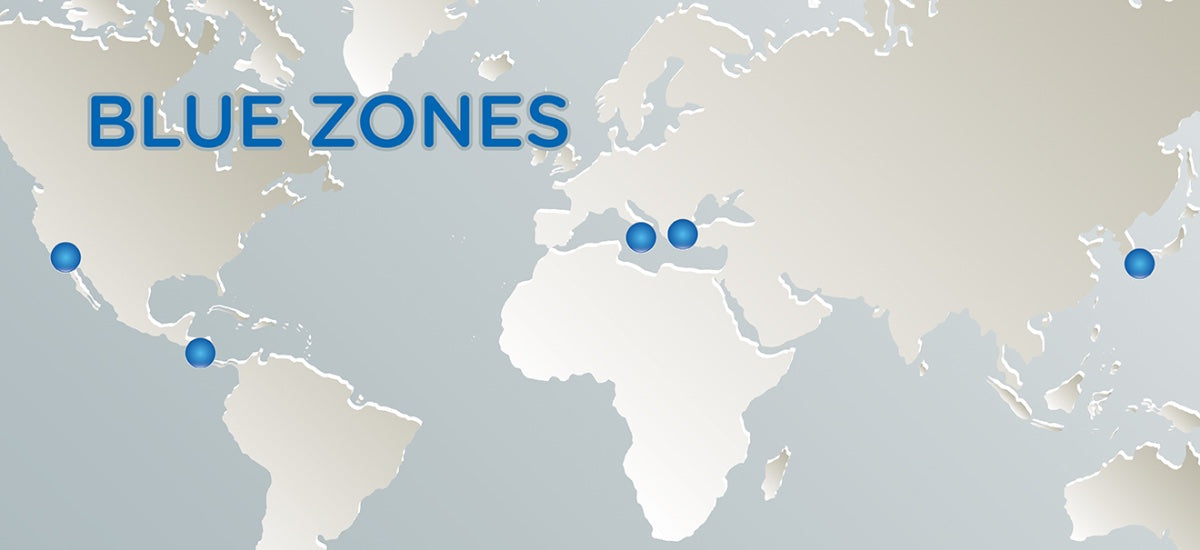 By Rachel Swanson, MS, RD, LDN
It's so easy to get caught up in the minutiae about which diet is best, which superfoods are trending, where to purchase the newest celebrity-endorsed food product and how to sample exclusive, limited-edition beverages. However, if we are ultimately interested in longevity, we need to consider a much bigger picture than what's trending from week to week. 
To discover the secrets of living a long, healthy life, we switch our focus to the real celebrities on this topic – the centenarians – and the populations around the world which hosts the most; referred to as Blue Zones. Hint: don't be disappointed when you discover there's no single anti-aging elixir to purchase. Rather, learn how encompassing an entire holistic spectrum of lifestyle practices and dietary patterns from Blue Zones can truly set us up for success.
Time to take a deeper dive into the habits and food choices of the centenarians whom certainly seem to know a thing or two about living long, healthy, and happy. Use these five Blue Zones around the world as a blueprint to build healthy dietary and wellness habits for your own lifetime.
LOCATION: IKARIA, GREECE
UNIQUE CHARACTERISTIC:
Not only do Ikarians have such stunning clinical outcomes, this population lives with extremely low rates of depression.
HEALTHY HABITS:
Dietary intake isn't about pursuing ultra-convenient options; as one would find most food on the table harvested from personal or communal gardens, purchased locally like honey from neighboring beekeepers, or the result of walking to local markets to shop the freshest ingredients. Tending to a garden requires year-round care, serving as a source of consistent daily activity, as does the amount of work which goes into meal preparation and cooking. On average it's reported that Ikarians consume about six times as many beans as Americans, eat fish twice a week and meat only a mere five times per month, drink two or three cups of coffee each day, consume high levels of olive oil, and enjoy wine. Here, a specialty is Ikarian stew, consisting of black eyed peas, fennel, garlic, and virgin olive oil. Another unique food found here is called horta, a varietal of greens that are typically steamed or baked into main dishes.
TAKEAWAYS TO INCORPORATE:
Along with healthful eating and daily physical activity, social hours and midday naps are engrained into this Greek culture.
LOCATION: OKINAWA, JAPAN
UNIQUE CHARACTERISTIC:
In the southern end of Japan, we find home to some of the world's longest living women.
HEALTHY HABITS:
A common thread among centenarians in this demographic is that each individual has a strongly defined sense of purpose. They stay committed to their lifelong circle of friends, referred to as a "moai," throughout their entire life. Longevity can also be attributed to their plant-based diets; this Blue Zone is where one can find the highest per capita of tofu consumption, along with staples of root vegetables like sweet potato, the spice turmeric, and of course, plenty of tea!
TAKEAWAYS TO INCORPORATE:
The mantra "hara hachi bu," is an Okinawan 2500-year-old Confucian teaching which means to only eat until 80% full. Such mindfulness and awareness around meal times serves as a built-in model of portion size and calories, too.
LOCATION: SARDINIA, ITALY
UNIQUE CHARACTERISTIC:
While research has identified unique genetic variances that may contribute to the longevity of Sardinian inhabitants…in this Blue Zone, an optimal environment and diet plays an even bigger role.
HEALTHY HABITS:
Traditional Sardinian nutritional intake was frugal, and included very little meat, dairy, and wine. Foods like legumes, potatoes, grains, vegetable soup with sourdough bread, native herbs and nuts were staples. Their current diets resemble a Mediterranean profile, characterized by a high intake of seasonal fruits and vegetables, monounsaturated fat, plant proteins, and low intake of refined grains, meats, and sweets. Here, centenarians still tend to their gardens, fish, harvest foods and take an exceptional amount of time to hand prepare each meal.
TAKEAWAYS TO INCORPORATE:
This Mediterranean profile of eating provides a host of beneficial clinical outcomes and has proven to be a cornerstone to reducing risk of age related diseases. 
LOCATION: LOMA LINDA, CALIFORNIA
UNIQUE CHARACTERISTIC:
This community of Seventh-day Adventists outlives the average American by a decade, and thanks to a collection of research called the Adventists Healthy Study (AHS), there are some clues of why this may be so.
HEALTHY HABITS:
For starters, the Adventist diet ranks supreme when it comes to disease prevention. They follow mostly a vegetarian pattern of eating, consume lighter meals in the evening, always fit in physical activity to maintain a healthy weight, and even abstain from smoking or drinking any alcohol. This type of lifestyle pays back dividends when it comes to lowering cholesterol, blood pressure, and cardiovascular disease.
TAKEAWAYS TO INCORPORATE:
The centenarians in this region have a sense of purpose, help others, and spend time with other like-minded individuals whom support and cherish the same set of religious values.
LOCATION: NICOLA PENINSULA, COSTA RICA
UNIQUE CHARACTERISTIC:
Good news for the guys, because this Latin American region is known as the, 'high longevity island for elderly males.'
HEALTHY HABITS:
Taking a closer look at the diet reveals yet another whole-food, unprocessed, high-fiber plant-based way of eating. Nicoyans' traditional intake includes foods like maize (corn), beans, colorful fruits like the maranon, a red-orange fruit that can be found from the cashew tree, and minimal use of dairy. These centenarians can teach us similar lessons as described by other Blue Zone inhabitants around the world, such as the value of frequent visits from neighbors, having strong ties with friends, and focusing on both faith and family. In fact, Nicoyan elderly typically live with family, where purpose and belonging is reinforced by younger generations in the same household.
TAKEAWAYS TO INCORPORATE:
Among these centenarians, overall vitality and wellbeing is propelled forward by having a reason to live, or "plan de vida." 
LIVING THE BLUE ZONE WAY OF LIFE
The collective decisions made during mealtimes, the interconnectedness with the community, making intentional movement part of daily life, and the sense of purpose you awake with each day are the cornerstones to a long, healthy life.
Nutritionally, center consumption around whole plant based foods, plant-based protein sources and honor handmade dishes… not those which are handed from fast food windows.
Consume a few more servings of legumes, a few less servings of hamburgers, and aim to reach 80% satiety to avoid over-consumption.
Enjoy meals with others and over social engagements instead of chowing down in the car rushing from point A to point B.
Stay active not necessarily by gym sessions or marathons, but by living a non-sedentary way of life – take walks around the neighborhood with family or friends – daily activities which make the concept of calorie counting virtually irrelevant.
Incorporating some of these centenarians' tips will undoubtedly leave you with a fulfilling life – and who knows – perhaps in the future you'll find interviewers knocking on your door inquiring about secrets to success!
Rachel Swanson is founder of
Rachel's Rx
, a preventative medicine private practice and nutrition consultancy. She currently practices at Lifespan Medicine, a concierge medical practice utilizing top technologies, leading edge diagnostics and integrative, natural therapies to help others look, feel and live their best life possible. Prior to starting her company, she was selected twice for professional NFL cheerleading teams — Patriots and Chargers. During this time, she simultaneously led research efforts in sports performance recovery for Harvard Orthopedics, diet and oncology research for a Harvard physician-led foundation, and provided nutrition education and meal plans for professional NFL players. She recently established a community medical rotation for NYU students in Cape Town to assist those with HIV AIDs, diabetes and malnutrition. She is a trusted expert for the Dr. Oz Show, where she is frequently quoted for her advice pertaining to optimal health and nutrition. Rachel is a Licensed, Registered Dietitian Nutritionist, holds a Masters of Science in Clinical Nutrition from NYU, and completed clinical rotations at Mt. Sinai Hospital in Manhattan.
Printer Friendly