10 HEALTH & WELLNESS BENEFITS OF CELERY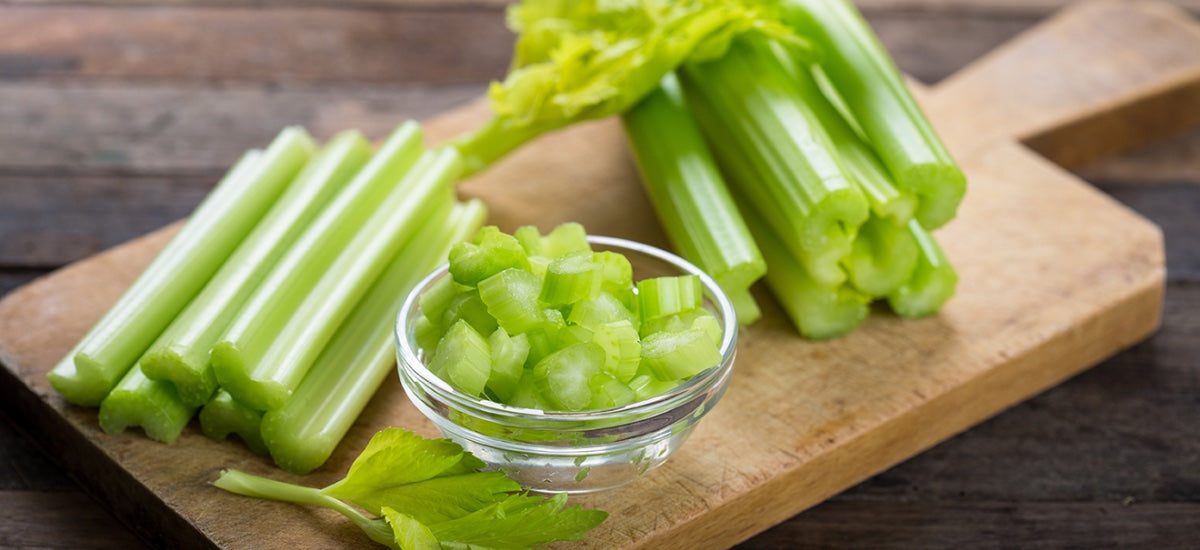 Fresh vegetables like celery offer an abundance of essential vitamins and nutrients that fuel our bodies and help our organs function as they should. Celery also delivers a host of health and wellness benefits.
1. REDUCES INFLAMMATION
Free radical damage, or oxidative stress, is a primary contributor to inflammation in the body. Celery contains flavonoid and polyphenol antioxidant compounds that scavenge free radicals and provide anti-inflammatory effects.
2. BOOSTS GUT HEALTH
Celery, particularly when juiced, is high in dietary fiber. Fiber promotes gut health by slowing the digestive process, so the body can absorb beneficial nutrients. Eating enough fiber can reduce bloating, relieve constipation, and ensure regularity.
3. STRENGTHENS BONES
Celery is a rich source of calcium and vitamin K, both of which are influential in bone health. These nutrients help strengthen damaged or weakened bones and may even reduce the likelihood of osteoporosis.
4. STIMULATES DETOXIFICATION
Celery is an alkaline food that helps reduce acidity and bring the body pH into balance. In addition, because celery stimulates regularity, it's beneficial for flushing toxins and cleansing the body from the inside out.
5. LOWERS LDL CHOLESTEROL
Celery contains a special compound called 3-n-butylphthalide (BuPh) that has been shown to lower lipid levels in the blood. Regular consumption may help lower the levels of low density lipoprotein (bad cholesterol) that leads to high cholesterol.
6. IMPROVES HYDRATION
In addition to a wide array of beneficial vitamins and minerals, celery has one of the highest water contents among vegetables. It is comprised of 96 percent water, making it a wonderful choice for nourishing and hydrating the body.
7. CONTAINS FEW CALORIES
Despite being a major source of fiber, which helps you stay full longer, celery contains very few calories. In fact, many refer to it as a negative-calorie food, as more calories are burned to digest it than it actually contains! Celery's low-calorie content makes it an excellent choice to support weight loss efforts.
8. PREVENTS URINARY TRACT INFECTIONS
Celery has diuretic properties that promote regular urination and minimize buildup of uric acid. As a result, including celery as a part of a balanced diet can help reduce the occurrence of UTIs as well as bladder and kidney infections.
9. RELIEVES ARTHRITIS PAIN
The anti-inflammatory properties of celery serve double-duty by reducing swelling on the joints that contributes to arthritis pain. Celery may also stimulate the growth of new, healthier tissue around arthritic joints.
10. LOWERS RISK OF CANCER
Celery belongs to a family of vegetables that offer special protection against cancer. Thanks to the presence of polyacetylene compounds, celery has the power to minimize cancer formation and reduce toxicity in the body. Polyacetylene has been linked specifically to prevention of breast cancer, intestinal cancer, and leukemia.
BEST WAYS TO BENEFIT FROM CELERY
Take advantage of celery's amazing health and wellness benefits by enjoying it as a juice, or using it as an ingredient in stews, soups, stir-fry, salad or pasta salad. Celery also makes a terrific, low-calorie snack!
Printer Friendly