HOW TO MAKE HEALTHY, HOMEMADE ALMOND BUTTER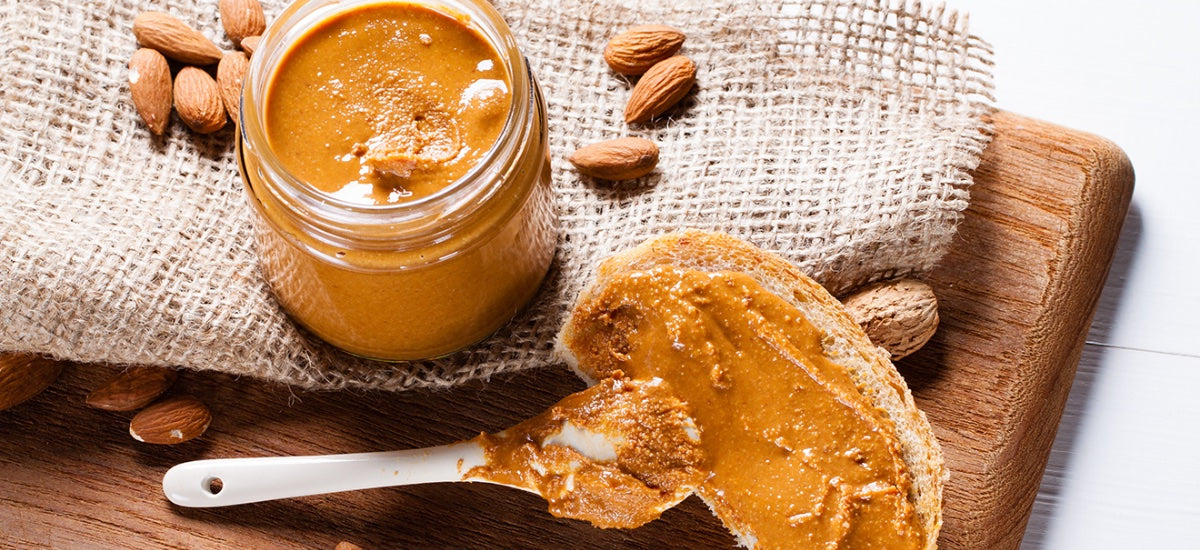 Is there any pantry ingredient that could be more sought after than a creamy jar of almond butter? Perfect for sandwiches and snacks (and sneaking spoonfuls, too!), almond butter is a versatile kitchen staple.
In addition to its numerous culinary applications, nutrient-rich almond butter can improve your health. That's because, like other nuts, almonds contain plant-based protein and fiber, as well as heart-healthy fats. Almonds are also an excellent source of biotin, vitamin E, manganese, and magnesium, to name a few. 
Together, these nut-based nutrients:
Improve skin health and vitality
Decrease inflammation
Strengthen hair
Balance cholesterol and boost heart health
Regulate blood sugar and hormones, such as insulin
Click here to learn more about the health benefits of almonds.  
WHY DIY? 
Store-bought almond butter can be a good option in a pinch. But it's important to read the ingredient list before purchasing. Many popular brands contain processed oils and refined sugars that can minimize or compromise the health benefits.
Making your own almond butter allows you to control the quality, because you can source organic and raw nuts and add healthful ingredients like honey and cinnamon as desired. You can even keep the cost in check by purchasing almonds from bulk bins or at wholesale stores. 
CREAMY ALMOND BUTTER RECIPE WITH VARIATIONS 
Follow this simple almond butter recipe to customize your own jar of homemade deliciousness. All you need are some almonds and a high-speed blender or food processor, plus any add-ins you might desire for extra flavor. 
You can even swap almonds for cashews, Brazil nuts, and walnuts. Wait—what about peanuts? While peanuts are the most popular ingredient of all nut butters, they are also prone to mold and rancidity. It's helpful to avoid or limit peanuts, especially if you have leaky gut or Candida overgrowth, or if you've been exposed to mold.
Ready to get started? These step-by-step instructions will yield about 1½ cups of nut butter. 
GO NUTS! In a blender or food processor, add 2 to 3 cups of organic, raw almonds.
BLEND WELL. Blend or process for 10 to 25 minutes, until the oils release and achieve a smooth, creamy consistency.
TAKE IT SLOW. Scrape down the sides of the blender or food processor every few minutes. If the machine gets too hot, stop and let it cool down, then continue.
DIAL UP THE FLAVORS. If desired, add any extra ingredients you like, such as raw honey, maple syrup, ground cinnamon, or sea salt.
CHILL OUT. Transfer to a mason jar and store in the fridge. Homemade almond butter should last for 2 to 4 weeks.
FOR ROASTED NUT BUTTER: Spread the nuts on a baking sheet in a single layer. Lightly roast in a 325˚F oven for 15 to 20 minutes, or until golden and fragrant. Transfer the warm nuts to the blender or food processor, and proceed to Step 1 as directed. This method may help reduce the blending process, as warm nuts will release oils more quickly.
Printer Friendly