STAY COOL WITH OUR RAW SALAD IDEAS FOR SUMMER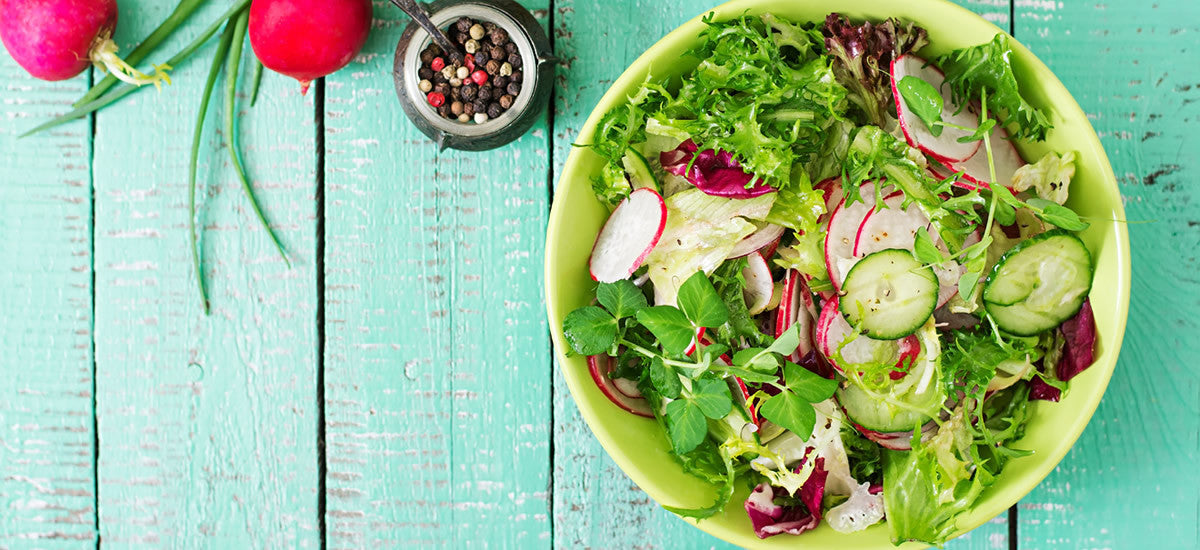 When it's hot and humid outside our bodies naturally crave fresh, cooling ingredients. Many raw foods, like cucumbers and celery, contain a high water content that keeps us hydrated when the temperature rises. In addition to helping us feel refreshed, raw foods are packed with essential vitamins and minerals that aren't minimized through cooking. These nutrients boost the immune system, detoxify vital organs and replenish electrolytes lost through sweat.
While you may agree that raw salads are your summer go-to, you may also find that they're simply not filling enough. If you're concerned you'll be hungry an hour after eating, you may need to revise your salad-making methods.
The goal is to come up with unique salad ideas and recipes that will fill you up and keep you satiated until your next meal. You can easily achieve that through the right combination of macronutrients, textures and flavors. 
SATISFYING RAW SALAD IDEAS 
DIVERSE GREENS will keep you out of a food rut and expand your palate. We all love romaine in salads, but there are a lot of lettuce varieties to choose from. Take advantage of various selections in season so you're constantly updating your rotation.
Try arugula, endive, radicchio, spinach, baby kale and chard. Make it spicy with mustard greens or add a few dandelion greens for a bitter bite. Mix and match a few options so one flavor profile doesn't overpower the whole salad.
PLANT-BASED PROTEIN is a vital component of a nutrient-dense diet—and should be part of every beauty regime. Protein helps our bodies build healthy skin, bones, muscles, hair and nails. It can also fill you up without affecting your glucose levels.
Sources of raw plant-based protein? Go for almonds, cashews, walnuts, pumpkin seeds and sesame seeds. These also add a nice crunch and texture to leafy greens.
HIGH-QUALITY FAT is used to store and create energy. They assimilate fat-soluble vitamins and regulate hormones. The right kinds of fat send signals to your brain, letting it know that you're full. In other words, adding healthy fats won't make you gain weight but can help curb your appetite.
Quality fats include avocados, chia seeds, flax seeds, coconut oil and olive oil. Use fats to make luxurious dressings that taste indulgent, like basil pesto, lemon-tahini, creamy avocado and carrot ginger. A simple vinaigrette with oil and apple cider vinegar also does the trick.
COLORFUL VEGETABLES are the perfect way to make your raw salad more interesting. In addition to a pile of greens, mix in your favorite fruits and veggies. Be sure to add an array of colorful options so your salad looks as delicious as it tastes.
Hydrating and healthful salad ideas include: berries, cucumbers, celery, orange segments, peaches, peas and bell peppers. Next time you're at the grocery store or farmer's market, pick up a unique find and toss it in.
FRESH HERBS are often underrated. Used mainly as a garnish, herbs can actually have a huge impact on your raw salad. They add incredible flavor and each herb has its own health benefit. Cilantro, for example, contains vitamin K, and basil contains vitamins C and K, as well as iron and calcium. 
Consider thyme, dill, mint, parsley, tarragon, cilantro and basil. Chop them up and add handfuls of fresh herbs into your lettuce mix (bonus points if they're from your own garden). Or, blend them with your vinaigrette to add intrigue.
Printer Friendly