A COLORFUL DIET FOR OPTIMAL SKIN HEALTH AND WELLNESS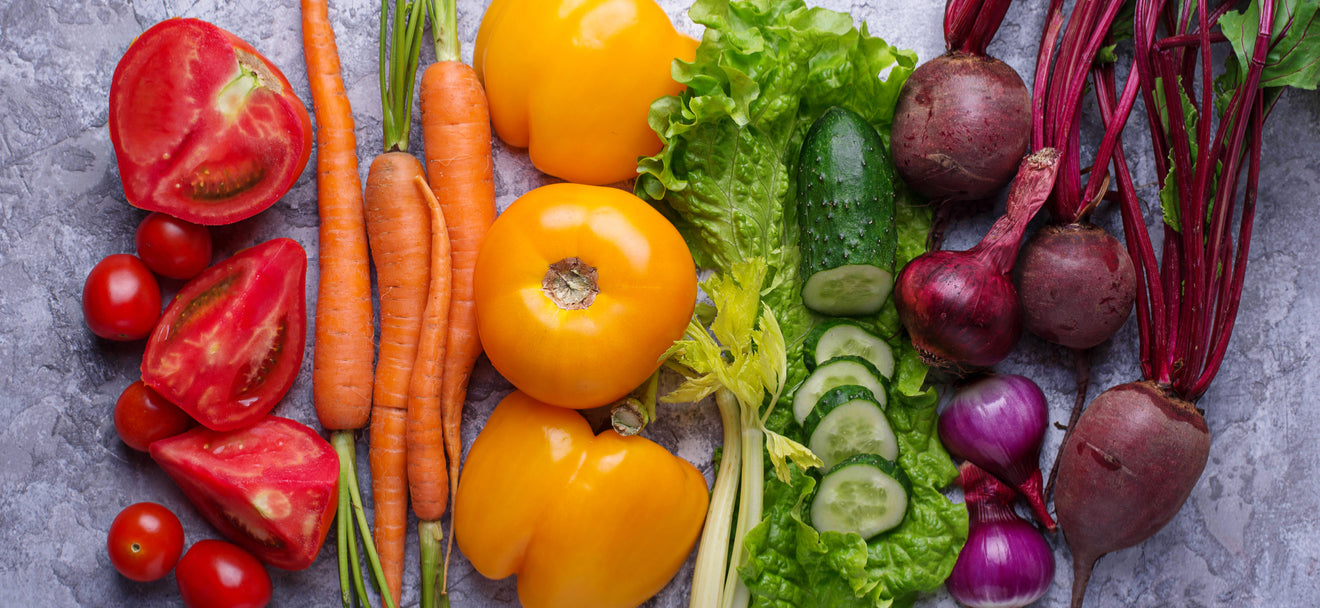 vegetables we eat, and are the compounds responsible for their diverse array of hues, scents, and flavors. Each color represents a di erent group of nutrients, compounds and antioxidants that help your body function at its best.
Here's an easy guide for eating a full color spectrum of fruits and vegetables to ensure your body is nourished with the highest concentration of antioxidants, phytonutrients, vitamins and minerals to attain optimal skin health and wellness.
BLUE/
PURPLE
KEY NUTRIENTS
Anthocyanin, Resveratrol, Vitamin C, Potassium
SOURCES
Blue/Purple-Skinned Berries (Acai, Blueberry, Elderberry), Plums, Red Grapes, Eggplant, Adzuki Beans, Black Beans
HEALTH BENEFITS
Cardiovascular Health, Neurological Function, Bone Support, Immunity, Skin Health
RED/

PINK
KEY NUTRIENTS
Lycopene, Anthocyanin, Ellagic Acid, Vitamin C, Potassium
SOURCES
Red-Skinned Berries (Raspberries, Strawberries, Cranberries), Watermelon, Cherries, Pink Grapefruit, Pomegranate, Red Cabbage, Red Bell Pepper, Cayenne Pepper, Radishes, Tomato
HEALTH BENEFITS
Urinary and Prostate Health, DNA Protection and Support, Inflammation, Heart Health, Cancer Prevention
ORANGE/
YELLOW
KEY NUTRIENTS
Carotenoid, Vitamin C, Vitamin A, Flavonoids, Potassium, Magnesium
SOURCES
Oranges, Tangerines, Yellow Grapefruit, Cantaloupe, Mango, Nectarines, Peaches, Papaya, Apricots,
Orange and Yellow Bell Peppers, Carrots, Sweet Potato, Squash (Acorn, Butternut, Delicate), Corn, Turmeric
HEALTH BENEFITS
Eye Health, Immune Protection and Support, Inflammation, Skin Hydration
GREEN
KEY NUTRIENTS
Folate, Indoles, Lutein, Allyl Sulfides, Vitamin C, Vitamin K, Potassium, Magnesium, Iron, Calcium
SOURCES
Cruciferous Vegetables and Leafy Greens (such as Broccoli, Kale, Swiss Chard, Brussels Sprouts, Broccoli Rabe, Spinach, Collard Greens), Herbs (like Parsley, Oregano and Basil), Green Tea
HEALTH BENEFITS
Eye Health, Immune Protection and Support, Inflammation, Skin Hydration
BROWN/WHITE
KEY NUTRIENTS
Indoles, Lutein, Allyl Sulfides, Potassium, Fiber, Selenium
SOURCES
Apples, Pears, Navy Beans, Cannellini Beans, White Kidney Beans, Ginger, Turnips, Parsnips, Cauliflower, Garlic, Mushrooms
HEALTH BENEFITS
Bone Health, Circulatory Health, Arterial Function
Printer Friendly