DRY SKIN BRUSHING 101: HEALTH BENEFITS & HOW TO BRUSH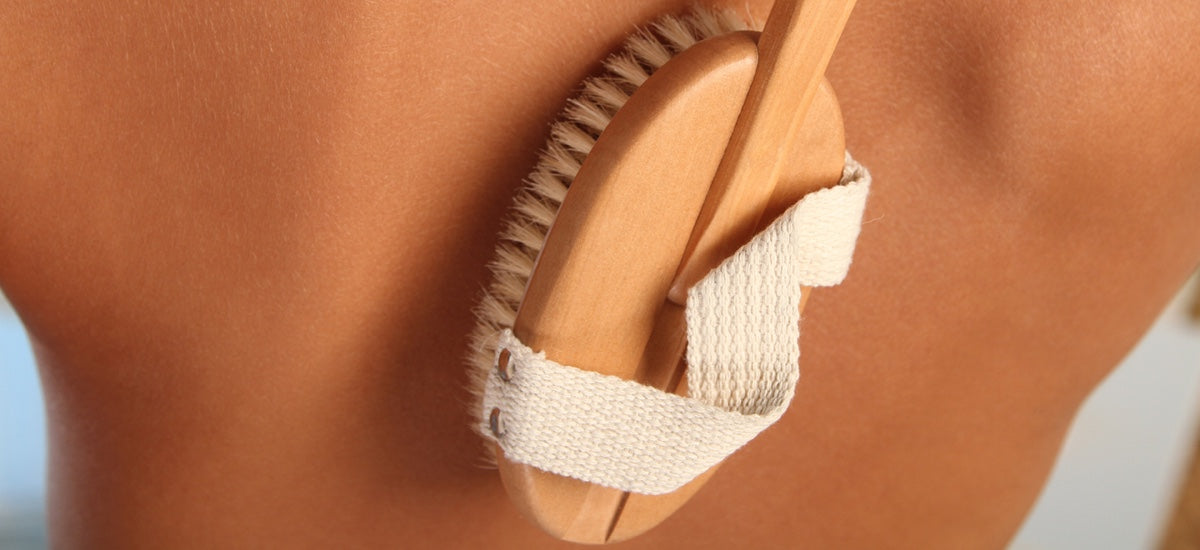 The skin is your body's largest organ, so giving it special attention really pays off. There's one practice you can do in as little as 5 minutes each day that drastically improves the appearance of your skin. It's referred to as dry skin brushing. People have included dry skin brushing in their beauty regimens for years, but only recently have beauty experts started to understand the amazing advantages of this technique.
BENEFITS OF DRY SKIN BRUSHING 
BOOSTS CIRCULATION AND REDUCES CELLULITE
Cellulite is an accumulation of toxic material that builds up in the body's fat cells. Dry skin brushing increases circulation to the skin that helps to break down cellulite.  Regular dry skin brushing reduces the dimpling and wrinkling of skin caused by cellulite for an overall smoother appearance.
SHEDS DEAD SKIN AND PROMOTES CELLULAR RENEWAL
The process of dry skin brushing exfoliates, which means as you brush the skin, you remove dead skin cells. By getting rid of old skin cells, you also encourage new skin cells to grow in their place. As a result, skin looks healthier and revived.
STIMULATES LYMPHATIC SYSTEM AND REMOVES TOXINS
Think of the lymphatic system as a special drainage system that detects and removes toxins from the body. This keeps you healthy and free from sickness. A third of the body's toxins are released through the skin. Dry skin brushing increases blood flow and unclogs pores, allowing toxins to be more readily removed from the body through perspiration.
RELIEVES STRESS AND ENERGIZES
In addition to its many health and wellness benefits, dry skin brushing feels amazing! The practice can resemble a full-body massage, helping you fight off stress and anxiety. Plus, dry skin brushing rejuvenates the nervous system, giving you a tingling, alert feeling that really helps when performed in the morning.
HOW TO DRY SKIN BRUSH
Dry skin brushing is simple to do: Stand in the shower before turning on the water. Make sure your skin and the brush are completely dry. Take a soft but firm natural bristled brush and start at your feet. Make long sweeping strokes, slowly moving up towards the calves and thighs of each leg. Cover each area with several strokes before moving on. Then, move to the arms going up the wrists towards the chest. At the abdomen, go in a counterclockwise direction.
Be sure not to brush too hard, especially around the gentle skin on the chest. Skip over any skin that is inflamed or sore. Once you've done the whole body, shower as usual. Follow up by applying natural body oils to seal in the skin's moisture.
Bonus Tip: Perform dry skin brushing in the morning to feel invigorated for your day. Also, use this practice in conjunction with time in a sauna or a hot/cold shower to further increase circulation and stimulate the lymphatic system.
Printer Friendly