A HOLISTIC APPROACH TO SKIN HEALTH & WELLNESS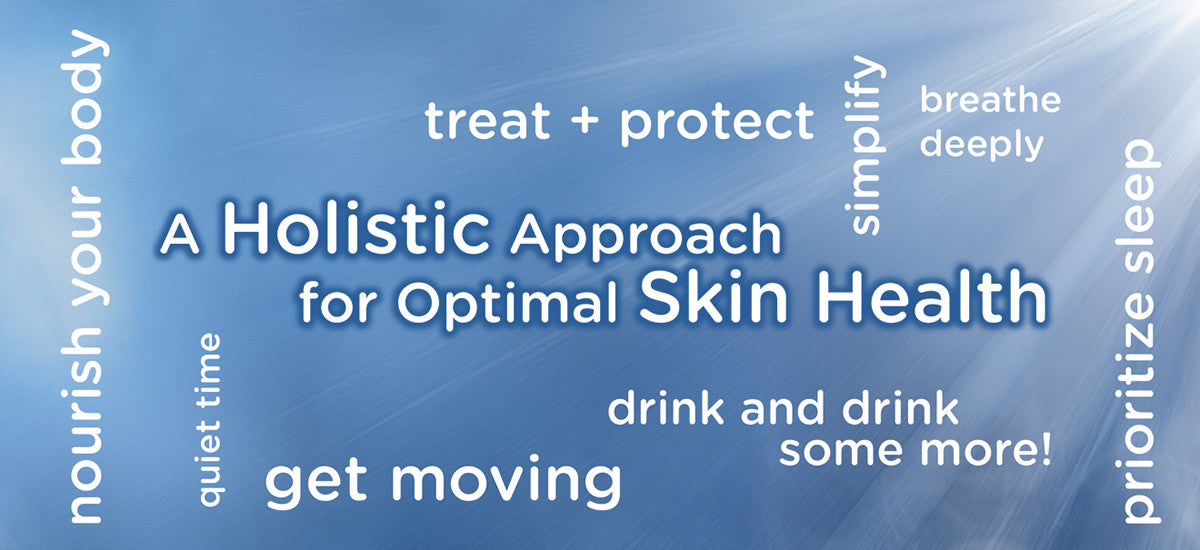 As you pursue optimal skin health, consider the quality of your personal lifestyle, nutrition, and beauty choices. A holistic approach that emphasizes the interconnectedness of all three areas, is the healthiest and most sustainable method way of attaining lasting beauty and wellness.
NUTRITION – Eat and Drink for Skin Health! 
LET FRUITS AND VEGGIES NOURISH YOUR BODY
Eat a full-color spectrum of fruits and vegetables to nourish your body with the highest concentration of antioxidants and phytonutrients.
Keep your vegetable servings bigger than your daily intake of fruit. Aim for 6 to 8 and even 10! servings per day.
SUGAR? JUST SAY NO
When the urge strikes, reach for fruits such as blackberries, raspberries and blueberries or sweet vegetables such as sweet potatoes and carrots which offer antioxidants and fiber as well.
DRINK and DRINK some more!
Drink at least eight glasses a day for proper hydration.
Add a zest with some citrus like lemon slices or limes – a great source of Vitamin C.
MAINTAIN A HEALTHY GUT AND RECEIVE A SKIN BONUS
Consider adding probiotic supplements and probiotic food (dark chocolate and fermented veggies) to increase the healthy bacteria in your gut. The bonus for the skin is increased collagen production, hydrated skin and a reduction in fine lines.
RESIST FOODS THAT ARE PROCESSED
Begin to eliminate processed foods and gradually add in pure, plant foods to your diet.
Focus your diet on whole, nutrient-dense foods aka superfoods. Things like leafy greens, healthy fats and organic protein for that glowing complexion.
Fill your plate with a wide variety of unrefined, whole and plant-based foods that are seasonal, organic and in as close to their natural state as possible.
BEWARE OF THE SNEAKY FOOD "FRENEMIES"
Cook with coconut oil and not vegetable oils. Coconut oil is an awesome beauty fat option that promotes glowing skin.
Try warm water with lemon in place of that morning cup of coffee and receive loads of beauty benefits: a boost to help flush out toxins with radiance enhancing Vitamin C provides much needed hydration after the dehydration most of us experience at night.
If you must do dairy, switch to almond milk or coconut milk and gain nourishing beauty fats and minerals.
Replace processed protein bars with a handful of almonds. Just read the ingredient label and you'll see these ingredients are not fuel for beautiful skin.
HOW TO A.C.E. TAKING YOUR VITAMINS
Incorporate sweet potatoes and carrots in your diet as an excellent source of Vitamin A.
Get your daily boost of Vitamin C with citrus fruits and kale.
Indulge in "good fat" favorites, avocados and almonds, to attain Vitamin E.
LIFESTYLE – Live Healthy for good skin health!  
SIMPLIFY TO AVOID STRESS
Take time and treat yourself to some "quiet time" every day. It will nourish your body, soul and relieve a lot of stress.
Set reasonable limits, scale back your to-do list and make time to do the things you enjoy.
Surround yourself with positive and supportive people.
Whatever you cook, make more of it! Double up your portions and freeze for later in the week. 
PRIORITIZE SLEEP
Give yourself the gift of rest and aim for 7 to 9 hours of sleep per night; your body repairs itself at night!
Create a calm and restful sleep environment; keep your room dark, cool, and quiet.
Drink chamomile tea or other herbs such as Passion Flower to help calm your brain and body.
Limit caffeine, nicotine, alcohol, and big meals at night. 
GET MOVING
Breathe deeply and exercise! This will flush out toxins in your skin and release your "happy" endorphins.
Exercise can be anything that causes your heart to beat faster, such as cardiovascular or strength training. Even going for a bike ride or a power walk with your dog is a great way to exercise holistically! 
PROTECT YOUR SKIN FROM THE SUN
Avoid "high sun" times: 10:00 – 3:00 (standard time) or 11:00 – 4:00 (daylight savings time).
Apply all natural sunscreen to prevent the UV rays from penetrating any exposed skin.
Wear wide-brimmed hats and UV protective sunglasses.
Cover up with protective clothing such as tightly woven long-sleeved shirts and long pants or special sun-protective clothing — which is specifically designed to block ultraviolet rays.
BEAUTY – A Natural Path to Optimal Skin Health!
PURE + SAFE SKINCARE
Use "clean" skincare products to avoid harsh abrasives, toxic chemical preservatives and synthetic fragrances that can harm your health in ways far beyond just skin irritation.
Look for certified natural and organic plant-based ingredients in your skincare because they work naturally with your skin to fight free radicals, protect against inflammation, combat the aging process, and boost production of collagen and elastin.
Commit to a skincare routine and apply it twice a day, every day, without fail. 
CAREFUL CLEANSING
Double cleanse your skin to achieve the most thorough clean that won't leave your skin feeling dry. Start first with a lightweight makeup remover to sweep away makeup, dirt and environmental debris then follow with a gentle cleanser that will purify and deeply cleanse beneath the surface.
Exfoliate skin 2-3 times a week for a polished, healthy-looking complexion.
Restore skin's natural pH level after cleansing with an alcohol-free and emollient-rich, facial toner.
TREAT + PROTECT
Nourish your skin with a specialized treatment complex that is loaded with plant-based vitamins, minerals and phytonutrients to help promote collagen production, boost elastin and brighten skin with renewed clarity and brilliance.
Protect and maintain an optimal level of moisture in your skin twice daily. Use an antioxidant-rich moisturizer that acts as a protective sealant against the harsh elements in the environment while providing nutrients and essential moisture for nourished skin.
Treat the skin around your eyes with a specialized treatment complex that alleviates dark under eye circles and puffiness, moisturizes and hydrates, helps visibly lift, firm and define the eye area for a smoother, brighter look.
Printer Friendly
---
Also in Volume 12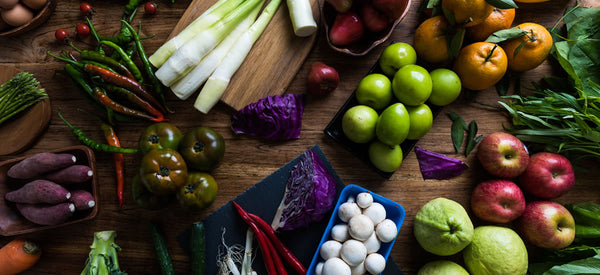 NUTRITION
Living a healthier life is well within your grasp, especially when you begin to make more conscious choices about the food you eat.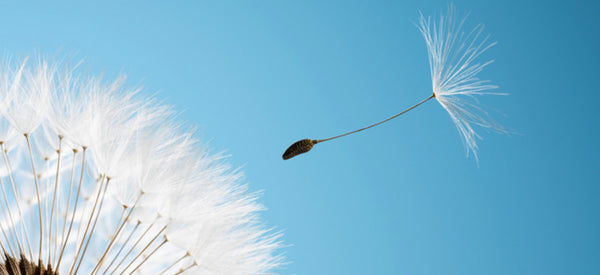 LIFESTYLE
Coined by the Institute for Integrative Nutrition, bio-individuality ™ is the idea that each of us has unique food and lifestyle needs.