YOUR GUIDE TO PLANT-BASED ONE-POT MEALS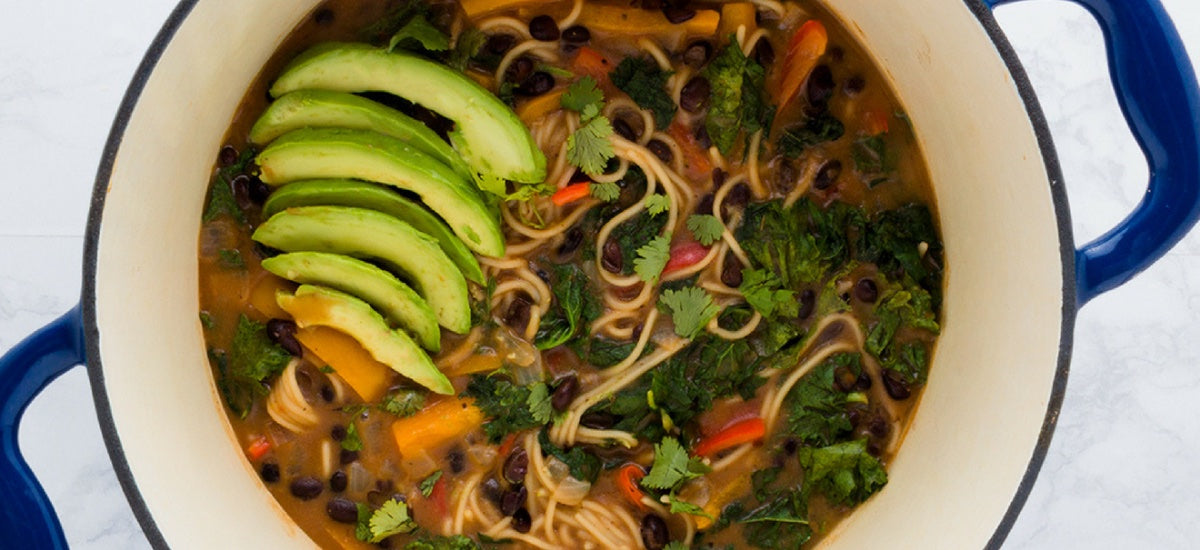 Plant-based one pot meals are a perfect way to cook delicious, healthy weeknight meals that are filled with nutritious vegetables and plant-based protein. They are simple to cook and yet can carry complex flavors that are sure to please many palates. By understanding some simple guidelines presented below, you can be sure to get a superb plant-based one pot meal every time. 
TYPES OF PLANT-BASED ONE POT MEALS
It is important to recognize that there are many different varieties of one pot meals which you can make which means they are incredibly versatile. Below are a few examples of different one pot meal varieties:
SAUTEED
Sautéed one pot meals include stir-fries and other dishes that require ingredients to be quickly cooked in a healthy fat over medium to high heat. These are the quickest of all one pot meals and ideal for serving 2-4 people.
SOUPS AND STEWS
Perfect for colder temperatures or when you need to feed a crowd, soups and stews utilize a liquid such as water or stock to cook the ingredients and generally cook for a longer amount of time over medium to low heat. The difference between soups and stews is that stews typically have less liquid in the finished dish and tend to be cooked for longer periods of time.
BAKED DISHES
As opposed to other one pot meals, baked dishes are cooked in the oven rather than on the stovetop. Baked dishes are easily adaptable to serve more or fewer people as needed and include meals like lasagnas and casseroles. 
PASTAS AND GRAIN BASED DISHES
If you are looking for a heartier one pot meal, try one made with pasta or grains. Similar to soups and stews, these dishes are cooked on the stovetop but use less liquid to cook the pasta or grains. Most commonly, the pasta or grains are added last so that they do not become mushy but always check the recipe instructions first.
5 TIPS TO CUSTOMZE YOUR OWN PLANT-BASED ONE POT MEAL
TIP 1: START WITH A GREAT BASE. 
While almost all one pot meals can be made using water or a store-bought stock, your best option to achieve great flavor is a homemade vegetable stock. Don't worry, though, it is easier than it seems! 
The secret ingredient in the vegetable stock recipe below is kombu, which is a dried variety of kelp. It is a rich source of iodine, Vitamin C, manganese, Vitamin A and Vitamin B2 among other nutrients. Kombu is believed to help improve thyroid function, potentially prevent cancer and help your body more easily digest certain heavy starches. More importantly for the purposes of the vegetable stock below, it provides a complex flavor that is both slightly sweet and salty. 
This vegetable stock can easily be made any time you need it or can be prepared in advance and frozen before using. It will also last about 5 days in an airtight container in the refrigerator. Note that this is an unsalted stock as it is best to add the salt when you are ready to use it.
VEGETABLE STOCK
Makes 6 Cups
INGREDIENTS
1 tablespoon olive oil
1 small onion, chopped
2 carrots, chopped
2 celery stalks, chopped
2 cloves garlic, chopped
2 teaspoons dried parsley (or dried thyme or oregano)
1 piece kombu
6 cups water 
DIRECTIONS
In a large pot, heat the oil over medium heat.
Add the onion, carrots, celery and garlic and cook for 10 minutes, stirring occasionally.
After 5 minutes, add in the parsley, kombu and water. Bring to a low boil and then reduce the heat to low.
Let simmer for at least 15 minutes and up to 1 hour (the longer it simmers, the deeper the flavors will be).
Remove from the heat and strain through a fine mesh sieve.
Store stock in an airtight container either in the fridge if it will be used within 5 days or in the freezer for longer storage.
TIP 2: IDENTIFY THE FLAVOR PROFILE YOU WANT TO USE. 
Picking the right flavor profile is where you can really make your one pot meal stand out. Herbs and spices add important flavor to your dish and also help reduce the amount of salt you may need based on your personal preference.
While you can always experiment with new flavor blends, here are some tried and true spice combinations you can try.      
MEXICAN: 1 teaspoon Cumin + ½ teaspoon Coriander + ½ teaspoon Oregano
THAI: 1 teaspoon Basil + 1 teaspoon Cumin + 1 teaspoon Garlic + 2 teaspoons Ginger
ITALIAN: 1 teaspoon Oregano + 1 teaspoon Basil + 1 teaspoon Garlic
MIDDLE EASTERN: 1 teaspoon Cumin + ½ teaspoon Cinnamon + ½ teaspoon Coriander + 1 teaspoon Ginger
INDIAN: ½ teaspoon Cardamom + 1 ½ teaspoons Turmeric + 1 teaspoon Ginger + 2 teaspoons Cumin 
TIP 3: PICK YOUR PLANT-BASED PROTEIN
A common misconception is that following a plant-based diet does not provide an adequate amount of protein. However, if you choose the right plant-based protein for your one pot meal, you can easily fill up on healthy protein and feel satisfied long after your meal.
There are several types of plant-based proteins you can choose from: 
TOFU
A versatile protein source for your one pot meal so long as you choose the correct kind. Tofu comes in many textures ranging from silky to extra-firm. For the best one pot meal, skip the silky variety and use firm for sautéed one pot meals or extra-firm tofu for stews and soups. Be sure to also drain your tofu well by wrapping it in a clean dish towel and weighing it down with a heavy pan for at least 20 minutes before using. Typically, tofu is added toward the end of a recipe as it does not require a long cooking time.
TEMPEH
A fermented soybean product is sturdier than tofu and can handle a longer cooking time when cooked over low heat. Typically, tempeh is either cubed or sliced before adding to the dish. Similar to tofu, it requires less cooking time than other types of plant-based protein. 
LEGUMES
Includes beans, chickpeas and lentils. Keep in mind, however, that different legumes will require different cooking times and may result in different textures. For instance, green, brown or black lentils are great for pastas or sautéed one pot meals as they tend to keep their shape better than red lentils which turn softer and are great for creamy stews or soups.
Below is a quick guide for buying the right type of lentils for your dish. 
BROWN LENTILS

Texture: Semi-firm, holds shape once cooked
Ideal for: Baked meals, pasta dishes, broth-based soups
Cooking time: 25-30 minutes

GREEN LENTILS

Texture: Firm
Ideal for: Sautéed dishes or stir-fries
Cooking time: 45 minutes

YELLOW OR RED LENTILS

Texture: Soft
Ideal for: Thick soups, stews, or dal (an Indian lentil-based soup)
Cooking time: 30-35 minutes
TIP 4: POWER UP WITH VEGETABLES.
When preparing a one pot meal, it is very important to not only include a healthy serving of vegetables but also to know the optimal times to add these vegetables to ensure they do not overcook. Heartier vegetables should be added to your pot first before your protein. Some options are potatoes, carrots, parsnips and beets along with other root vegetables. Additionally, many cruciferous vegetables such as broccoli, cabbage and Brussel sprouts can also handle longer cooking times.
Less starchy vegetables such as spinach, kale and asparagus do not require as long of a cooking time and therefore should be added later or right before serving.
In general, a good rule of thumb is to have at least half of your dish be comprised of vegetables and then round out the rest of the meal with plant-based protein, carbohydrates and healthy fats.
TIP 5: DON'T FORGET THE GARNISHES. 
To finish your one pot meal, use garnishes wisely to put final textures and flavors into your dish. Crunchy garnishes work well to give stews a good texture and fresh herbs or a squeeze of lemon brighten up the overall flavors of a one pot meal.
A few ideas for flavorful garnishes:
Crushed peanuts
Chopped herbs (i.e. cilantro, parsley)
Sliced avocado
Toasted seeds (i.e. pumpkin seeds, sunflower seeds, sesame seeds)
Finely chopped onion 
One pot meals are a great way to pack in both nutrition and flavor without having to dirty a bunch of dishes. As you here, there are many varieties of one pot meal you can choose from to best suit your needs. 
Put these steps into practice and try this recipe for
One Pot Mexican Black Bean Pasta
. Featuring lots of vegetables and hearty black beans, this one pot meal is ready in 30 minutes.
Printer Friendly