REINVENT YOUR MEALS WITH HEALTHY SPICES & SEASONINGS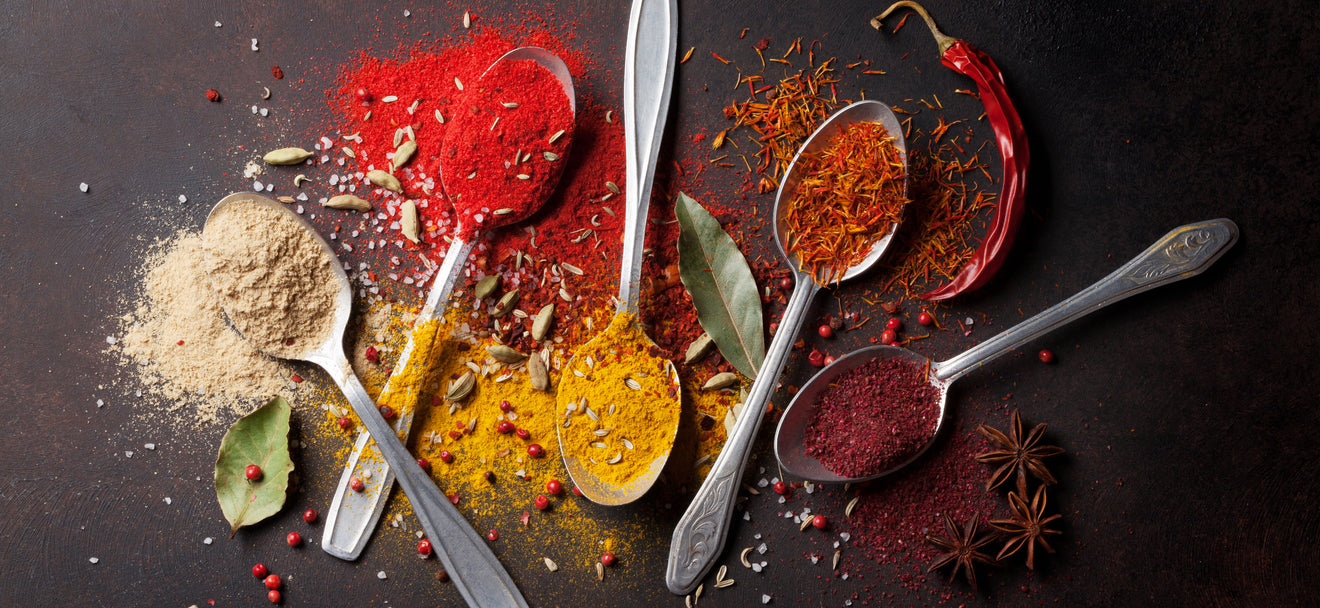 Spices come in thousands of varieties and species—and each spice has a special place in kitchens around the world. A family in India holds cumin and curry in equal regard to that of Italians' love of basil and oregano. And turmeric? This anti-inflammatory spice gets top billing in nations like Burma and Pakistan. 
We know that spices add robust flavor to our meals, but many are time honored for their healing, therapeutic, and health-supportive qualities. Much like we eat the rainbow to consume a spectrum of nutrients, eating a range of healthy spices can also help ensure we tap into some of the myriad benefits they offer. 
THE THERAPEUTIC POWERS OF HEALTHY SPICES
Even trace amounts of ingredients like ginger, cinnamon, and cumin can positively and profoundly impact our health. Benefits derived from the consumption of spices run the gamut, including brain, heart, skin, immune, digestive, circulatory, and respiratory health. Spices contain antioxidant, anti-stress, and anti-inflammatory properties, and can help lower cholesterol, aid in weight loss, and prevent diseases such as cancer and diabetes.
6 ETHNIC SPICES AND SEASONING BLENDS
Well Within Beauty shares six ethnic favorites, touted for their health properties and ability to elevate dishes with depth and complexity. Sprinkle these seasonings into your meals to expand your palate—and your horizons.
CURRY POWDER
Curry powder is not a spice in itself, but rather a spice blend. Hailing from India, curry typically includes a combination of cumin, coriander, fenugreek, pepper, turmeric, ginger, and other seasonings. This spice blend boosts liver and immune functions and helps prevent cancer and heart disease.
Its golden color and intricate flavor profile makes it a fitting add-in to stews, like the aptly named Indian curry. For a quick weeknight meal, sauté some vegetables, then add cooked lentils or chickpeas and curry powder. Pour in a little coconut milk and simmer until the veggies are tender. Serve over rice.
CUMIN
This warm, earthy spice from the Middle East helps add depth to homemade curries. It even spices up dishes like root vegetables and vegan chili. Cumin boasts a long list of nutrients, and even a small amount supports digestive, immune, respiratory, and skin health.
Try your hand at grilling, using a rub made from cumin, salt, and pepper. Coat your mixed veggies with a little olive oil, then the rub, and grill indoors or out.
DUKKAH
Take a trip to Egypt with this unique nut-and-seed spice blend. Make your own by food processing your choice of roasted nuts and seeds. Typical ingredients include hazelnuts, sesame seeds, coriander seeds, cumin seeds, sea salt, and pepper. Mint, thyme, and other spices can also be added. Depending on the ingredients, dukkah offers protein, fiber, antioxidants, and a variety of beneficial nutrients for heart and brain health.
Dip some warm focaccia in olive oil and dukkah for a savory snack. Toss with vegetables or use in soups for a welcome pop of texture and flavor.
RAS EL HANOUT
Enjoy the splendor of Morocco with this blend of healthy spices. In Arabic, Ras el Hanout means "head of the shop," implying that it's made from the best spices in the shop. In fact, it may contain as many as 100 spices! But you can make a simplified version with cumin, coriander, ginger, cloves, cinnamon, cayenne, allspice, cardamom, turmeric, nutmeg, salt, and pepper. In addition to great flavor, this blend promotes digestive and bone health and is said to have aphrodisiac properties. The coriander is also a good source of immune-boosting vitamin C.
Ras el Hanout can be used as a rub, in marinades, and as an ingredient in stews and soups. Sprinkle this mixture over your vegetables before roasting them. It's even delicious added to baking recipes, like carrot cake or muffins.
ZA'ATAR
Create your own Middle Eastern mix with just four ingredients—thyme (or oregano), toasted sesame seeds, sumac, and coarse salt. Cumin and pepper can be added. If the sumac throws you off, substitute lemon zest or lemon pepper seasoning. What you get is a delicious citrusy blend that lends refreshing flavor and crunch, along with vitamin A, iron, and fiber. The sesame seeds are also good for heart and skin health.
Enhance salads, hummus, even popcorn with this delicious seasoning. Or, mix olive oil and za'atar and spread on toasted sandwich bread to dial up your lunch.
HERBES DE PROVENCE
This elegant dried herb blend from the South of France imparts delightful fragrance and taste into whatever it's cooked with. Key ingredients usually include rosemary, thyme, savory, oregano, marjoram, parsley, and lavender. Each of these dried herbs brings its own benefits. Rosemary improves memory and helps with hair growth, and thyme and marjoram are good for digestive health, to name a few.
Herbes de Provence has countless uses. Add some to ratatouille, tofu scrambles, and cucumber and tomato salads. For a twist, herbes de Provence can replace Italian seasoning in sauces or on pizza.
Printer Friendly
---
Also in Volume 80