LOOK AND FEEL YOUNGER: DISCOVER A HEALTHY, HOLISTIC WAY TO AGE IN REVERSE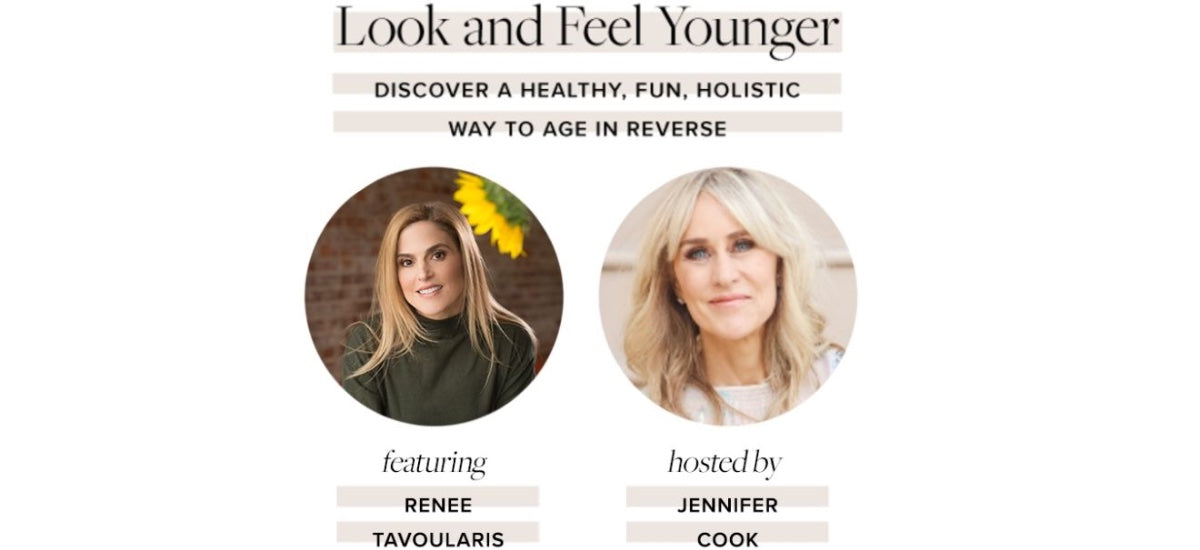 For all women, there's a certain point at which we start to really notice we are showing the signs of aging. If it's happened to you (or if you know it's just around the corner), then you've probably wondered if there's a way to maintain or restore your youthful appearance and energy level in a healthy way.
We're so proud of our co-founder Renee Tavoularis, who was featured on the Look and Feel Younger series, hosted by Jennifer Cook*. Her video interview is full of SO much great advice! See the video highlights below. 
❥ Why we need to be very conscious about what we put on our bodies. Many of us are exposed to 150+ harmful chemicals every day - from our skincare & body care!
❥ Where to start if we want to clean up our beauty and skincare routine - including which 3rd party certifications to look for! 
❥ How to eat to age your best and combat free radical damage and inflammation. 
❥ Renee's very own 'loaded coffee' recipe!
Jennifer Cook is a SoCal based certified holistic nutrition and wellness coach, Ayurvedic consultant and yoga teacher who is passionate about all things wellness through a modern, minimalist lens.  Her areas of expertise include aging amazingly well, maximizing energy and discovering how to keep the body in its innate, balanced vibrant state.
By way of a 25 year corporate career in the fast paced advertising world as a Senior VP, Jennifer began a personal journey and dove deep into of the power of nutrition, superfoods, adaptogens, and clean, non-toxic living to keep her healthy in order to keep up with the fast pace and pressure. 
Now, Jennifer is blissed-out and building an engaged community of top performing go-getters who are transforming their lives and taking their wellness games to the next level.
When you look and feel your best, then you go out in the world and do your best!
Current offerings include custom bespoke nutrition and wellness coaching, VIP days, as well as group programs

 

and collaborations centered on a vibrant plant powered approach, carefully interwoven with the ancient healing tradition of Ayurveda.

 

Jennifer also has expertise and a love of superfoods, adaptogens, clean beauty and pared-down, beautiful modern living; all of which find their way into her programs. Get in
touch here
Printer Friendly