LEARN THE BEST WAY TO STORE HERBS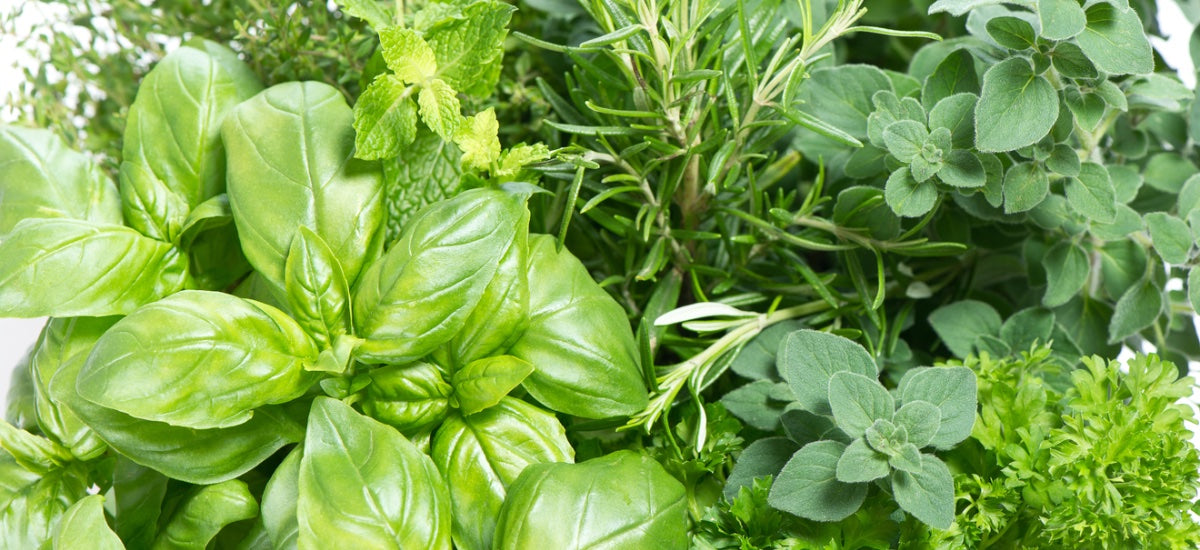 We've all been there. Inspired by a recipe, we purchase the ingredients to make it—wonderful, fresh ingredients. The recipe calls for 1 teaspoon of fresh oregano and ¼ cup of basil, so we buy a bunch of each. The dish turns out great. But now what do we do with the rest of the herbs? Too often, leftover herbs are left to wither in a plastic bag in the refrigerator, then get tossed in the garbage. Knowing the best way to store herbs can extend their life and provide you with a wide range of creative options for their use. 
Well Within Beauty lists the best way to store herbs to ensure longest freshness, flavor retention, and usability. 
SHORT- AND LONG-TERM HERB STORAGE OPTIONS
Generally speaking, herbs will keep for a day or two in the packaging from the store. But if left to sit in their store container, most herbs will quickly wilt, discolor, and begin to rot, so it's important to transfer them to a longer-term storage solution. Any herbs not used within a few days can be frozen. This method works extremely well for most herbs, which can either be frozen whole, chopped, or puréed and poured into ice cube trays. Drying is another option for herbs, especially hardy ones like oregano, rosemary, and thyme. 
Whether you choose to use them fresh or extend their life through freezing or drying, herbs can be preserved for myriad uses for up to a year or even longer.
THE BEST WAY TO STORE THESE 3 TYPES OF HERBS 
LEAFY HERBS
Tender, leafy herbs such as parsley, cilantro, and basil are best treated just like freshly cut flowers. Stand them up in a tall glass or clean vase, with just an inch or two of water to cover the roots, then cover tightly. Basil is a little finicky and should be kept at room temperature to prevent discoloration, but parsley and cilantro can be refrigerated.
For longer term storage, freezing is an excellent option that will retain the fresh flavor of leafy herbs. Freeze parsley or cilantro in airtight resealable bags, or use a food processor to purée them with a little water (or oil and other herbs if desired), then freeze in ice cubes. Blanch basil before freezing to retain its fresh flavor and bright color.
To dry leafy herbs, hang them or let them sit in a cool, dry place for a few days. Then transfer to a resealable container in the refrigerator or freezer. They can also be thoroughly dried in the oven, microwave, or a dehydrator for long-term storage, with varying success.
HARDY HERBS
For short-term storage of herbs such as thyme, sage, rosemary, oregano, and marjoram, wrap unwashed herbs loosely in plastic or a paper towel in a resealable bag, and refrigerate in the door, where it's warmest.
For longer-term storage, wash and dry the herbs, remove the leaves if desired, and place them in a resealable bag in the freezer.
Hardy herbs retain their robust flavor when dried. Hang them or air dry them on a counter or windowsill. When thoroughly dry, transfer to an airtight, resealable container and store in a cool, dry place. 
AROMATIC ROOTS
Garlic and onions can be treated similarly; simply store them in a cool, relatively dry place. Ginger should be kept in an airtight, resealable bag in the refrigerator.
Whole ginger root will keep in a resealable bag in the freezer for up to 6 months. Simply grate ginger right off the root. Garlic and onions last a long time in the cupboard, so you may not care to freeze them. However, you can. To do so, peel and spread the garlic or (chopped) onion in a single layer on a plate and freeze, then transfer to an airtight, resealable bag in the freezer. Onions will keep for 3 to 6 months; garlic for up to a year.
Ginger can be dehydrated and made into powder or dried ginger slices to add to recipes or tea. Both garlic and onion can also be dried.
Printer Friendly