HOMEMADE ALMOND MILK: 6 SIMPLE STEPS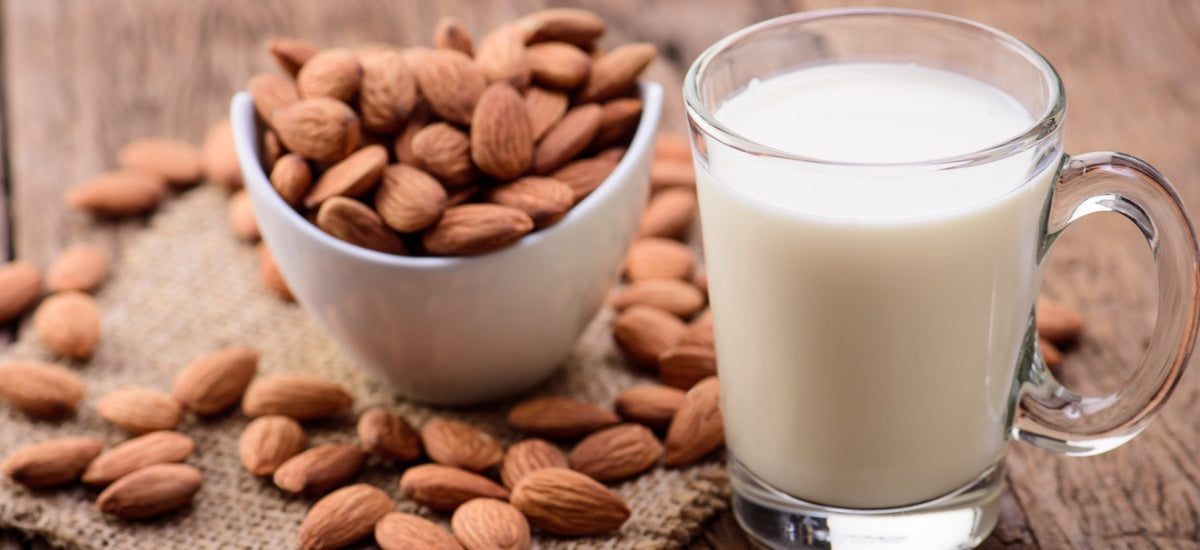 Almond milk is a delicious and nourishing dairy-free alternative for tea, smoothies, cereal, and muesli. It's also a featured ingredient in many plant-based cooking and baking recipes. 
But most store-bought almond milk brands contain refined sweeteners, preservatives, and thickeners that can cause inflammation and digestive problems, negating many of almond milk's natural health and beauty benefits. Store-bought versions also contain fortified nutrients, which your body doesn't assimilate as efficiently as nutrients obtained from whole food sources.
The solution? Try Well Within Beauty's easy homemade almond milk recipe. 
ALMOND MILK BENEFITS
Homemade almond milk contains almonds and water. That's it! 
Pure almond milk boasts similar benefits to whole almonds. Almond milk is slightly processed, since it's blended and the pulp is removed, so the nutritional profile isn't as robust. However, almond milk is still a good source of monounsaturated fats, known to help balance cholesterol and decrease the risk of heart disease and certain types of cancer. It also contains vitamin E, which improves skin health by reducing inflammation and protecting cells from free radical damage. Vitamin E also increases moisture levels and elasticity, resulting in youthful looking skin.
You can further boost the health benefits by:
Soaking the nuts in advance to make them easier to digest.
Purchasing organic almonds to limit pesticide exposure.
Using filtered water to reduce exposure to toxic chemicals. 
HOW TO MAKE HOMEMADE ALMOND MILK
Homemade almond milk is a snap to whip up with a high-speed blender.
Follow these recipe basics, and then make it your own with the suggested variations listed below: 
SOAK IN. Place 1 cup of almonds in a bowl and cover with water. Soak overnight in the refrigerator. Drain and rinse.
ADD WATER. Transfer the nuts to a blender, and add 2 to 4 cups of clean water. (Do not reuse the soaking water.) Use less water for a creamier consistency and more for a thinner consistency.

BLEND UP. Blend for 1 to 2 minutes, until smooth.
STRAIN WELL. Strain the pulp using a cheesecloth or fine mesh strainer, reserving the pulp (see Step 6).
KEEP COOL. Transfer the almond milk to a Mason jar and store it in the refrigerator for about 3 days. Shake before each use.
SAVE THE PULP! Search for almond pulp recipes online for creative ways to use your leftover almond pulp. 
For a variation, swap almonds for cashews, hazelnuts, or pecans. For a hint of natural sweetness, add some dates, raw honey, maple syrup, or cinnamon in Step 2.
Printer Friendly