4-STEP PLAN FOR A HEALTHY PANTRY MAKEOVER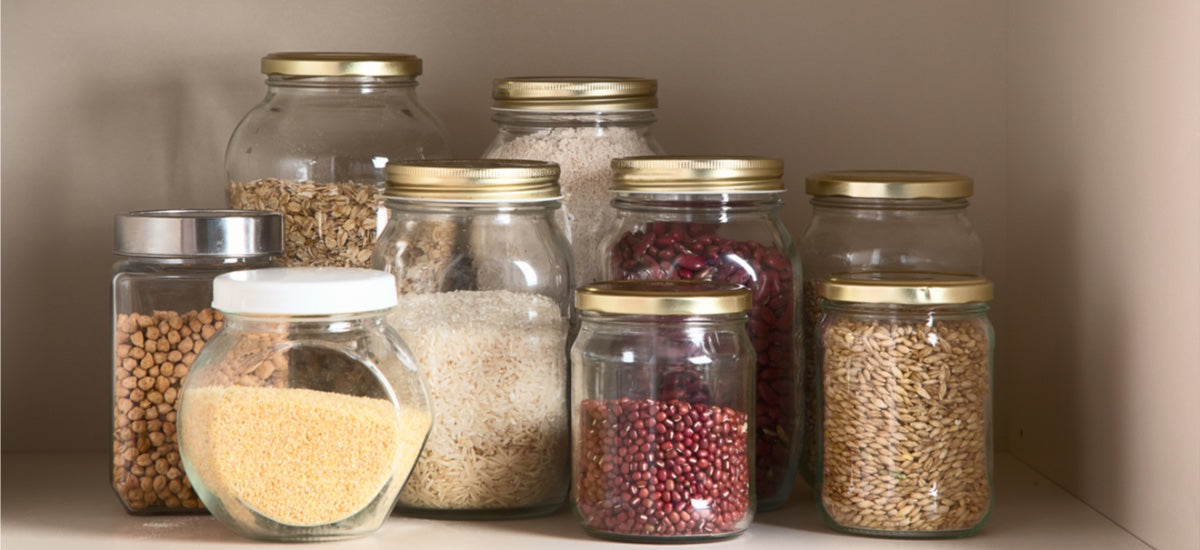 What's in your pantry? If your answer includes lots of processed foods, convenience items, and sweet and salty snacks, you are hereby nominated to treat yourself to a pantry makeover! This makeover isn't about matching canisters and well-appointed spices; rather, it's about making a conscious shift to revitalize how you look, feel, and cook. Once you decide to control what goes in your cabinets, you can effectively control what goes in your body.
Well Within Beauty offers an easy 4-step plan to transforming your pantry from one filled with toxins that drain and inflame to one filled with kitchen essentials that support optimum health and beauty.
4 EASY STEPS TO A PANTRY MAKEOVER
1. DISCOVER YOUR "WHY".
How have you been feeling lately? Why is this pantry makeover important for you? Keeping your goals in mind will help you stay motivated.
2. START THE ASSESSMENT.
Go through your pantry and place all of your items on the table or counter. Discard any expired items; donate items you won't eat.
3. PURGE THE NEGATIVITY.
Read labels and get rid of any foods that contain chemicals, preservatives, and unnatural sugars. Only keep items that contain real, whole ingredients. Hint: these are ingredients your grandmother would recognize as food, such as fruits, vegetables, whole grains, seasonings, and natural sweeteners like honey.
4. GO SHOPPING!
This is the fun part. It's important to keep your pantry stocked full of healthy foods that will inspire you. With a pantry full of tempting options, you're less likely to turn to takeout or end up filling it with offensive foods again. 
HOW TO RESTOCK YOUR PANTRY (WITH RECIPES)
The key to long-term success is to replace all the foods you discarded with healthy options you really like. You'll want to also consider the foods you most often crave, whether they are salty, savory, sweet, or crunchy, so you always have something on hand that satisfies you.
Below is a list of health-supportive staples that cover those bases and are easy to transform into anytime meals, snacks, and desserts.  
ROLLED OATS: Make a new habit of enjoying this quick-to-prepare breakfast topped with fresh fruit. Or, try your hand at homemade granola for workday noshing. You can also use oats in a wide range of baking applications.
Recipes:
Blackberry Peach Crisp
Overnight Oats 
BROWN RICE: Use brown rice as a base for rice bowls and bean burritos or add it to salads to make them heartier. You may want to invest in a rice cooker. It does all the work, so you can sit back and let it make big batches that you'll enjoy for days.
Recipes:
Chickpea Scramble And Red Cabbage Brown Rice Bowls
Sweet Potato Chickpea Buddha Bowl
NUTS: Get creative! These rich sources of protein can be eaten raw or roasted to intensify their flavors. Toss them into salads and rice bowls, or make homemade trail mix for the perfect grab-and-go snack. You can even make homemade almond butter or almond milk.
Recipes:
Fig Salad With Toasted Walnuts & Lemon Maple Vinaigrette
Almond Butter 
SEEDS: Chia seeds make creamy dairy-free puddings and desserts. Ground flaxseed is super easy to add to smoothies. Roasted and salted pumpkin seeds make for a satisfying alternative to potato chips. Take your pick!
Recipes:
Selenium-Rich Chocolate Chia Seed Pudding
Banana Almond Smoothie
COCONUT SUGAR: No more refined sugar? No problem! This natural sweetener can be used in place of regular sugar in a 1:1 ratio—just consider adding a little mashed banana or applesauce with it for moisture. Coconut sugar is useful for making muffins, cakes, and even candies.
Recipes:
Cinnamon Walnut Banana Bread
One-Bowl Super Intense Brownies
LENTILS: Another excellent protein source, lentils cook up in 20 to 30 minutes! With so many varieties, experiment with recipes for soups, salads, and other creative fare.
Recipes:
Lentil & Swiss Chard Stuffed Mushrooms
Classic Italian Meatballs
COCONUT MILK: It's an excellent base for creamy, dairy-free soups, desserts and curries. You can also use it to make rich matcha lattes and other warm beverages.
Recipes:
Chilled Cucumber Avocado Soup
Raw Tropical Sherbet 
LOW-SODIUM SOY SAUCE OR TAMARI: Consider this versatile seasoning for use in stir-fries, or on veggies, popcorn, or any meal that could benefit from a pop of salt or depth. 
Recipes:
Chinese Chickpea Salad
Brown Rice Stir Fry with Vegetables
OLIVE OR COCONUT OIL: Oil is a culinary staple, so be sure to explore these healthy oils for everyday cooking. Coconut oil can be used in roasting and baking recipes, while olive oil is perfect for sautéing and preparing dressings. 
Recipes:
Garlic Lemon Roasted Brussels Sprouts
Spiced Walnut Cake (Karidopita) With Raw Date Syrup
Maca Hot Chocolate
BENEFITS OF A WELL-STOCKED PANTRY
The benefit of cleaning your pantry and restocking it with whole foods? To start, it can make you a more efficient cook. No more standing in front of the cabinet staring in blankly and looking for something to eat. The time and energy you spend filling your cabinets with all the best choices will pay off when you get to choose between all those high-quality foods!
A pantry full of fresh kitchen essentials will also encourage you to eat in rather than out. The best part is that natural foods and ingredients don't require elaborate preparation to taste delicious. 
And as you begin to eat clean, beautifying foods as opposed to processed junk foods, your body will respond with increased energy, decreased bloat, and glowing skin!
Printer Friendly