WHAT FACTS YOU NEED TO KNOW ABOUT NUTRITION LABELS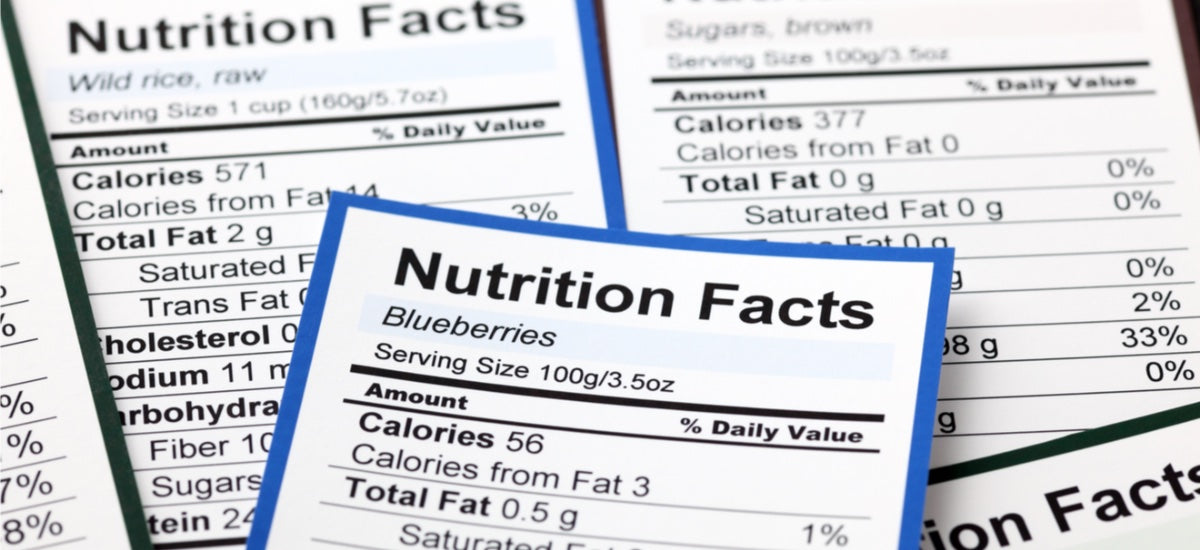 Nutrition labels can provide a great amount of valuable information when choosing healthier foods. They also, however, can be quite confusing to understand or misleading at first glance. Below are some facts and tips for understanding what's important when reading nutrition labels and what to look for on future labels hitting the shelves soon.
BE CAUTIOUS OF HEALTH CLAIMS 
While health claims are not a part of the standardized nutrition label they are worth mentioning as often marketers use these claims on the front of packaging in order to distract consumers from actually turning the package over to read the nutrition label. Don't be fooled by these tricks and always remember to read both the nutrition facts and ingredient list thoroughly. 
Here are a few claims that are often used on products and can be confusing: 
NATURAL
Currently, the FDA does not provide one single definition of what defines a product as "natural" and there are few regulations on how manufacturers can use this claim on product packaging. The FDA does state that this term can be used for products that do not contain any added color, artificial flavors or synthetic substances. However, this does not explicitly exclude the use of preservatives or other ingredients such as high-fructose corn syrup which can still be present in these "natural" products.
ORGANIC
Similarly, to the term "natural", organic labeling has many grey areas. The term "organic" is regulated by the United States Department of Agriculture (USDA) and while its definition does limit some controversial processes and ingredients, it still leaves room for interpretation. For instance, while chemical pesticides are prohibited from being used on products with the organic label, pesticides derived from natural sources are permitted. The USDA authorizes four organic labeling categories, based on the organic content and other factors of agricultural products:
"100 percent organic" must contain (excluding water and salt) only organically produced ingredients. Products may display the USDA Organic Seal.
"Organic" must contain at least 95 percent organically produced ingredients (excluding water and salt), which means other, non-organic ingredients still may be in your food. Products may display the USDA Organic Seal.
"Made with organic ingredients" contain at least 70 percent organic ingredients (excluding water and salt) and the product label can list up to three of the organic ingredients or "food" groups on the principal display panel. Products may not display the USDA Organic Seal.
Less than 70 percent organic ingredients - products cannot use the term "organic" anywhere on the principal display panel. However, they may identify the specific ingredients that are USDA-certified as being organically produced on the ingredients statement on the information panel. Products may not display the USDA Organic Seal.
GLUTEN-FREE
While it is great that those who are gluten sensitive or have Celiac disease now have more access to gluten-free foods, if you are not required to avoid gluten you may want to reconsider some of these products. Many gluten-free foods are filled with additional preservatives and fillers but consumers believe they are healthier options because they are gluten-free. It's important to always read the ingredient label to check for any added and unwanted ingredients.
UNDERSTAND THE NUTRITION LABEL FACTS
The nutrition facts section has many parts, all of which can provide you with important information about how healthful that product is. 
SERVING SIZE & RECOMMENDED SERVINGS
At the top of the label are the serving size and recommended servings which are important to start with as they serve as the baseline for the rest of the statistics within the nutrition facts. However, this is also one area where the information can be misleading. Very often the serving sizes recommended are not practical or realistic for the average consumer.
Based on new research, it was announced in 2016 that there would be mandatory changes for all nutrition labels. This update includes an increased font size for the amount of calories in each serving plus a new serving size calculation which is much more realistic for the average consumer. 
SIDE BY SIDE COMPARISON OF THE OLD NUTRITION FACTS LABEL VERSUS THE UPDATED VERSION: 

Source: FDA
UPDATED FOOD SERVING RECOMMENDATIONS:

Source: FDA
FAT, TRANS FAT & SATURATED FAT
One other confusing section can be the breakouts for trans and saturated fats. While it is beneficial these are listed, it's important to remember that there is still a chance you could be consuming trans fats even if it is listed as having zero grams. That's because if one serving has below .5 grams of trans fats than the amount listed will be rounded down and shown as zero.
While that may seem innocent enough, remember that if you are eating more than the recommended serving size, you are likely to be consuming measurable amounts of these fats in one sitting since the .5 grams in each serving will begin to add up. A good way to avoid this is to always read the ingredient list and avoid any items that contain the phrase "partially hydrogenated" as this is another name for trans fats. 
FIBER
Fiber is an important indicator to look for when evaluating the nutrition facts section. Getting adequate amounts of fiber in your diet can help lower cholesterol levels, control blood sugar levels and maintain a healthy weight. The recommended daily amount of fiber varies by gender and age but typically is between 25-35 grams per day. 
SUGAR
Currently on most labels, the amount of sugar listed contains both the amount of natural and added sugars in the product displayed as one number.Along with the other pending changes to the nutrition label, sugar labeling is also due for a major update. The new label (pictured below) contains a breakout of how much added sugar is contained within a product separate from how much total sugar it contains. This is important especially when evaluating products that contain fruit or milk, both of which have naturally occurring sugars and are separate from added sugars.

Source: FDA
SODIUM
While moderate amounts of sodium play an important part in regulating some of your bodily functions, too much of it can also have several negative health effects. Unfortunately, today's processed foods contain way more sodium than is recommended, about 3400 milligrams for adults.
DECODE THE INGREDIENT LIST 
Ingredient lists are a critical part of the nutrition label that has gotten much more attention as the focus shifts from "low-calorie" and "low-fat" diets and more to real food diets. Ingredients must be listed in the order that they are used most within that product and then decrease from there. Additionally, while all ingredients must be listed, it is not always required to divulge trace amounts of ingredients or what constitutes things such as spice mixes or "natural flavors" so if you have allergies or sensitivities, be sure to do additional research when you see these terms.
AVOID THESE INGREDIENTS
ADDED PROCESSED SUGARS: Unfortunately, sugar goes by many names but always look for ingredients such as high-fructose corn syrup, cane sugar, glucose, sucrose and malt syrup among others as an indicator that there is added sugar in the product.
ARTIFICIAL COLORS & FLAVORS: Look for ingredients such as Red 40, Yellow 5 & 6, Blue 1 & 2.
TRANS FATS: While traces of trans fats can still be in foods listed as having zero trans fats, it's easy to spot them by looking for the words partially hydrogenated or hydrogenated oil in the ingredient list. 
Kristen Link is a Certified Integrative Health Coach who helps individuals develop a deeper understanding of their personalized food and lifestyle choices to live a more sustainable, healthier, balanced, and fulfilling life. Learn more at http://wellnessbykristen.com/
Printer Friendly