6 HEALING HERBS AND SPICES & THEIR HEALTH BENEFITS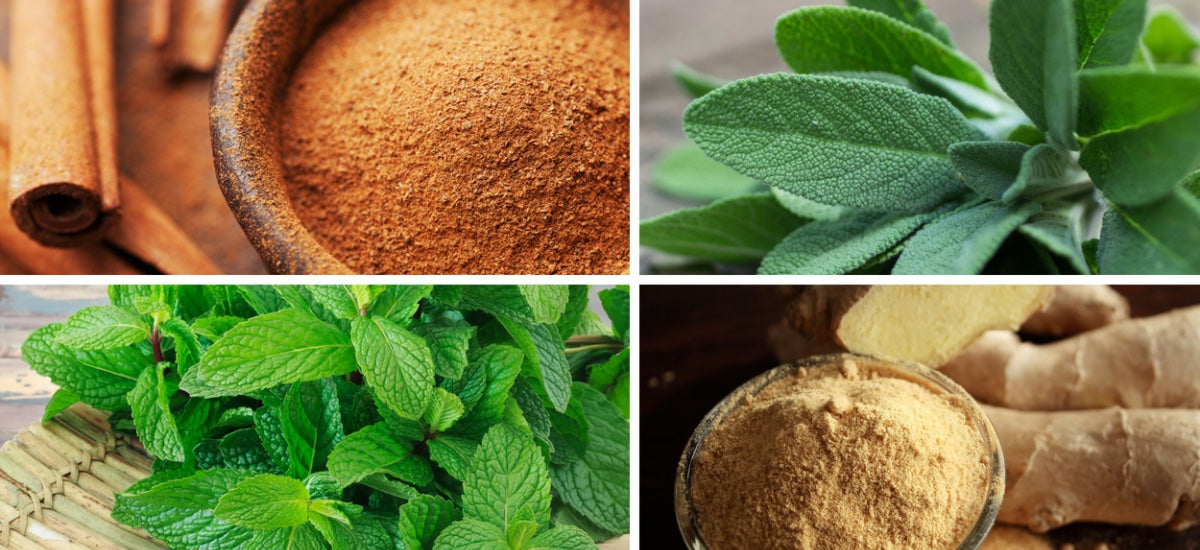 Do your meals and snacks need a makeover? Whether you follow an allergy-friendly diet or eat the same few dishes every week, it's easy to fall into a food rut, even if you have whole foods for skin health in your diet.
However, you can instantly upgrade your plate by turning to Well Within Beauty's list of healing herbs and spices and their health benefits. Incorporating a variety of these ingredients into your diet will dial up the flavor profile while boosting the health and beauty benefits you receive.
HERB AND SPICE 101
Learn everything you need to know about herbs and spices, including the best ways to store them. 
HERBS are edible plants used for medicinal and culinary purposes. Popular herbs include mint, rosemary, sage, cilantro, oregano, and parsley. They're usually sold in bunches, and are typically used to garnish and brighten dishes.
-- To keep herbs fresh and preserve their health benefits, lightly wrap them in a paper towel to help absorb excess moisture. Place the wrapped herbs in a produce bag, remove as much air as possible, and secure the bag with a rubber band. Store for up to one week for best results. Wilted, brown leaves indicate that the herbs have gone bad.
SPICES are the dried parts of plants, such as the seeds, roots, and bark. Common spices include turmeric, ginger, cinnamon, cardamom, cayenne, and cloves. Because spices are dried and therefore more concentrated, they produce stronger flavors than herbs.
-- To keep spices fresh, store in a cool, dry place. Check the expiration date and discard any spices that are past their prime. For best benefits and flavor, buy whole spices and grind them yourself using a coffee grinder or dry-grains blender.
ESSENTIAL LIST OF HERBS AND SPICES
Let's explore the benefits of Well Within Beauty's healing list of herbs and spices, and how you can add them to your meals and snacks.
WHAT IS IT
TURMERIC is a golden spice that contains curcumin, an important antioxidant touted for naturally decreasing inflammation and alleviating pain.
WHAT IT DOES
It's also said to lower LDL cholesterol and triglycerides, raise HDL cholesterol, and inhibit plaque formation in the arteries. 
HOW TO USE IT
Turmeric pairs perfectly with whole grains. To make golden rice, add 1 to 2 teaspoons of ground turmeric to your cooking liquid for each cup of rice. You can also sprinkle ground turmeric onto your vegetables before roasting them, or scoop ¼ to ½ teaspoon into smoothies.
WHAT IS IT
GINGER is a fragrant spice that promotes healthy digestion and eases symptoms of nausea, motion sickness, and indigestion.
WHAT IT DOES
It also contains anti-inflammatory and antioxidant properties that can ward off germs and infections. 
HOW TO USE IT
Enjoy some ginger tea as a warming drink—this is especially soothing if you have a cold. To make, boil water and pour into a mug. Stir in some ground ginger and turmeric, lemon, and honey to taste. You can also use ½ to 1 teaspoon of ground ginger to enliven soups, broths, and lentil dahl dishes. Look online for recipes for step-by-step instructions and exact measurements.
WHAT IS IT
CINNAMON is a slightly sweet and warming spice, derived from of the bark of the Cinnamomum tree.
WHAT IT DOES
It's said to have a beneficial effect on the heart by decreasing chronic inflammation and lowering LDL cholesterol and triglycerides. It also improves blood-sugar regulation.
HOW TO USE IT
Ground cinnamon is a tasty and versatile topping for muesli, oatmeal, yogurt, and toast. Stir a few pinches of cinnamon into almond butter, and spread on apples, celery, or rice crackers for a satisfying snack. Prepare Well Within Beauty's Maca Hot Chocolate recipe to create a decadent, nutrient-rich treat.
WHAT IS IT
MINT made our list of herbs due to its palate-pleasing (and palate-cleansing) properties.
WHAT IT DOES
Known to relieve common stomach issues such as bloating, nausea, and indigestion. A cup of mint tea can also provide a natural boost of energy if you're feeling fatigued. 
HOW TO USE IT
To brew mint tea, tear a handful of washed mint leaves and place them in a mug. Pour hot water over the leaves, steep for about 5 minutes or to taste, and strain. Sweeten with honey if desired. Alternatively, combine torn mint leaves with chopped fruit to yield a refreshing and cooling fruit salad. For a savory preparation, search for mint pesto recipes.
WHAT IS IT
ROSEMARY is an earthy, piney herb that can be used in both savory and sweet preparations.
WHAT IT DOES
From a health perspective, this powerful perennial may improve memory and cognitive functions, and reduce anxiety and stress. It's also excellent for the complexion, as it protects the skin from free radical damage and promotes collagen production. In fact, it's used in skincare products, such as Planted in Beauty's Nourish + Protect Antioxidant Moisturizer.
HOW TO USE IT
Rosemary leaves are tough, so chop them finely, and sprinkle onto vegetables before roasting. Otherwise, lay whole rosemary leaves over your veggies as they roast, and remove before serving. You can also search for naturally sweetened rosemary muffin and cookie recipes.
WHAT IS IT
SAGE is a beautiful herb with a velvety texture and earthy flavor. 
WHAT IT DOES
It shares some of the same benefits as rosemary, including its ability to improve memory and cognition. Sage also boasts anti-inflammatory and antioxidant properties that reduce the risk of chronic conditions, heart disease, and free radical damage.
HOW TO USE IT
Finely chop fresh sage and sprinkle over vegetables before roasting. You can also melt some coconut oil and pan-fry fresh sage leaves until crispy. Use to garnish vegetables, grains, and main meals. For maximum healing benefits, prepare sage tea as you would mint tea.
Printer Friendly
---
Also in Volume 70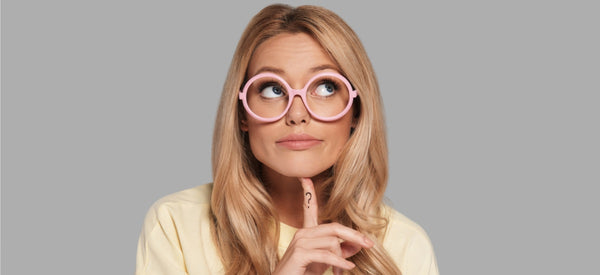 BEAUTY
Good skincare is a lifelong practice. Happily, there's no shortage of advice to support you in making healthy choices. There's also a wealth of misinformation...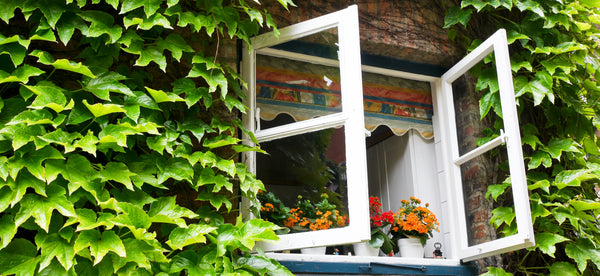 LIFESTYLE
Air is one of the essential elements we need to survive.