THE HEALTH BENEFITS OF 6 FERMENTED FOODS TO ADD TO YOUR DIET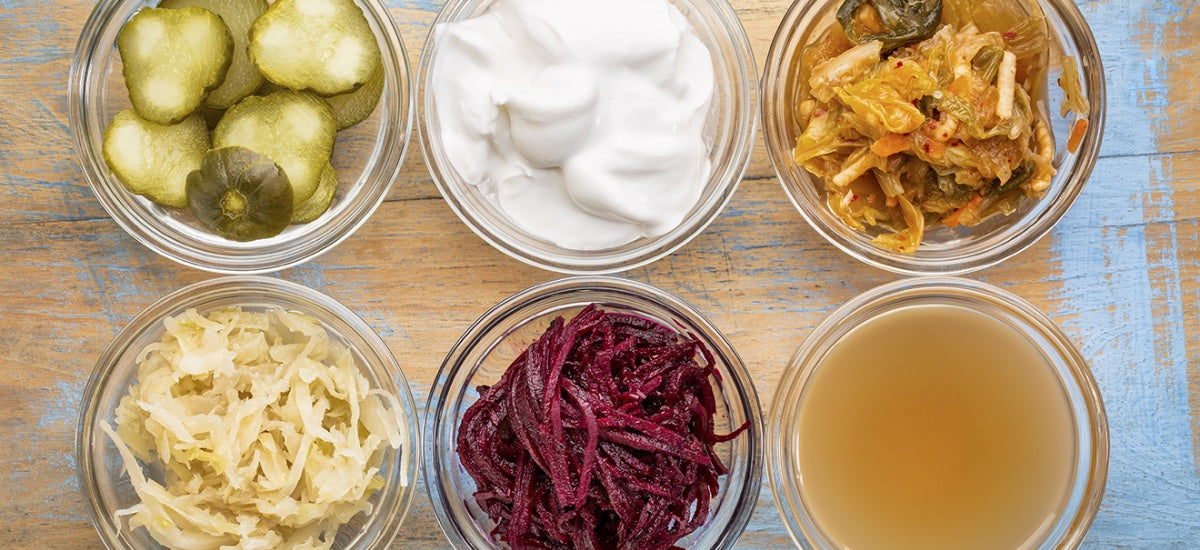 By Melissa Patruno
Fermented foods and drinks have been getting a lot of press lately for their health benefits, and it is about time since these amazing superfoods have been around for centuries.  Not only do fermented foods and drinks make our diets probiotic and nutrient-rich but originally this process kept our food safe to eat.
Before the time of refrigeration, fermenting your food was the only way to keep your food from spoiling. Double benefit, it was also a wonderful way to add all the good bacteria and nutrients into your diet that our bodies need to stay active and healthy. 
When you ferment food the process naturally preserves the food and creates digestive enzymes, B vitamins, omega 3 fatty acids, and various strains of probiotics.
So when you consume a fermented food, you not only get all those beneficial micronutrients, but the fermented food is also helping to create a protective lining in your intestines that shields it from harmful pathogens. While at the same time getting a healthy dose of bacteria that lead to an increase of antibodies to create a stronger immune system.
That is one pretty powerful type of food.
Added bonus: they also regulate your appetite and reduce sugar and refined carb cravings.
If you have not added fermented foods into your diet yet, no worries, there are a plethora of options to choose from. Check out my list here of my top favorite fermented foods and try a different one each week to find your favs!
KOMBUCHA
This popular fermented drink is not only stocking the shelves of natural food stores and supermarkets alike but is also chock-full of amazing health benefits. What makes kombucha a health powerhouse drink is the SCOBY which is an acronym for Symbiotic Culture Of Bacteria and Yeast. It is the bacteria and yeast which transforms the tea and sugar into a probiotic-rich drink. As I always like to say "celebrate with kombucha!" This fizzy beverage can be a great replacement to alcohol and/or soda. Win/win! 
A few of my favorite brands are GT's Kombucha and Health-Ade. Both can be found at Whole Foods or your local natural food store. 
WATER KEFIR
A super easy to make, inexpensive and versatile lacto-fermented beverage. Water kefir is the byproduct of the SCOBY (see above in kombucha about what a SCOBY is) which transforms sugar water into a fermented, gently effervescent drink. When paired with a shrub (see below) you have a delicious fermented beverage!
You can buy kefir grains online, and then follow the super simple directions that come with the package. My favorite brand is Cultures for Health.
SHRUBS
One of my favorite fermented drinks because the possibilities are endless! Pretty much all fruits, herbs, and spices when uniquely paired together can make fabulous combinations. The key to shrubs is giving the concoction enough time to ferment. Shrubs are a great way to experiment with your favorite foods and then make delicious sparkling drinks or cocktails. Add some water kefir, and you have got a fantastic happy-tummy tonic! 
HOW TO MAKE: check out this recipe!
SAUERKRAUT
A popular fermented food, sauerkraut has been around for centuries and has its history in many different cultures. The fermentation process increases the bioavailability of the nutrients turning cabbage into a nutritious powerhouse food. Incredibly easy to make at home all you need is cabbage, salt and time to make this superfood.
HOW TO MAKE: check out this recipe! 
You can also buy sauerkraut at Whole Foods or your local natural food store. Make sure to purchase the refrigerated kind since the canned version found on the shelves has been pasteurized, and therefore all the beneficial enzymes have been lost in the pasteurization process. My favorite brand is Farmhouse Culture.
KIMCHI
This is a traditional Korean dish that has been around for centuries. Kimchi is a fermented blend of cabbage, chili peppers, garlic, scallions, and other spices that are often eaten with every meal in Korea. It has gained popularity in North America as Asian inspired dishes have become more popular.
A few of my favorite brands are Sunja's and Mother In-Law's. Both can be found at Whole Foods or your local natural food store. 
APPLE CIDER VINEGAR
An ancient remedy, apple cider vinegar is filled with good digestive enzymes, that helps with weight loss and can soothe acid reflux (also known as heartburn). Vinegar can kill bad bacteria while increasing the good bacteria in your gut flora. 
My favorite brand is Bragg's Apple Cider Vinegar which can be found at Whole Foods or your local natural food store. 
My top picks listed above are best for most people even if you have a food sensitivity. You also do not need to consume a lot to reap the health benefits. The recommended serving of a fermented beverage is 6-8 ounces daily and for a fermented food is 2-4 ounces daily. 
As always tune in and listen to your gut. Is this a food that makes you feel great or not so great? Experiment and get curious about all the different types of fermented foods that are available!
Melissa Patruno is an Integrative Medicine Nutritionist. Her approach focuses on finding the root cause and creating alignment in both mind and body. Melissa is passionate to help her clients find the food and lifestyle choices that best support their health needs so they can live their best self. Learn more at
https://www.melissapatruno.com/
Printer Friendly