HOW TO MAKE THE SWITCH TO NATURAL DEODORANT IN 3 EASY STEPS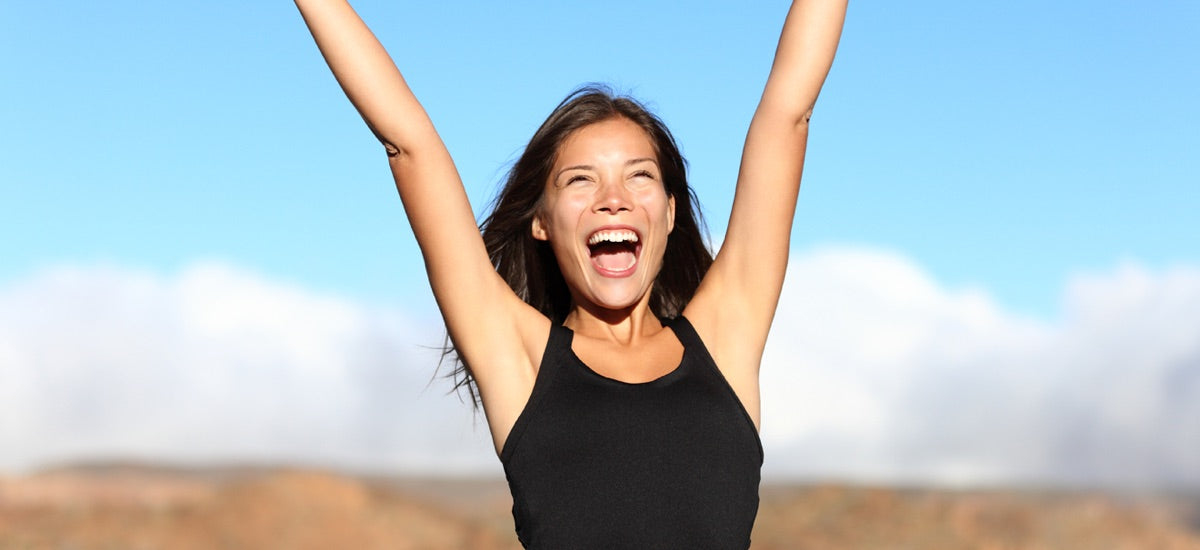 Have you made the switch with other beauty products, but hesitate when it comes to using natural deodorant? You're not alone. Many people subscribe to an "all-natural" lifestyle yet still have trouble giving up their mainstream antiperspirant. You might worry that the natural formulas won't work as well, leaving you with an unpleasant body odor.
We're here to tell you why you should finally make the leap into the non-toxic deodorant club. Plus, we'll offer a practical guide for detoxing your armpits so your new product can be most effective.
WHY SWITCH? 
One of the main reasons to switch to a natural deodorant is because regular antiperspirants have a bad rap. Here's why.
THEY INTERFERE WITH TOXIN RELEASE.
Mainstream antiperspirant brands have aluminum as an active ingredient. This is what seals up the sweat ducts under your arms to keep you dry. You may not like sweating, but perspiration is a completely natural, healthy process that helps the body get rid of toxins. The aluminum in your antiperspirant prevents the toxins from being released, trapping them inside your body. Aside from interrupting a perfectly natural process, the aluminum in your antiperspirant/deodorant is also associated with increased risk of breast cancer and Alzheimer's disease.
THEY CAUSE HORMONAL IMBALANCE.
The toxic chemicals found in your antiperspirant are endocrine disruptors. These substances affect how your body regulates hormones, which play a role in every bodily process from sleep to reproduction. Hormonal imbalances may also be contributed to the presence of pthalates, which have been linked to a decrease in testosterone in men and women.
THEY THROW OFF YOUR MICROBIOME.
The human body is home to tons of microbes--many of which fight off disease and maintain health. An antibacterial compound found in antiperspirant called triclosan is thought to negatively impact the human microbiome, which leaves you more susceptible to disease.
THEY ARE LINKED TO A HOST OF HEALTH PROBLEMS.
Conventional antiperspirant formulas also consist of toxic chemical like parabens, steareths, propylene glycol, artificial fragrances and other irritants. These substances have been linked to allergies, birth defects, infertility, tumors, cancer and disease.
TIPS FOR SWITCHING
1. STOP USING YOUR OLD ANTIPERSPIRANT/DEODORANT.
To make a successful switch to natural deodorant, you'll need to stop using the conventional formulas. It may be best to start your transition in a cooler season. like spring or fall. Also, make the switch easier by beginning over the weekend so you're not overly self-conscious about body odor at work.
2. DETOX YOUR ARMPITS.
Help your body adjust to natural formulas by detoxing your armpits. Do this by wearing natural fabrics like organic cotton or bamboo, drinking plenty of water, and eating a whole food, plant-based diet. Apply apple cider vinegar or fresh lemon juice to your armpits after showering, or a bentonite clay mask to neutralize odor and help with toxin release. You might also improve your natural body odor by supplementing with chlorophyll and/or probiotics. Also, keep your armpits dry to prevent bacterial growth.
You can apply natural deodorant immediately after detoxing on clean and dry armpits, or you can forego deodorant for a few days before starting your new regimen. Do what makes you most comfortable.
3. CHOOSE A FORMULA THAT SUITS YOU.
Natural formulas include ingredients like coconut oil and baking soda as well as essential oils to help mask odor. Non-toxic deodorants come in roll-on, spray, and rub-on cream applications, so be sure to choose the type you feel most comfortable applying every day. Try out a few different options over the course of several days or weeks to see which product works best for you. Keep in mind, if you shave your armpits at night, you should wait and apply deodorant in the morning to prevent irritation.
WHAT TO EXPECT:
You may need to continue detoxing your armpits for a few weeks to thoroughly remove the buildup from your old antiperspirant and get your sweat glands working properly. You may also notice that your body odor is stronger and you may sweat more at first. This is totally normal because it means you're releasing toxins. Remember, sweating is good for you!
The "breakthrough" odor and excessive sweating should start to fade after about three to four weeks of detoxing. If the odor and sweating doesn't improve, increase your detoxing methods in order to better control it. With a healthy diet, proper hydration, and regular armpit detoxing, the unpleasant aspects should go away. If you stick with it, you'll get used to the natural process of perspiration and adjust to your natural scent.
Printer Friendly